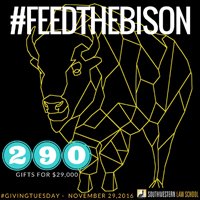 November 22, 2016
Southwestern Partners with "Giving Tuesday" to Celebrate the Spirit of the Season
For the fourth year, Southwestern has joined the national movement and become a proud partner of Giving Tuesday, coinciding with the Thanksgiving Holiday and the kickoff of the holiday season. This day of giving is meant to harness the collective power of a unique blend of partners – charities, families, businesses and individuals – and transform how people think about, talk about and participate in the giving season. This year Southwestern will once again launch its specialized Giving Tuesday campaign titled "Feed the Bison". Supporters of Southwestern will be asked to participate in the national giving movement by feeding the bison, further raising Southwestern pride and school spirit.
Giving Tuesday (Tuesday, November 29th) will serve as the official kickoff of Southwestern's year-end fundraising efforts, as the law school calls alumni, faculty, staff, students and friends to make year-end gifts to Southwestern's Annual Fund – supporting student scholarships, faculty research, academic programs, campus facilities and much more.
Students on Giving Tuesday Through an online campaign, Giving Tuesday capitalizes on social media to spread the word about the movement. Everyone is encouraged to take the pledge and share why they will be giving back to Southwestern in honor of Giving Tuesday through their own social media networks ("I give to Southwestern on #GivingTuesday because…").
Donations of any size in honor of Giving Tuesday can be made online at www.swlaw.edu/giving, and donors can make a general donation or denote a special fund such as the LLSA-Hoover Toy Drive under "Gift Designation." Contact the Institutional Advancement Office at (213) 738-6814 to make donations by phone, obtain details on mailing in a donation or with any questions about the Giving Tuesday campaign. Inquiries can also be emailed to advancement@swlaw.edu.
Initiated last year by a group of friends and partners, led by New York's 92nd Street Y, Giving Tuesday seeks to inspire people to take collaborative action to improve their local communities, give back in better, smarter ways to the charities and causes they support, and help create a better world. More information on the Giving Tuesday campaign, its history and its partners, can be found at www.givingtuesday.org.
Latest from the SW LAW BLOG