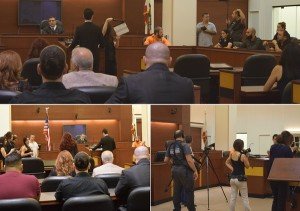 August 3, 2016
Southwestern Students Featured in Armenian Soap Opera "Dangerous Games"
They are not lawyers quite yet, but they got to play them on TV. Southwestern students Lianna Urfalyan '17 and Robert Khalatian '17 recently took on the respective roles of defense attorney and prosecution in an episode of "Dangerous Games," an Armenian soap opera. The scene was filmed in Southwestern's Hon. Julian Dixon Courtroom.  In addition to the attorneys, the judge and jury were also played by Southwestern students, many of whom are members of the Armenian Law Students Association.
Urfalyan has already been featured in several episodes of "Dangerous Games," playing the part of the family attorney. Her best friend is the lead actress in the show, and the production needed someone who could play the part of the lawyer. "However, they had prerequisites that the actress must have had previous experience, could speak both languages, and could translate the Armenian legal terms into English terms to grasp and play the role," Urfalyan explained. "They called me in for an audition, and it just escalated from there."
This specific episode was set during the criminal trial of one of the main characters on the show who killed his friend in what Urfalyan argued (as his attorney) was self-defense.
The genre of the show is a drama/romance. The main storyline centers on a boxer who has migrated from Armenia to America to pursue his career and to bring his true love, Ani, to the United States to be with him. However, once he does arrive, he starts to face many unforeseeable challenges.
Urfalyan said, "I have had a really wonderful experience, and now I am so excited that my law school and my classmates are a part of the show, too!"
Latest from the SW LAW BLOG