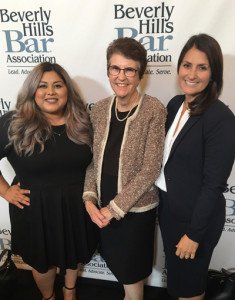 June 3, 2016
Recent Graduates Earn Beverly Hills Bar Foundation Scholarships
Lauren Fierro and Monique Moncayo, who both graduated from Southwestern's PLEAS program in May, have been awarded scholarships from the Beverly Hills Bar Foundation, the charitable affiliate of the Beverly Hills Bar Association.
"I am so grateful to be nominated by my school and receive this scholarship," Moncayo said. "It's foundations like the BHBF that allow graduates to afford to do good with their law degrees and decrease the justice gap. As the fifth of seven children growing up in East LA, a first generation college graduate and now Juris Doctor, I know firsthand what it's like to be poor, wronged and hopeless, but most importantly, resilient. I want to right people's wrongs and restore hope to the voiceless, and a career in public interest will help me on my journey."
Providing grants to fund law school scholarships and law-related education and community service programs since 1970, The Foundation awards scholarships to academically qualified, economically disadvantaged law students who have demonstrated an ongoing commitment to legal public service.
"Southwestern has a longstanding tradition of giving back to the community, and I am proud to have been a part of that tradition for the past four years," Fierro said. " Public service is part of who I am. The Beverly Hills Bar Foundation Scholarship recognizes law students, like me, who are committed to helping make the world a better place, one person at a time.   I am especially thankful to the Southwestern faculty and Dean Prager for the nomination because this scholarship has renewed my passion for public service, and it has left me excited about what lies ahead in my future legal career."