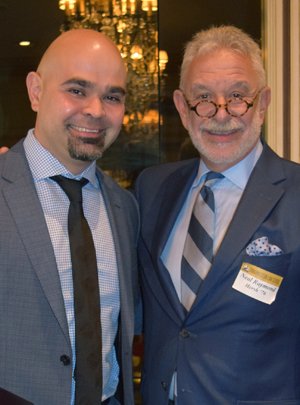 June 4, 2016
Alumni Honored at Family Law Event
On June 4, the Southwestern Alumni Association presented the second annual Signing on the Dotted Line: A Family Law MCLE Event & Award Ceremony. Chaired by Patrick Baghdaserians '07, the program featured prominent panels of experts from the bench and bar discussing best strategies in family law for business valuation, discovery and witness preparation. During the lunchtime presentation, Neal Raymond Hersh '76, a distinguished family law specialist, received the 2016 Max Goodman Family Law Legacy Award. Additionally, Class of 2016 graduates Anastasia Barmaxis and Amanda Goodman received the Stephen A. Kolodny Family Law Bridge Scholarship.
The Max Goodman Family Law Legacy Award was created to recognize an exceptional attorney or judicial officer who has made outstanding contributions in the area of family law. The award honors the memory of longtime family law expert and Southwestern Professor Max Goodman, who taught at Southwestern for over 40 years and passed away in 2009.
A founding partner at Hersh Mannis, LLP, Mr. Hersh has over 36 years of experience in the area of Family Law. During his remarkable tenure in the field, he has engaged in highly complex marital dissolution proceedings with challenging financial, property, and custody issues and has been involved in structuring sophisticated settlements on behalf of clients whose estates have consisted of varied and significant assets in real property, trusts, investments, partnership and corporate entities. Mr. Hersh is certified as a Specialist in Family Law by the State Bar of California Board of Legal Specialization. He is AV Preeminent rated by Martindale-Hubbell, a distinction he has held for 20 years, and has been named a Southern California "Super Lawyer" each year since 2003. Mr. Hersh is a member of The American Academy of Matrimonial Lawyers and the International Academy of Matrimonial Lawyers.In accepting the award, Hersh said, "I will strive each day to honor Max Goodman's legacy."
Ms. Barmaxis and Ms. Goodman, the recipients of the Stephen A. Kolodny Family Law Bridge Scholarships were selected based on demonstrated academic excellence in Family Law or Community Property courses, strong interest in pursuing a career in Family Law, and financial need. Ms. Barmaxis earned many academic honors, served as a judicial extern to Hon. Marc Gross (LA Superior Court) and was a law clerk at the Children's Law Center of California and the Harriet Buhai Center for Family Law. Ms. Goodman was Editor in Chief of the Southwestern Journal of International Law, earned the CALI Award for the top grade in Community Property, and served in judicial externships with Hon. Kim Wardlaw (US Court of Appeals) and Hon. Andrew Westrich (US District Court).
One of the most prominent Family Law practitioners in California, Mr. Kolodny has handled unusually complex, high conflict custody, support and high asset cases during his 50-year career.  He was recently named the 2015 AAML Southern California Chapter's "Family Law Person of the Year," and in 2009 was the recipient of the LACBA Family Law Section's "Spencer Brandeis Award for 'Outstanding Contribution to the Practice of Family Law.'"  In presenting the scholarships to Ms. Barmaxis and Ms. Goodman, Mr. Kolodny said, "They represent the very promising future of the family law bar, and it is wonderful that we can help them in a modest but tangible way as they prepare to enter the profession."
The Los Angeles County Bar Association Family Law Section served as co-sponsor. Program sponsors who helped support the event and the Kolodny Scholarships included: Kolodny Law Group; Hersh, Mannis & Bogen LLP; White Zuckerman Warsavsky Luna & Hunt, LLP, Alternative Dispute Resolution Center; Union Bank; Feinberg Mindel Brand & Klein LLP; and Walzer Melcher LLP.
A photo album from the event is available on Southwestern's Flickr page.
Latest from the SW LAW BLOG