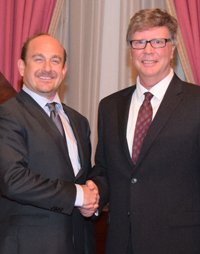 March 17, 2016
Southwestern Launches 'Big Interview' Series with Author and Legal Scholar Jeremy Geltzer '04
On March 14, Southwestern's Media Law Forum premiered its Big Interview series with special guest Jeremy Geltzer '04, a scholar-practitioner and the author of multiple books, including Dirty Words and Filthy Pictures: Film and the First Amendment.
"Jeremy Geltzer was the perfect guest for the launch of the Media Law Forum's new Big Interview series here at Southwestern," said Professor Michael Epstein, who conducted the interview. "His heavily researched book is as much fun to read as it is comprehensive in its history of censorship. The discussion was wide-ranging—from censorship of fin de siècle boxing films to the heyday of high-art adult cinema in the 1970s under the MPAA Ratings system. It was a legally substantive—and fun—evening that played out before an enthusiastic crowd in the Louis Room."
Geltzer, a graduate of Southwestern's SCALE program, has practiced in-house as an attorney at major motion picture studios in various divisions including music at Paramount Pictures, intellectual property at Warner Bros., and production and home video/digital distribution at Lions Gate, and ABC/Disney. In his independent practice, he represents documentary filmmakers, screenwriters, authors, photographers, musicians, and app producers. Prior to his work as an attorney, Geltzer wrote and produced documentary features for Turner Classic Movies. He has taught First Amendment and censorship at UCLA, Film History and Theory at Georgia State University, and frequently lectured on issues of copyright and fair use.
The Media Law Forum's Big Interview series will be back next year with a slate of special guests who have distinguished themselves in the creative industries.
Latest from the SW LAW BLOG