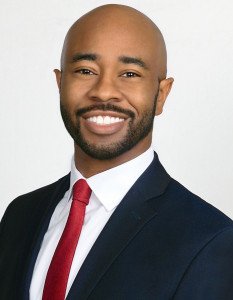 February 10, 2016
Entertainment attorney Nate Hargress, LL.M. '09 wins Rising Star Award
Nate Hargress, LL.M. '09, is the 2016 recipient of the Rising Star Award from the Association of Media & Entertainment Counsel (AMEC). He will receive this award at the AMEC's 11th Annual Counsel of the Year Awards, which will be held at the Hollywood Improv Comedy Club on Thursday, February 18. Before joining Viacom Media Networks in January 2016 as Senior Counsel, Business and Legal Affairs, Hargress spent five years with Discovery Communications as an attorney in Legal and Business Affairs. He also serves as Chair of the AMEC Emerging Leaders Advisory Board.
"Winning the award means a great deal to me, especially since I didn't really know anyone when I first came to Los Angeles from Michigan," Hargress explained. "My first time in Los Angeles was when I came to visit Southwestern. Now, to receive such an honor from the entertainment law community is truly humbling." Hargress also credited Southwestern's LL.M. program in Entertainment and Media Law for bolstering his career opportunities. "Southwestern prepared me for career success by offering a multitude of courses focusing on entertainment," he said. "Because of my diverse coursework, I felt comfortable dealing with issues in music, television, film and new media."
The Association of Media & Entertainment Counsel (AMEC) is the only organization of its kind. Formed in late 2005 by prominent entertainment attorneys and studio executives, AMEC is designed to support the career development and honor the achievements of in-house counsel and business affairs attorneys at major entertainment and media companies.