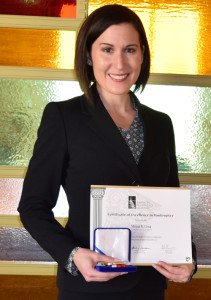 January 14, 2016
Megan Craig '15 Wins American Bankruptcy Institute Medal of Excellence
Megan Craig '15, an associate at Bayer, Wishman & Leotta, has won a Medal of Excellence from the American Bankruptcy Institute in recognition of her outstanding performance in bankruptcy coursework. Vice Dean Anahid Gharakhanian and Adjunct Professor Edward Wolkowitz, who teaches bankruptcy at Southwestern, nominated Craig for the award.
"It was a great privilege to study under Professor Wolkowitz, one of our profession's most preeminent bankruptcy trustee-practitioners," Craig said. "His exceptional command of bankruptcy law and practice fostered my growth to new academic and professional heights."
As a Southwestern student, Craig worked approximately 30 hours per week and externed for the bankruptcy court twice, all while maintaining a full course load in the evening program. While at Southwestern, she also received the Debra Bassett Scholarship Award and Dean's Merit Scholarships as well as an outside bankruptcy scholarship from Borowitz & Clark. Craig graduated from Southwestern in the top 20 percent of her class, and she recently received the Judge Barry Russell Federal Practice Award, presented by the Federal Bar Association. 
"Megan has not only excelled in her academics, including in the area of bankruptcy, but has also shown serious commitment to establishing a career in bankruptcy law," Dean Gharakhanian said.
The American Bankruptcy Institute is the nation's largest association of bankruptcy professionals, made up of over 12,000 members in multidisciplinary roles, including attorneys, auctioneers, bankers, judges, lenders, professors, turnaround specialists, accountants and others. ABI provides members with high-quality conferences, comprehensive continuing education, effective legal research, and dynamic networking opportunities.