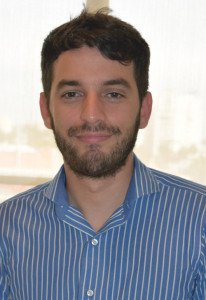 December 16, 2015
Agustin Cavana, 2015-2016 Siderman Fellow
Argentine human rights attorney Agustin Cavana is the 2015-2016 Fulbright – Jose Siderman Human Rights Fellow at Southwestern pursuing his LL.M. degree. The fellowship was established in 2008 by the Siderman family, the Fulbright Commission in Argentina and Southwestern.
In Argentina, Cavana worked for the National Penitentiary Procuration, which is responsible for protecting the human rights of federal prisoners. He also teaches human rights at the University of Buenos Aires and is an adjunct professor in a master's program at a school for state advocates and lawyers.
"I would say I always had an interest in criminal law. I was particularly interested in what happens in prisons," Cavana said. "There's a whole subculture going on in there. It is interesting to think that people who live near you are deprived of their liberty and co-exist in this different environment where everyday rules don't apply." 
In addition to prison law, Cavana also has an interest in transitional justice — the area of the law that deals with the problems of restoring democracy after armed conflict. 
"In Argentina we had a military dictatorship from 1976 to 1983, and we had difficulties to hold the dictatorship accountable for killings and disappearances committed during that time and we are still struggling to deal with their civilian and economic accomplices," he said. "I became interested in the topic and became familiar with the Siderman case, which addressed those issues and complexities. It was an unprecedented case because an Argentinian received compensation from an international court."
Cavana is also interested in the American criminal justice system and hopes to gain a better understanding of how American lawyers and scholars address certain issues as well as a grasp on how legal and government institutions work in the United States.
"We have a different legal culture in Argentina," he said. "I hope to learn about things that would make me able to contribute to ongoing suggestions about how to change it."
Since Siderman fellows began to study at Southwestern seven years ago, there have been some changes in Argentina. Buenos Aires Province is just starting to conduct jury trials. "There are a lot of questions and issues we need to address until we have a fully functional jury system," Cavana said. "Since we always dealt with professional judges, Argentine lawyers weren't concerned with sifting through the evidence for the fact finder because judges went to law school and could properly assess what's prejudicial. So we should at least consider having rules of evidence now that we are moving into jury trials."
At Southwestern, Cavana is currently taking courses in Prison Law and Mass Incarceration with Professor Scott Johnson, Evidence with Professor Mark Cammack, Constitutional Law with Professor Jonathan Miller, National Security Law with Professor Rachel VanLandingham and White Collar Crime with Professor Kelly Strader.
"I'm really enjoying Constitutional Law," he said. "Learning about how it is in the United States really made me think about issues from a totally different perspective. Learning about how law and procedure works in another country makes you learn even more about your own country."
Cavana has also enjoyed getting to know American students and finds learning how they think about certain issues inspirational. "It can help you realize how you've been thinking about a particular issue in a certain way without thinking about the potential problems and implications in that," he said. "It gives you new tools to rethink all of those problems, but from a different, richer perspective." 
For Cavana, this experience has also marked his first time in the United States. He is impressed by the diversity in Los Angeles and is grateful for the opportunity to meet people from different cultures, backgrounds and religions. He added, "Despite all the problems you hear about, Americans are very open and conscious about it. There's a lot of effort to make everyone feel comfortable and included."
To promote human rights in Argentina, the family of José Siderman, the Fulbright Commission in Argentina and Southwestern Law School established a fellowship at Southwestern for an individual selected by the Fulbright Commission through a nationwide competition to spend one year in Los Angeles specializing in human rights. The Fellow, who has typically graduated from law school in the past four to eight years, and who must have a background working in human rights in Argentina, spends two semesters at Southwestern studying for an LL.M. degree in either Civil Liberties and Human Rights or in Advocacy, and follows the time at Southwestern with a summer spent working at the ACLU of Southern California. The fellowship complements the association Southwestern has maintained for many years with Argentina through summer programs, judicial externships and exchange programs in Buenos Aires.
Latest from the SW LAW BLOG