Kevin J. Greene
John J. Schumacher Chair | Professor of Law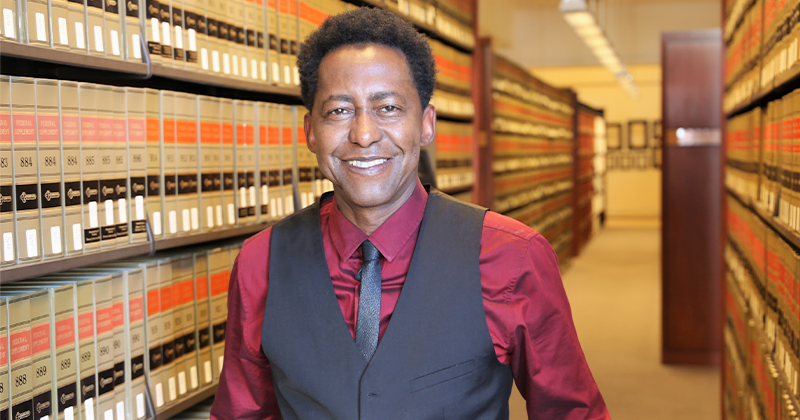 B.A.,  Highest Departmental Honors, Political Science, State University of New York, 1986
Law School Thesis Paper Morehouse College – Atlanta, GA 
J.D., with honors, Yale Law School
 
Veteran, United States Marine Corps., Aviation Ordnance, honorable discharge
Member, New York State Bar
Kevin J. Greene joined Southwestern's faculty in 2020. Professor Greene is a nationally recognized entertainment and intellectual property law scholar and an expert witness consultant for copyright, trademark, publicity rights, and entertainment contract disputes. He is a highly committed, outstanding teacher as well as a passionate leader and an IP law influencer. He teaches Contracts and Copyright Law.
Professor Greene was most recently a tenured Professor of Law at Thomas Jefferson School of Law in San Diego. He has also been a visiting professor at the University of San Diego School of Law. In addition to Contracts and Copyright, he has also taught IP, Entertainment Law, Music Law, Publicity Rights, International Entertainment Law, and IP in the Cannabis Industry.
"The joys of teaching—and learning—from students are unmatched. The seeds of learning we plant today, with justice as our banner, blossom bright with possibilities for a better tomorrow."
Before becoming a law professor, Professor Greene practiced law in New York at the premier law firm of Cravath, Swaine & Moore, where he represented high profile companies such as Time Warner and HBO in litigation matters. He later joined New York's top entertainment law boutique firm, where he represented clients such as film production companies, including Director Spike Lee's 40 Acres and a Mule film company, iconic music artists including Harry Connick, Jr., Bobby Brown, and the seminal rap group Public Enemy. Professor Greene was the first law professor voted a Top Ten attorney by the San Diego Bar in the field of IP in 2005.
Professor Greene's scholarship has garnered national and international recognition in the area of intellectual property ("IP") law, particularly his pioneering work on African-American music and inequality in copyright law. His article on abusive trademark litigation, published in the Harvard Journal of Law and Public Policy has been the centerpiece of law conferences at Syracuse Law School and NYU. Greene's copyright scholarship is cited in numerous legal publications and has been cited in Congressional hearings. His current project explores intellectual property in the context of hip-hop music.
Professor Greene has presented his work on IP issues and Contracts across the United States and abroad to organizations such as the American Bar Association's section on IP, the International Trademark Association, the American Association of Law Schools, Law and Society, Practising Law Institute, the annual South-by-Southwest conference, the Beverly Hills Bar Association and at law schools and universities including Yale, Georgetown, UCLA, and many others.
In addition to his academic pursuits, Professor Greene serves as an expert witness consultant in Contracts and IP cases, including for funk music legend George Clinton in a copyright case before the Ninth Circuit Court of Appeals. Professor Greene has also worked as an expert in copyright matters in the Central District of California and the Southern District of New York. Professor Greene recently served as the lead IP expert in a landmark $9.5 million right of publicity case in California state court between the heirs of the Hansen Juice and Soda Company and Coca-Cola.
In 2016, the Intellectual Property Institute of the State Bar of California selected Professor Greene as its Vanguard Award winner, the highest award given by the Bar, in the category of Academics. Also in 2016, the government of Taiwan hosted Professor Greene to present a seminar on copyright issues in the context of hip-hop music. In 2018, the American Bar Foundation selected Greene as a fellow. In 2020, Professor Greene was selected by the National Bar Association as a "top 100" attorney in California. Also in 2020, Professor Greene was named an Honorary Advisor/Law Scholar at USIA United Sigma Intelligence Association, an international think tank.
Honors/Awards (Selected Achievements)
Award for outstanding service as a law clerk, Michigan Supreme Court
Voted a "Top-Ten" Intellectual Property lawyer, San Diego County Bar
Selected by Thompson-Reuters Publishing for best IP articles of the year, 2008, 2015
Selected as a Vanguard Award winner, California State Bar Institute for Intellectual Property for Innovation in Intellectual Property, Academics category, 2016
Selected as a Fellow of the American Bar Foundation ("ABF"), 2018
Selected as a Top 100 Black Attorney, California, National Bar Association
First-place honors, "LAF-off" Comedy Competition, San Diego Lawyers for the Arts
Lead IP expert witness on landmark $9.5 million California right of publicity case