Natalie Rodriguez '12
Associate Dean for Academic Innovation and Administration | Associate Professor of Law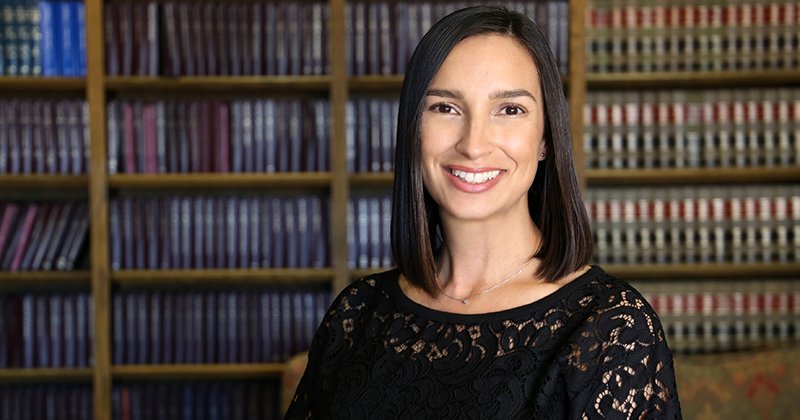 B.A., Political Science, Loyola Marymount University, 2002
J.D., Southwestern Law School, 2012
Member, California State Bar
Email
NARodriguez (at) swlaw.edu
In February 2022, Dean Natalie Rodriguez assumed the position of Associate Dean for Academic Innovation and Administration.  In her current capacity, Dean Rodriguez prepares the academic calendar and schedule of classes.  She coordinates faculty teaching assignments, the faculty evaluation process and the faculty recruitment process, as well as serving on various faculty committees.  She also serves as a resource to faculty looking to pursue innovative teaching methods including the use of technology.   
Prior to transitioning into this role, Dean Rodriguez served as Assistant Dean of Academic Success and Associate Professor of Academic Success and Bar Preparation, with primary responsibility for designing and implementing innovative academic support courses and designing and assisting with bar-exam preparation classes, workshops, and events. "I have seen first-hand the difference a strong Academic Success Office can make in the culture of a school," Dean Rodriguez said.
"The pandemic presented legal education with an opportunity to expand our notion of effective teaching into the realm of online instruction.  What many have found is that if done correctly, online classes can be just as, if not more engaging than traditional brick and mortar classrooms.  It is an exciting time to be thinking about the future of legal education."
Dean Rodriguez joined the Southwestern faculty as the Academic Success and Bar-Related Programs Fellow in 2012. Soon after she became the Co-director of Academic Success and Bar-Related Programs and in 2017, she became Assistant Dean of Academic Success.
Dean Rodriguez has designed and taught a number of programs and courses to support students in achieving academic success, both in law school and on the bar exam.  Dean Rodriguez is particularly passionate about helping students harness the power of cognitive learning theory to maximize the results from effective study habits.  She also believes that the most successful students are those who are able to make the connection between academic and professional competencies early on in their academic journey.  Her course design model, which uses a number of cognitive learning principles, has been used by other law schools seeking to create or enhance academic or bar support programs. 
Dean Rodriguez has served on the executive board of the American Association of Law Schools (AALS) Academic Support Section and the Technology, Law and Legal Education Section, as the executive board for the Association of Academic Support Educators (AASE).  She has also served on various committees, including AASE's Bar Advocacy Committee.  She has played an active role in many of the recent studies regarding the bar exam including the California State Bar studies as an Advisory Group Member for the "Performance Changes on the California Bar Examination" report as well as the national study "Building a Better Bar: Capturing Minimum Competence" by the Institute for the Advancement of the American Legal System (IAALS). She currently serves on the California Supreme Court Blue Ribbon Commission for the Future of the Bar Exam. Her legal practice experience is in Estate Planning and Probate.
Prior to joining Southwestern's faculty, Dean Rodriguez was active in numerous professional activities throughout her legal education. She served as a Judicial Extern to the Hon. Patrick Walsh of the U.S. District Court for the Central District of California and to the Hon. Frank Y. Jackson of the California Court of Appeal, Second District, Division Seven. She was also a Certified Law Clerk/Extern in the Sex Crimes Unit of the Los Angeles County District Attorney's Office and Southwestern's Children's Rights Clinic, and she served as a Research and Teaching Assistant for Dean Austen Parrish and several other professors.
Before attending law school, Dean Rodriguez's background was in early education. She worked for several non-profit groups committed to supporting students from traditionally underrepresented groups experience the positive change a college education can make.  Many of these students went on to become first generation college and graduate students.  She continues to bring this passion for education as a form of change to legal education.