Ashley Williams
Part-Time Evening Program
Public Interest Law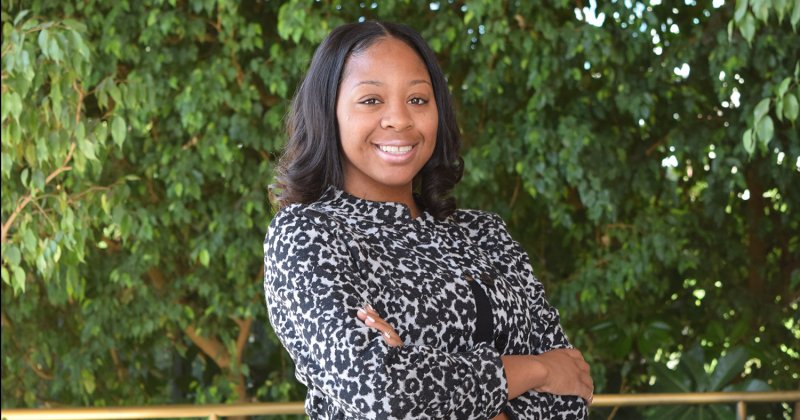 For Ashley Williams, education has been her salvation. It has given her a strong sense of purpose and enabled her to help other people who have endured the same kind of difficult childhood that she experienced growing up in the foster care system. One of her biggest priorities is to show foster youth that they can choose a good path in life, and she leads by example.
"I knew I wanted to go to law school when I got into the Law Magnet Program at Dorsey High School," she said. "Ever since then, I have been involved in a lot of activism."
By the time she began her education at Southwestern in the Fall of 2013, Williams already knew well several members of the law school's faculty. While in high school, she participated in Teen Court and Street Law Clinic events at Southwestern and became friends with Judge David Wesley '72, a Southwestern alumnus and Presiding Judge of Los Angeles Superior Court who is heavily involved with the Teen Court Program. She considers him one of her greatest mentors. While in high school, she served as Judge Wesley's clerk in Teen Court sessions. By her senior year, she worked with him to coordinate the sessions.

During her sophomore year of high school, she would also visit Southwestern to speak with law students about her often-harrowing personal experiences in the foster care system. She met Professor Laura Cohen and got to know Southwestern students when they visited Dorsey High to conduct a mock skit on mediation and entertainment law. As a high school senior, Williams wrote a grant proposal and convinced the Westside Neighborhood Council to donate funding to Dorsey for necessary computers and supplies. In recognition of her efforts, Dorsey created space for their Law Magnet students to study and named it the "Ashley Williams Computer Center." "It was challenging but it was amazing," Williams said. "It sparked my passion for advocacy."

During her undergraduate education, as a member of UCLA's VIP Scholars Program, she frequently returned to Dorsey to mentor students. During this time, Williams also established the "Bruin Guardian Scholars Program," which is geared toward helping foster care youth navigate the college system.

"My goal in undergrad was to help people of color, as well as foster youth, become competitively eligible to attend college," said Williams, who worked as a Resident Assistant (RA) for two years while at UCLA.

She focused on methods to navigate the foster system in college. She wanted to find out why some who have gone through the same kinds of things she has make it while others do not. She majored in sociology and minored in education. "I was on the social work path while at UCLA," Williams said. "But I woke up one morning and said to myself 'stop running from law school.'"

Once she made up her mind, Williams began planning. She successfully applied for the Sidley Austin Diversity Scholarship and the UCLA Law Fellows Program, which paid for her LSAT prep. After graduating from UCLA in 2012, with the help of Judge Wesley, Williams became a Justice Corps Fellow for one year at the Stanley Mosk Courthouse, where she worked in the Resource Self-Help Center. There, she educated litigants and helped them fill out paperwork. She also taught workshops for family court matters and worked with the Domestic Violence Clinic.

Then she participated in the Counsel for Legal Education Opportunity (CLEO), a six-week summer program at Georgia State University in Atlanta, where she studied legal writing, criminal law, contract law, and race and the law. "This program really helped me prepare for law school," she said.

Williams has effectively pursued other scholarship opportunities to help cover the cost of her legal education, receiving a California Bar Foundation Scholarship as well as a Langston Bar Association Scholarship.

Because of her difficult years in the foster care system and the instability it can bring - she attended more than 20 schools before Dorsey - she's grateful for her education and her mentors. She recognizes the importance of having a knowledgeable advocate. Now an evening student at Southwestern, Williams often visits UCLA as a guest speaker at its Masters in Social Work program, where she dispenses a lot of advice. "I participate in a lot of foster youth programs," she said. "It is okay to be a product of your own environment just as long as you use it to the best of your advantage and achieve greatness and know there are opportunities to improve your life."

In addition to being the BarBri representative for first-year evening students at Southwestern, Williams is also a member of the Black Law Students Association (BLSA) and the Public Interest Law Committee. She plans on participating in both the Street Law and Children's Rights Clinics as well. She considers many Southwestern professors mentors. "Professor [John] Heilman has been very supportive," she said. "I had him for Criminal Law. He checks on me and makes sure that I'm okay. He's a good support system."

During her first semester at Southwestern, Williams volunteered as a clerk for Judge Harry Pregerson of the Ninth Circuit and was just offered a summer Judicial Externship in his Woodland Hills chambers.

She also praised Professor Cohen, Professor Isabelle Gunning, Associate Dean Nyree Gray, Admissions Director Paulette Palafox, and her LAWS Professor Vivien Montz for being so supportive and providing her with academic and emotional resources to succeed. "For me, I feel like it's my job to do well in classes," Williams said. 
"Education was always my foundation, my ground. It was always number one for me. It was the only stability."