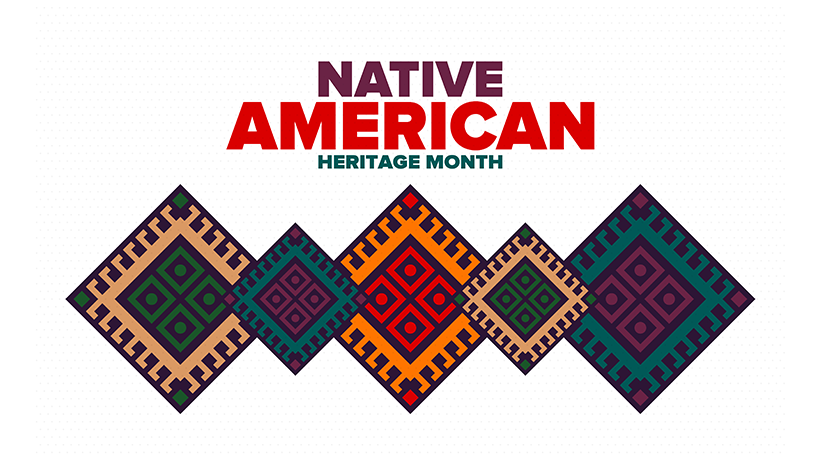 November 23, 2021
Celebrating Native American Heritage Month 2021
November is Native American Heritage Month, a time we use to celebrate diverse cultures, traditions, and histories. This month is also a time to acknowledge the important contributions of Natives and the challenges they have faced throughout history and in the present. Please see events below to learn more:

Virtual Free Events:
Mapping Indigenous LA Project
Desiree Renee Martinez is a member of the Gabrielino-Tongva tribe and an archaeologist who contributed to the Mapping Indigenous LA project. Desiree will be discussing the project and its goal in highlighting the multiple layers of indigenous Los Angeles through storymapping with the youth, community leaders, and elders from indigenous communities.
Virtual Double Take: "Edson's Flag" Honoring Native Veterans
Three experts from across the Smithsonian will discuss the artwork surrounding the Edson's Flag, a large wall tapestry by Marie Watt (Seneca). It is an artwork that was create to honor veterans, specifically Watt's great-uncle Edison Plummer, who served in the Air Force during World War II.

Podcasts:
Sean Sherman: What Can We Learn From Indigenous Culinary Traditions?
Sean Sherman is a member of the Ogalala Lakota Sioux tribe who is working towards conserving Native American cuisine. He is the founder of "The Sioux Chef" company and owner of Owanmni restaurant in Minneapolis, MN that serves dishes using indigenous-sourced foods to create a "decolonized dining experience".
'Poet Warrior' Joy Harjo Wants Native Peoples to be Seen As Human
Joy Harjo is a member of the Muscogee tribe and the nation's first Native American poet laureate. In her new memoir, Poet Warrier, she talks about native history, native empowerment, and the motivation behind her work.
Native Nevada
Richard Boland member of the Timbisha Shoshone tribe is the host of an eight-part podcast series that touches on the culture, issues, and perseverance of Nevada's Indigenous Peoples.

National Parks to visit:
See a full list of national parks you can visit and explore here.  
Latest from the SW LAW BLOG