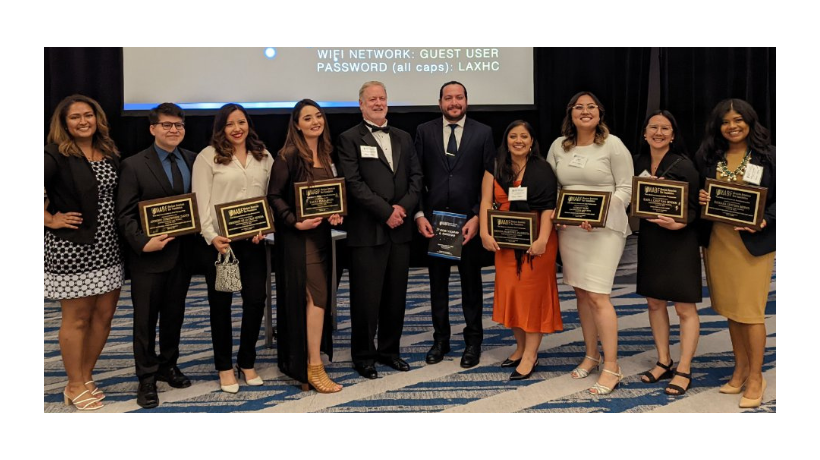 June 23, 2023
Southwestern Law School Students Earn Coveted Scholarships from Mexican American Bar Foundation 
Southwestern Law School is thrilled to announce that ten exceptional students from our institution have been selected as recipients of scholarships at the Scholarship & Awards Gala hosted by the esteemed Mexican American Bar Foundation (MABF). These outstanding students have been recognized for their exemplary achievements and dedication to pursuing a legal education and will each receive scholarships valued at a minimum of $7,500. 
Southwestern Law School proudly acknowledges the following students who have been awarded scholarships from the Mexican American Bar Foundation: 
Byron Alvarez '24 
Jennifer Alvarez '25 
Gisell Del Carmen '26 
Thania Fuentes '25 
Edwin Giron-Montenegro '25
Jonathan Gutierrez '24 
Ashley Kim '24 
Brenda Jaurietta '24 
Juliana Pech '25 
Isel Ramirez Ramirez '25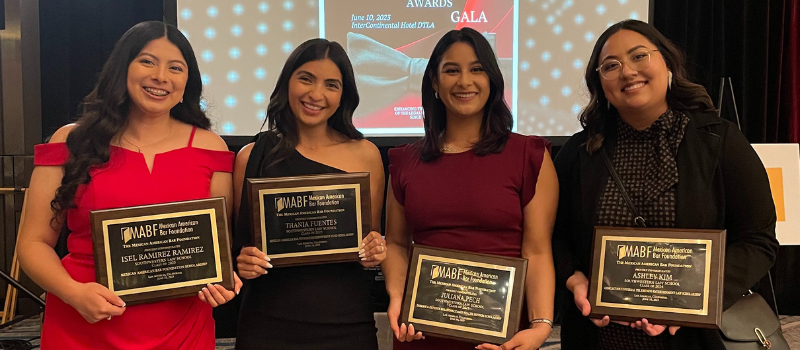 These scholarships are a testament to the students' exceptional academic records, active engagement in community service, demonstrated leadership skills, financial need, and resilience in overcoming challenges. The MABF Scholarship & Awards Gala is an esteemed event that celebrates the remarkable accomplishments of these individuals and their significant contributions to the legal profession. 
Furthermore, Southwestern Law School continues to shine as three of our students have been awarded book stipends of $500 each to further support their educational pursuits. The deserving recipients of these book stipends are: 
Enrique Lopez-Salazar '24 
Monica Moreno '26 
Destinee Moya '25 
Southwestern Law School students were awarded 10 out of 25 scholarships (40%) and 3 out of 6 book stipends (50%). These impressive numbers reaffirm our institution's commitment to nurturing exceptional talent and providing opportunities for success. 
With over three decades of dedicated service, the Mexican American Bar Foundation has awarded over $2.7 million in scholarships, bar study stipends, and related aid. Southwestern Law School stands out as the leading recipient of Mexican American Bar Foundation scholarships among Los Angeles law schools, with more than 125 Southwestern recipients since 1991. 
Southwestern Law School extends its warmest congratulations to our remarkable students who have been recognized by the Mexican American Bar Foundation. Their exceptional academic prowess and unwavering commitment to serving their communities are a testament to their potential as future leaders in the legal field.