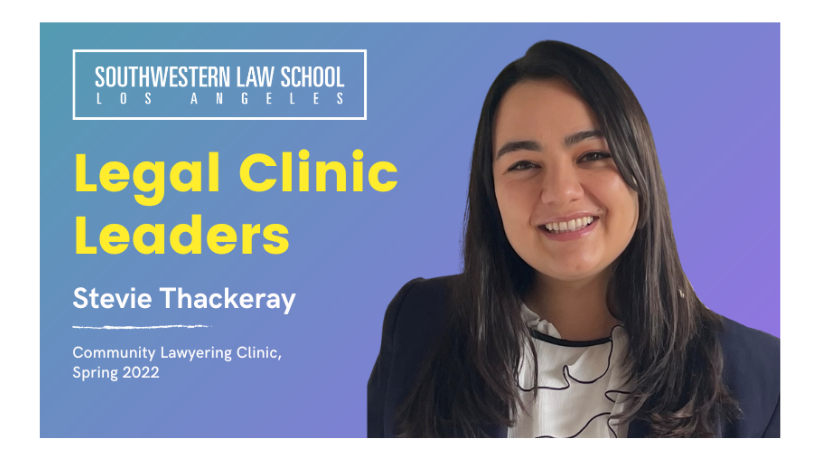 November 17, 2022
Legal Clinic Leaders Series - 3L Stevie Thackeray
Meet the students who work directly with and in the community to provide quality legal representation to underserved individuals through our Legal Clinic Leaders blog series. We're excited to spotlight these all-star advocates and showcase the many different fields of law you can explore through our legal clinics and the wide range of opportunities available at Southwestern to gain practical lawyering skills. We hope their experiences will inspire YOU to join a legal clinic.
---
Meet 3L Stevie Thackeray
Community Lawyering Clinic, Spring 2022
Why did you decide to participate in a clinic?
I wanted to get hands-on experience working with clients while being in the comfort of a classroom setting.
What stands out about your clinic experience?
One of the things I enjoyed the most about the Community Lawyering Clinic was the wide range of legal issues the clinic could help students (and sometimes their families) with. I helped empower CSUN students with legal knowledge about various areas of law: employment, housing, immigration, business formation, business permits, small claims, benefits, and finding legal internships.
What skills and knowledge did you learn from your clinic experience?
I learned how to interview clients. Work under tight deadlines. Keep track of my "billable" hours. Draft legal empowerment plans that would break down complex areas of law into understandable bullet points. I also had the incredible opportunity to plan and host a gender-marker legal empowerment workshop for CSUN students that focused on navigating the legal gender/name change process in California.
What do you think helped take you from student to advocate?
I knew I was no longer just a student after my first intake. I had a real person with real problems who needed help. I made sure that I did everything in my power to help the CSUN students who sought out my help.
What words of advice would you have for future clinic students?
Don't be afraid of admitting that you do not know something. I found that I built better relationships with my intakes when I was honest about my limited knowledge. In the end, people just want to be heard. By lending an ear, doing the research later, and coming back with helpful information, clients will appreciate the work you put in.
Please provide an inspiring anecdote from your clinical work experience.
One of my intakes was a CSUN student seeking retroactive payment from her employer. Following our meetings and providing her with a legal empowerment plan, her employer paid her the money it owed her. The money she received was crucial to her and her family's financial well-being. Before meeting with me, the student had no idea that she could stand up for herself in the workplace. She ended up leaving that job and secured an externship in Washington, DC, to pursue her career interests.
---
Interested in learning more about the legal clinics? Visit our Clinics page here.