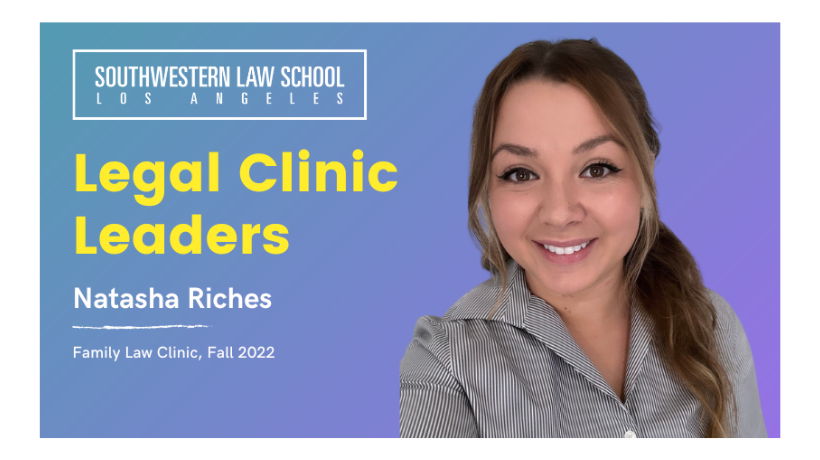 March 17, 2023
Legal Clinic Leaders Series — Natasha Riches
Meet the students who work directly with and in the community to provide quality legal representation to underserved individuals through our Legal Clinic Leaders blog series. We're excited to spotlight these all-star advocates and showcase the many different fields of law you can explore through our legal clinics and the wide range of opportunities available at Southwestern to gain practical lawyering skills. We hope their experiences will inspire YOU to join a legal clinic.
---
Meet 4L Natasha Riches
Family Law Clinic, Fall 2022
Why did you decide to participate in a clinic?
I have always been interested in family law and thought this clinic would give me great hands-on experience that I can apply when I graduate and enter the legal workforce.
What stands out about your clinic experience?
I was positively surprised at how involved I was in a client's case. I had constant communication with clients, prepared pleadings, and drafted research memos to help further the client's cases.
What skills and knowledge did you learn from your clinic experience?
I learned how to effectively communicate with clients who have been through domestic violence situations and help them navigate the complex legal system. Additionally, the class component of the family law clinic helped reaffirm the law I was applying in my client's cases, and I developed an in-depth and wide-ranging understanding of many issues occurring in family law.
What do you think helped take you from student to advocate?
Hearing the client's story and their various hardships really pushed me from student to advocate. Many clients I dealt with have never been exposed to the legal world and do not have the resources to navigate the court system.
What words of advice would you have for future clinic students?
Believe in yourself and your dreams. Do not doubt your abilities and work hard throughout the clinic because the knowledge and experience you gain through your clinic work is completely worth it.
Please provide an inspiring anecdote from your clinical work experience.
My participation in the family law clinic has helped me sharpen my client intake skills. For instance, I had an intake with a prospective client who called the center for help but was very hesitant to disclose personal information about their case. However, the clinic provided amazing training on actively listening to clients and creating an environment in which they feel comfortable and safe. By the end of the call, I formed a bond with the prospective client in which they felt safe letting me in on events in their life that had led to their seeking help from the clinic.
---
Interested in learning more about the legal clinics? Visit our Clinics page here.