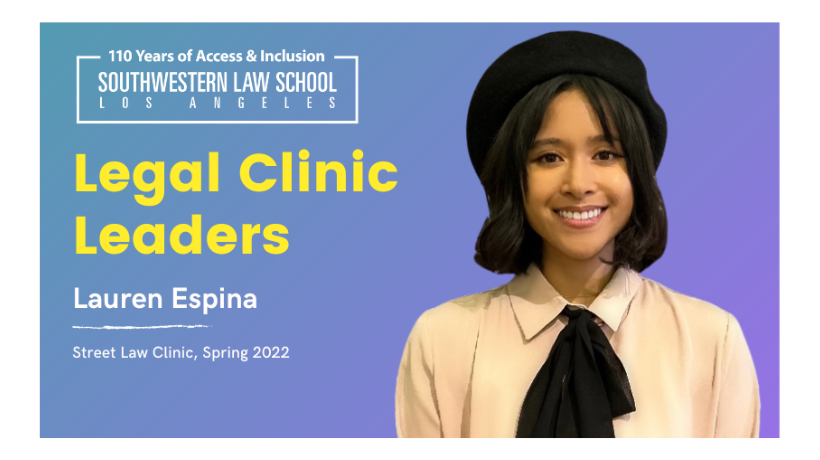 October 19, 2022
Legal Clinic Leaders Series - 3L Lauren Espina
Meet the students who work directly with and in the community to provide quality legal representation to underserved individuals through our Legal Clinic Leaders blog series. We're excited to spotlight these all-star advocates and showcase the many different fields of law you can explore through our legal clinics and the wide range of opportunities available at Southwestern to gain practical lawyering skills. We hope their experiences will inspire YOU to join a legal clinic.
---
Meet 3L Lauren Espina
Street Law Clinic, Spring 2022
Why did you decide to participate in a clinic?
I chose the Street Law Clinic because it sounded like it would be a symbiotic experience where we, as law students, got to learn from the clinic students and vice versa. My main goal was to build trust with the students and to help them understand how the law works and applies to their lives so they can advocate for themselves and their communities. That type of direct service work is what drives my law school journey.
What stands out about your clinic experience?
The students! My teaching partner and I had a big class with as many as 35 kids at a time. They really committed to the course and entered every lesson with so much energy and curiosity. By the end of each class, they would debate hypotheticals or justice issues and would often stay to continue the discussion after the bell rang.
What skills and knowledge did you learn from your clinic experience?
During the clinic, I practiced a lot of soft legal skills like public speaking and communicating complex ideas in a simple way. But the most important skill I developed was listening. A lot of people have little trust in the legal system and lawyers. As a future Public Defender, building trust with clients is crucial. Taking the time to foster trust with clients by approaching them with understanding, listening to their concerns, and affirming their experience is essential to building a strong attorney-client relationship. Working with the students allowed me to hone my listening skills.
What do you think helped take you from student to advocate?
Again, the students. Their active participation and willingness to share had a major impact on the type of advocate I want to be. It's one thing to learn rules and apply them to hypos in class, and it's another to be able to adapt that knowledge to a real person and situation. The students in our class would regularly ask us questions about the lesson as it applied to their lives, and the trust they gave us was so encouraging. I could feel the difference in my advocacy and knowledge-sharing skills by the second or third lesson. 
What words of advice would you have for future clinic students?
The main advice I would give future Street Law Clinic students is to figure out their "why" and to keep that at the forefront of their work. The clinic is a major time commitment, and I think a lot of the experience depends on the group of students you get and the school site. But regardless of those factors, the "why" should keep them motivated to do well for themselves and, most importantly, for the students.
Please provide an inspiring anecdote from your clinical work experience.
Towards the end of the semester, we played a jeopardy game to wrap up the lesson. One of the categories was "Previous Lessons." By then, we had covered a lot of areas, from criminal law and constitutional law to the electoral process and employment. The students went directly to the previous lessons category and got every question right. The stand-out moment was the highest point-value question: What is the first thing you say to a police officer if they stop you on the street? In unison, they all shouted: "Am I being detained?" I was so proud! I added a follow-up bonus if they could tell us what to do if the answer to that question was yes or no, and they got that right too. This is such a foundational right that we have as citizens, but the majority of people don't know what their rights are when interacting with law enforcement. I'm confident they won't forget that lesson and that they'll pass it on to their friends and communities.
---
Interested in learning more about the legal clinics? Visit our Clinics page here. 
Latest from the SW LAW BLOG