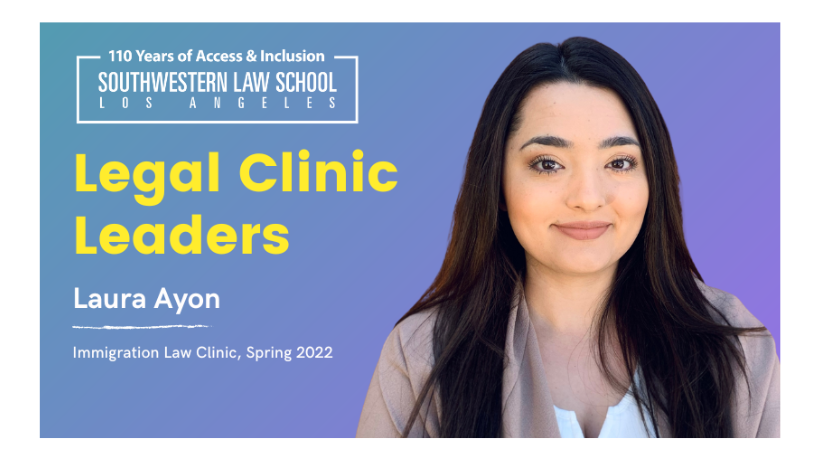 November 4, 2022
Legal Clinic Leaders Series - 3L Laura Ayon
Meet the students who work directly with and in the community to provide quality legal representation to underserved individuals through our Legal Clinic Leaders blog series. We're excited to spotlight these all-star advocates and showcase the many different fields of law you can explore through our legal clinics and the wide range of opportunities available at Southwestern to gain practical lawyering skills. We hope their experiences will inspire YOU to join a legal clinic.
---
Meet 3L Laura Ayon
Immigration Law Clinic, Spring 2022
Why did you decide to participate in a clinic?
My goal was to get a deeper understanding of immigration law and use this knowledge to advocate vigorously for our undocumented community.
What stands out about your clinic experience?
What stands out about my clinic experience is the level of care and attention Professor Ramos dedicates to each case. Under her supervision, I learned what it truly means to be a vigorous advocate. I got to take on a case from start to finish, interviewing and counseling my assigned client. I was taught how to investigate and ask the necessary questions to properly help my client with their immigration petition.
What skills and knowledge did you learn from your clinic experience?
I learned so many skills during my time in the clinic. I learned the foundations of immigration law and how to put an entire U-Visa petition together, as well as an SJIS petition. I learned how to follow up with my clients and close cases. I also learned about conducting trauma-informed interviews allowing me to provide my clients with the utmost dignity, respect, and understanding. I learned skills that I will use for the rest of my career.
What do you think helped take you from student to advocate?
There is much reading and learning at the very beginning of the course. When I met my assigned client, and I used what I learned to actually listen and help them, that was the moment I became an advocate.
What words of advice would you have for future clinic students?
Prepare for each meeting with your client, and trust that you will do a great job. You will have the training and knowledge necessary by the time you meet with your very first client.
Please provide an inspiring anecdote from your clinical work experience.
I learned how much of an impact our work has on members of our community. The cases we work on are for undocumented immigrants who would not otherwise afford representation. I got to work with a child in the foster system with dreams of being able to go to college and succeed in life. For this child getting status in this country will mean a better future where they can attend college and fulfill their goals and dreams. I also worked on a U Visa case which will allow my client to seek the resources necessary to overcome the horrible crime they suffered and provide a better life for themselves and their children. It was some of the most fulfilling work I have ever done.
---
Interested in learning more about the legal clinics? Visit our Clinics page here.