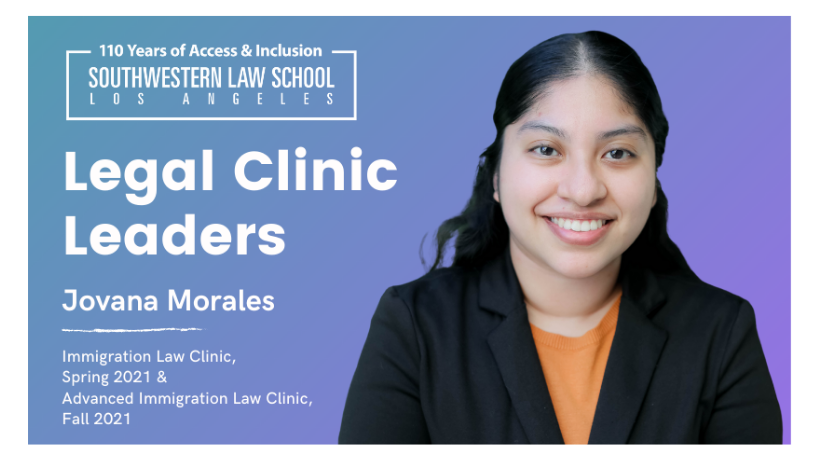 March 31, 2022
Legal Clinic Leaders Series - 3L Jovana Morales
Meet the students who work directly with and in the community to provide quality legal representation to underserved individuals through our Legal Clinic Leaders blog series. We're excited to spotlight these all-star advocates and showcase the many different fields of law you can explore through our legal clinics and the wide range of opportunities available at Southwestern to gain practical lawyering skills. We hope their experiences will inspire YOU to join a legal clinic.
---
Meet 3L Jovana Morales
Immigration Law Clinic, Spring 2021 & Advanced Immigration Law Clinic, Fall 2021
Why did you decide to participate in a clinic?
I wanted to participate in the immigration clinic because I am passionate about immigrant rights and interested in public interest law. I wanted to be part of the clinic to be an advocate for the community and to learn more advocacy skills that I could take in my journey as a future attorney. 
What stands out about your clinic experience?
What stood out to me from my time with the clinic is the very hands-on approach where I was a part of every step from interviewing the client, writing the declaration, to filling out forms. I also found it rewarding to hear feedback from Professor Ramos because it just made me learn more and showed me where I could improve so that I could be the best advocate for the client.
What skills and knowledge did you learn from your clinic experience?
I further developed my advocacy skills, client interviewing skills, and my knowledge of immigration law.
What do you think helped take you from student to advocate?
What helped me to move from student to advocate was the opportunity to handle the case and work with my partner to lead the interviews and be there for our client.
What words of advice would you have for future clinic students?
My advice would be to not be afraid to ask questions to the professors because they really bring so much insight and to listen to their feedback because that really will help you as an advocate.
Please provide an inspiring anecdote from your clinical work experience.
A special moment from working in the immigration clinic was that my partner and I were part of our client's support system and got to see her courage through all that she was enduring. Hearing about our client's hardship and seeing how she relived her trauma so that we could advocate for her in her immigration journey really reinforced the importance of advocacy and why I wanted to be a lawyer — for people like our client who need someone to be their advocate. Having the experience to work with our client made me feel amazing that we were able to be part of this journey with her and help her with her immigration relief. 
---
Interested in learning more about the legal clinics? Visit our Clinics page here.