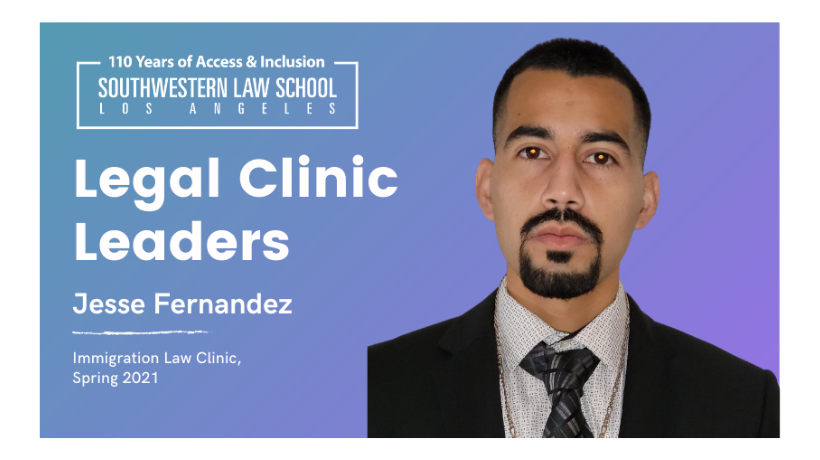 March 16, 2022
Legal Clinic Leaders Series - 3L Jesse Fernandez
Meet the students who work directly with and in the community to provide quality legal representation to underserved individuals through our Legal Clinic Leaders blog series. We're excited to spotlight these all-star advocates and showcase the many different fields of law you can explore through our legal clinics and the wide range of opportunities available at Southwestern to gain practical lawyering skills. We hope their experiences will inspire YOU to join a legal clinic.
---
Meet 3L Jesse Fernandez
Immigration Law Clinic, Spring 2021
Why did you decide to participate in a clinic?
I wanted to help clients who were immigrants like most of my family. 
What stands out about your clinic experience?
Seeing the client gradually trust you and the mutual support that existed in the clinic between me and my colleagues: David Avalos, Jay Kim, and Nancy Santiago. 
What skills and knowledge did you learn from your clinic experience?
I learned what questions to ask and not to ask when interviewing a client. I also learned a valuable lesson on the proper way to advocate for an immigration client through writing. I plan to use these skills in the future when I am a Public Defender.
What do you think helped take you from student to advocate?
The hardships that clients experienced motivated me to become a better advocate for them. I genuinely cared about all the clients I worked with, and I hope they saw that. 
What words of advice would you have for future clinic students?
Get to know your client as much as possible because the more comfortable they are with you, the more you can help them in their case. Clients are hesitant to share personal information with people they do not trust. 
Please provide an inspiring anecdote from your clinical work experience.
One of my adult clients was an immigrant who raised all four of her kids in the U.S. on her own. I had so much respect for her because she had gone through a lot of situations that would stop most people, but she never gave up. She reminded me of all the strong women in my life that had similar stories and who worked hard to get ahead. 
---
Interested in learning more about the legal clinics? Visit our Clinics page here.