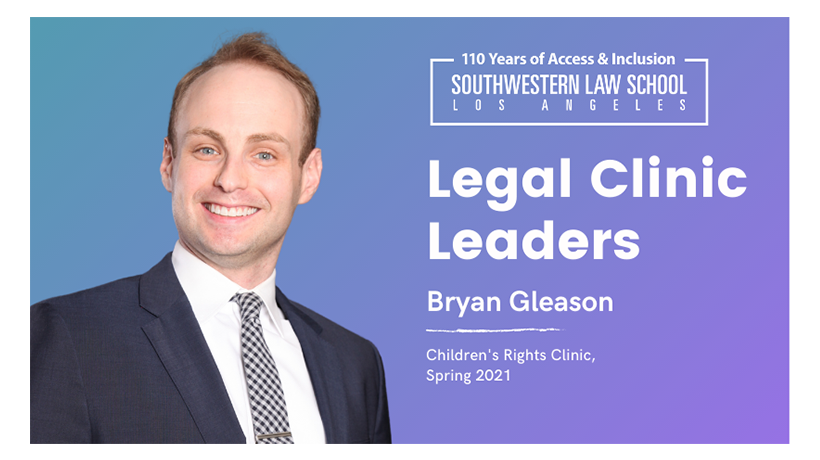 December 13, 2021
Legal Clinic Leaders Series - 4L Bryan Gleason
Meet the students who work directly with and in the community to provide quality legal representation to underserved individuals through our Legal Clinic Leaders blog series. We're excited to spotlight these all-star advocates and showcase the many different fields of law you can explore through our legal clinics and the wide range of opportunities available at Southwestern to gain practical lawyering skills. We hope their experiences will inspire YOU to join a legal clinic.
---
Meet 4L Bryan Gleason
Children's Rights Clinic, Spring 2021
Why did you decide to participate in a clinic?
I felt that it would be an excellent opportunity to pay it forward. When I was a young child, I struggled in school. However, an excellent lawyer named Valerie Vanaman decided to help me out pro bono. Because of her, I was able to reach the heights of law school. Therefore, I felt that it would be an honor to help someone out the same way Ms. Vanaman helped me. 
What stands out about your clinic experience?
Getting to advocate for children in court and during interactions with LAUSD. These interactions resulted in wonderful and heartfelt conversations with the children and parents I was advocating for. Further, my professors stand out. They were wonderful mentors and some of the best professors I had in law school. 
What skills and knowledge did you learn from your clinic experience?
I learned many things working at the clinic. Among other things, I learned how to advocate for my clients in juvenile court effectively, speak publicly to parents and educators about special education, and review and revise IEPs and daft records requests for LAUSD.
What do you think helped take you from student to advocate?
My drive and organization. I am a very driven individual, whether I am learning something new or trying to obtain the best outcome for my clients. Further, I am very organized, a key feature in the law. I made sure that all files were organized and every court date and deadline was calendared. I believe these simple things helped take me far in the clinic. 
What words of advice would you have for future clinic students?
Enjoy it. It is a very challenging and times emotionally draining experience. As an evening student, I never thought I would do the clinic while working full time. However, after a candid conversation and negotiation with my employer, I managed to do it. I am glad I did too, as it was the best experience I had in law school. Following its conclusion, I am no longer afraid to speak to a judge, draft a brief, request documents from opposing counsel, or speak to clients. If you are ever afforded the opportunity to participate, I would highly recommend it.
---
Interested in learning more about the legal clinics? Visit our Clinics page here.