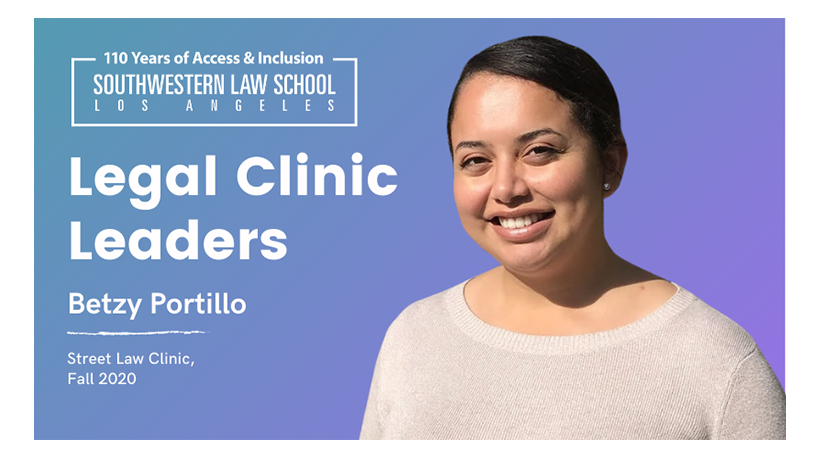 February 10, 2022
Legal Clinic Leaders Series - 3L Betzy Portillo
Meet the students who work directly with and in the community to provide quality legal representation to underserved individuals through our Legal Clinic Leaders blog series. We're excited to spotlight these all-star advocates and showcase the many different fields of law you can explore through our legal clinics and the wide range of opportunities available at Southwestern to gain practical lawyering skills. We hope their experiences will inspire YOU to join a legal clinic.
---
Meet 3L Betzy Portillo
Street Law Clinic, Fall 2020
Why did you decide to participate in a clinic?
I have enjoyed previous experiences teaching students about criminology during my undergrad at UC Irvine and wanted to continue working with youth in my capacity as a law student. 
What stands out about your clinic experience?
It was rewarding to be able to reach out to youth during the COVID-19 pandemic. The pandemic limited students' ability to access the outside world and I was grateful to be able to provide them with this opportunity through remote learning. 
What skills and knowledge did you learn from your clinic experience?
The Street Law Clinic helped me further develop my public speaking skills and improve my ability to explain legal topics to the public. 
What words of advice would you have for future clinic students?
My advice is to teach with intention. As someone who lived in a low-income area and had no knowledge or familiarity with the legal field, I tried my best to provide my students with the information and advice that I would have appreciated at that age. 
---
Interested in learning more about the legal clinics? Visit our Clinics page here.
Latest from the SW LAW BLOG