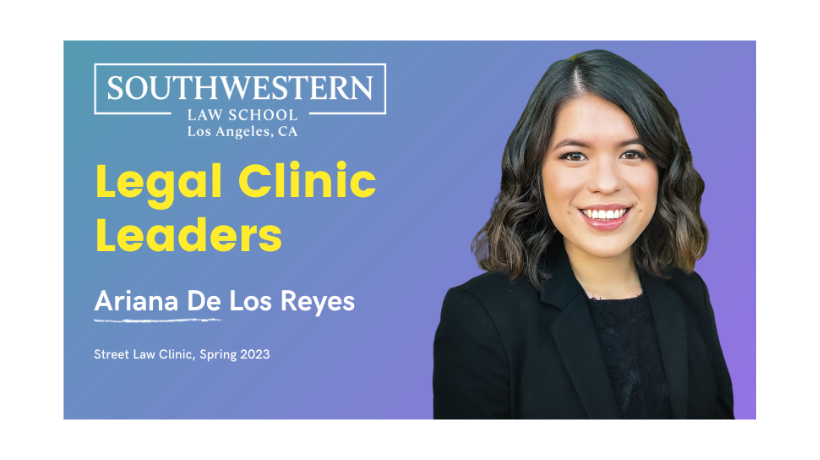 November 13, 2023
Legal Clinic Leaders Series — Ariana De Los Reyes
Meet the students who work directly with and in the community to provide quality legal representation to underserved individuals through our Legal Clinic Leaders blog series. We're excited to spotlight these all-star advocates and showcase the many different fields of law you can explore through our legal clinics and the wide range of opportunities available at Southwestern to gain practical lawyering skills. We hope their experiences will inspire YOU to join a legal clinic.
---
Meet 3L Ariana De Los Reyes
Street Law Clinic, Spring 2023
Why did you decide to participate in a clinic?
I have witnessed and experienced the barriers that many people face when trying to navigate the legal system, and I am committed to breaking down those barriers by making the law accessible. The Street Law Clinic provides this opportunity by working directly with youth who may have limited access to legal information and resources. I wanted to help bridge that gap and empower at-risk youth to make informed decisions.
What skills and knowledge did you learn from your clinic experience?
Throughout my time in Street Law, I was able to develop my public speaking, advocacy, and collaboration skills. I was able to hone my ability to communicate complex legal concepts in an accessible manner and adapt to the diverse needs of the students we worked with.
What did you learn about yourself through your clinic experience?
I was surprised to have developed an unexpected love for teaching! I was intimidated by the responsibilities that come with the position. The newfound knowledge and empowerment the students gained through our lessons could be life-changing. Witnessing the impact that legal education could have on at-risk youth ignited a sense of purpose and reaffirmed my commitment to making the law more accessible to those who need it the most.
What helped take you from student to advocate?
Building strong relationships with the students. My teaching partner and I were extremely dedicated to building trust and ensuring that we formed a connection with the students because we wanted them to engage with the learning process. These relationships not only deepened our understanding of their needs and concerns but also empowered me to use what I learned from them to inform our lesson plans. The students became our partners in the learning process, and their feedback was instrumental in refining our teaching methods and content. By actively incorporating their suggestions and addressing their concerns, we could ensure that our lessons were not only informative but also engaging and relevant to their lives.
What words of advice would you have for future clinic students?
Be authentic, stay involved, remain patient, and, most importantly, create an inclusive and supportive learning environment. Your passion can be contagious and inspire them to become more engaged in the learning process, so talk with them, not at them. Students often respond positively to teachers who are enthusiastic and approachable, so encourage open dialogue, respect diverse perspectives, and make sure all students feel comfortable asking questions and sharing their thoughts. If your students express a particular interest in a legal topic or issue, get creative in incorporating it into your lessons.
Please provide an inspiring anecdote from your clinical work experience.
When we taught our "Know Your Rights" class, we wanted to effectively convey the basic principles regarding the limits of police power and their right to an attorney. We decided to do a roleplay exercise where I, the client, was being interrogated by my teaching partner, acting as the police. The students were tasked with the role of being my lawyer, whom I was calling for legal advice. We asked them what they think—based on what they know about the Fifth Amendment—I should say to the police in response to the "interrogation." The entire class was so engaged! Everyone had something to say based on what they had learned from the lesson. They worked together, deeply engaged in critical thinking, and proved their knowledge. It was remarkable.
---
Interested in learning more about the legal clinics? Visit our Clinics page here.