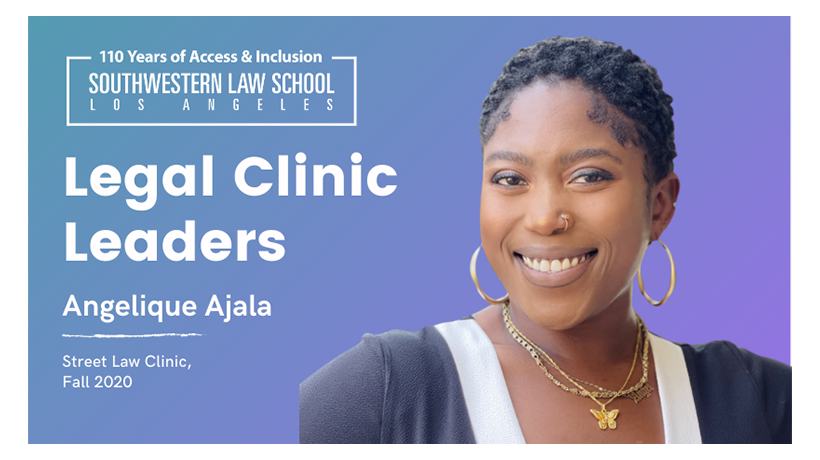 March 3, 2022
Legal Clinic Leaders Series - 3L Angelique Ajala
Meet the students who work directly with and in the community to provide quality legal representation to underserved individuals through our Legal Clinic Leaders blog series. We're excited to spotlight these all-star advocates and showcase the many different fields of law you can explore through our legal clinics and the wide range of opportunities available at Southwestern to gain practical lawyering skills. We hope their experiences will inspire YOU to join a legal clinic.
---
Meet 3L Angelique Ajala
Street Law Clinic, Fall 2020
Why did you decide to participate in a clinic?
I decided to participate in a clinic because I wanted a unique experience that would allow me to intertwine my love of the law with my newfound love of teaching. The Street Law Clinic allowed me an opportunity to explore both avenues.
What stands out about your clinic experience?
What made my clinic experience stand out was actually getting to work with high school students and giving them a lecture to listen to each week.
What skills and knowledge did you learn from your clinic experience?
I learned how to be fluid with my expectations, answer questions effectively, and organize my time. Additionally, I learned how to work in a team and rely on others for their strengths.
What do you think helped take you from student to advocate?
I think actually researching material myself and providing that information to students through class teachings really helped me.
What words of advice would you have for future clinic students?
My best words of advice are to be flexible, to be knowledgeable, and to be accessible.
Please provide an inspiring anecdote from your clinical work experience.
There was a moment in class when one of the students who rarely spoke during our lectures became actively involved when discussing the transition from teenager to adulthood.
---
Interested in learning more about the legal clinics? Visit our Clinics page here.
Latest from the SW LAW BLOG