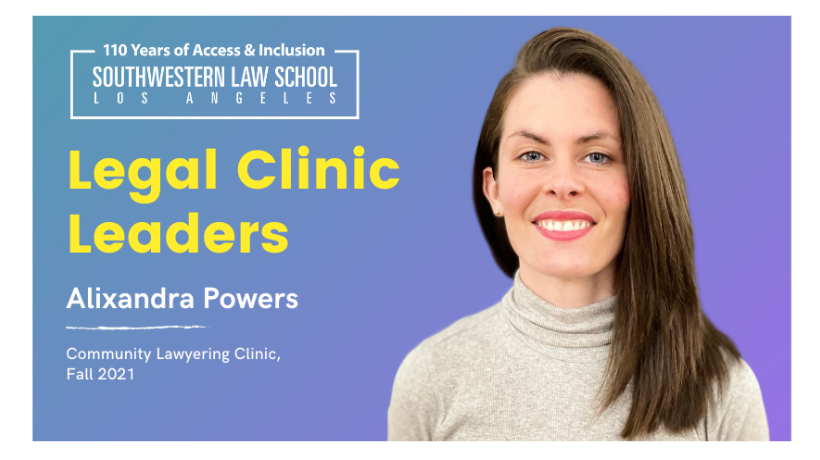 April 15, 2022
Legal Clinic Leaders Series - 3L Alixandra Powers
Meet the students who work directly with and in the community to provide quality legal representation to underserved individuals through our Legal Clinic Leaders blog series. We're excited to spotlight these all-star advocates and showcase the many different fields of law you can explore through our legal clinics and the wide range of opportunities available at Southwestern to gain practical lawyering skills. We hope their experiences will inspire YOU to join a legal clinic.
---
Meet 3L Alixandra Powers
Community Lawyering Clinic, Fall 2021 
Why did you decide to participate in a clinic?
I wanted to gain more experience working directly with clients and understanding their legal needs. I also hoped to understand more about how DACA/Immigration laws impact members of the community and how my understanding could make me better suited to advocate on their behalf.
What stands out about your clinic experience?
Professor Vazquez empowered me to pursue an idea to start a clinic with the TransLatina Coalition. I received a lot of support from the clinic department who allowed me to develop my own plan and training program to assist the trans community with gender marker and legal name change petitions to submit to the courts.
What skills and knowledge did you learn from your clinic experience?
I developed leadership skills working with other students and learned a lot about planning and executing a legal clinic on my own. There were obstacles and changes, but the volunteers were really flexible and the work we did was so rewarding.
What do you think helped take you from student to advocate?
The clinic faculty and staff gave my peers and me a lot of room to learn and grow. I think the space afforded to us to make decisions for clients and advise in ways that we learned from our training pushed us to understand the responsibility that comes with being an advocate.
What words of advice would you have for future clinic students?
If you're on the fence about participating in a clinic, don't wait! The skills you will learn and the work you do is invaluable to your development as a future lawyer. I wish I would have applied earlier in my law school career to have been able to participate in more clinics.
Please provide an inspiring anecdote from your clinical work experience.
If you have an idea, even if it's something you think is impossible to execute, you should put it out there! Developing the clinic with the TransLatina Coalition all started from an Instagram post and with the support of the Clinic Department, it developed into a successful project that we're hoping to continue into the future.
---
Interested in learning more about the legal clinics? Visit our Clinics page here.
Latest from the SW LAW BLOG