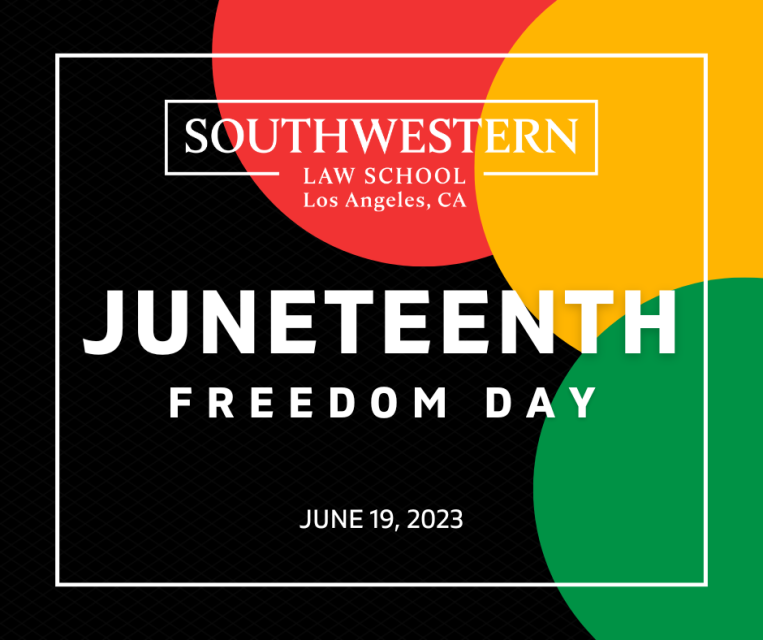 June 16, 2023
Southwestern celebrates Juneteenth 2023
Today marks the day emancipation reached enslaved people in the furthest reaches of the Southern United States and represents a vital milestone in the ongoing pursuit of freedom, justice, and equality for all individuals. It is an opportunity for us to honor the struggles and triumphs of the past, while also reaffirming our commitment to the core values that define us as a community.

Southwestern Law School is closed on Monday, June 19, 2023 in observance of Juneteenth.
The origins of Juneteenth
On January 1, 1863, enslaved and free African Americans awaited news that the Emancipation Proclamation had taken effect. That midnight, prayers were answered as all enslaved people in the Confederate States were declared legally free.
But not all enslaved Americans were emancipated that evening — the Emancipation Proclamation could not be enforced in regions under Confederate control. Thus, Black men and women in the westernmost Confederate state of Texas remained in bondage.
Over two years later, freedom finally arrived. On June 19, 1865, 2,000 Union troops arrived in Galveston Bay, Texas, declaring the 250,000 enslaved black people in the state free by executive decree. This day came to be known as "Juneteenth" by the newly freed people in Texas. 
Celebrate Juneteenth in Los Angeles: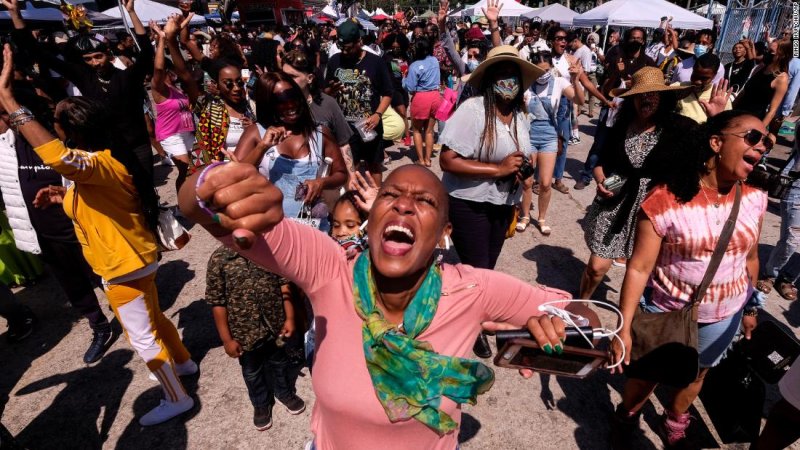 Leimert Park Juneteenth Festival 
Taking place in the historic Leimert Park Village, the Leimert Park Juneteenth Festival features 300+ Black-owned businesses, three main stages, two DJs stages, a spoken word stage and more. 
4395 Leimert Blvd, Los Angeles, CA 90008
Monday, June 19, 2023 11:00 A.M. – 3:00 P.M.
Los Angeles Public Library Juneteenth Events
For those with children, branches of the L.A. Public Library are hosting in-person Juneteenth events,  including Juneteenth Storytime and Craft, and Juneteenth Celebration: Ice Cream in a Bag! 
Sunday, June 19, 2023 11:00 A.M. – 3:00 P.M.
Pies for Justice Annual Juneteenth Charity Pie Sale
Presented by Gather for Good, the 4th annual Pies for Justice is a charity bake sale featuring dozens of pastry chefs, bakers, restaurateurs and farmers. Proceeds will be donated to Peace 4 Kids, an LA based non-profit dedicated to creating consistency, stability and trust for the needs of South LA foster kids; and Everytown, the largest gun violence prevention organization in America.

Monday, June 12 - Sunday, June 19, 2023 
3727 Santa Rosalia Drive, Los Angeles 90008