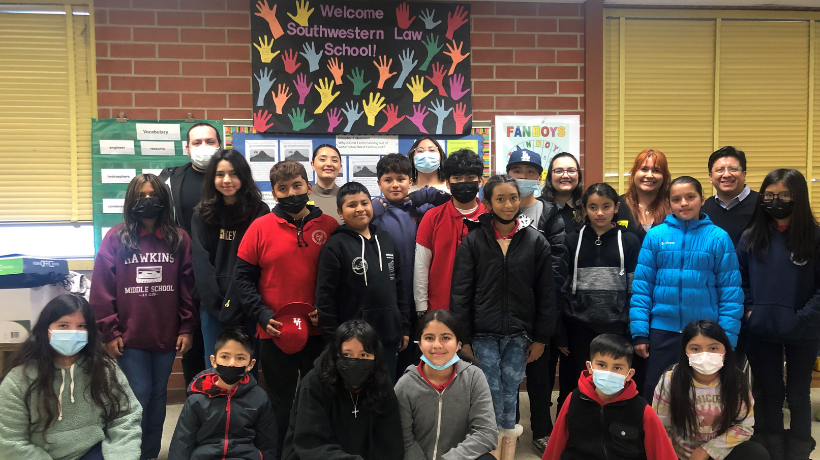 August 25, 2023
Southwestern Law School's Visit to My Class: A Reflection by Fifth-Grader Kaitlyn Tario
By Kaitlyn Tario
Kaitlyn Tario is a fifth-grader in Mr. Maldonado's class at Hoover Elementary School. Kaitlyn wanted to share a personal account detailing her experience with Southwestern Law School's Hoover Elementary School Educational Program. 
---
On February 24, 2023, my class and I were expecting a visit from the Southwestern Law School students and staff. Before they arrived, my class was getting ready because we all understood that this was going to be a very important presentation that was also going to teach us a lot of things. After waiting for a little while, the students and staff arrived. They began to introduce themselves, where they were from, and what they do, and explained what they were going to be teaching us. The students and staff were in different groups working together because of what they study and are working for. The names of the students and staff were Laura, Michael, Stevie, Ashley, and Lucia. They all explained which type of law they practiced, what they did to be able to work in that type of law, and why they worked in the one they chose to work in.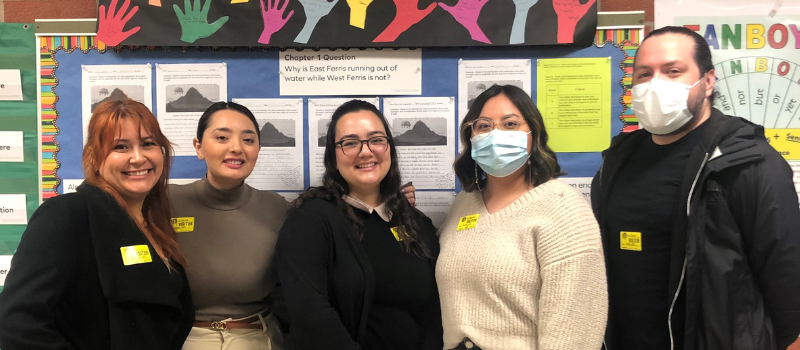 What I really enjoyed about the presentation was how they explained what they work on with all the different laws they study. The different types of laws they showed us that they can work in are Entertainment, Environmental, Criminal, Family, Taxes, and Immigration. It was easy to understand the types of laws they work on because of the way they explained them. They gave very strong details and examples about what they do and how they help people when they work on it. The law students and staff showed how they have helped people when they worked on the law they chose. We all learned that with the different laws you can work on, you can help people, fight for people in court, and many other things. The students and staff talked about what is considered a crime and what isn't. They showed us many examples by showing us scenes from the movies Encanto and Coco. In both movies, there are scenes that people may consider trespassing, theft, and assault. We were able to learn more about these scenes and what is considered a crime.
What really inspired me from the whole presentation was that some of the law students had chosen to work in a certain law because they wanted to help people that they knew were struggling. Another thing that inspired me was that they explained how hard they had worked to get to this point, what they did, and how long it took them to be able to work in law, which helped me understand that it takes hard work to do things. Some information that the students and staff gave us that really stuck with me for the future was them explaining how hard they have worked and are working for their jobs and them encouraging us to work hard on something we really believe in.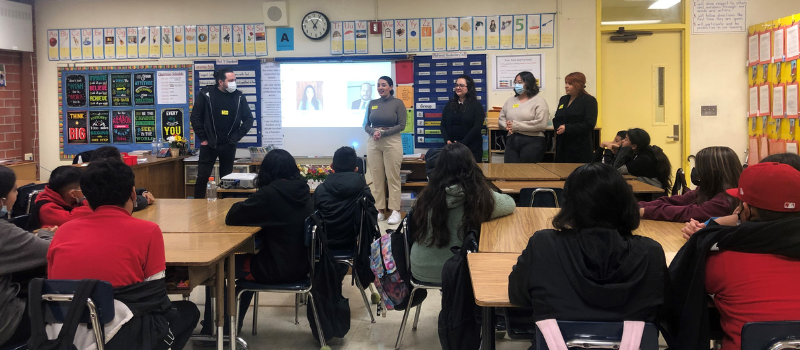 When the presentation ended, the students and staff passed out some backpacks filled with snacks and a brochure talking all about the law school. Afterward, we all took some pictures. Some of the law students were talking to my table, and they all seemed really nice, which I also enjoyed. When they were about to leave, two of the staff members gave us some advice and answered some questions the class was asking. After some time, the staff members and students left. The students and staff gave us very important and useful information for the future, which I was so thankful for. 
In conclusion, the Southwestern Law School visit was a very enjoyable and educational experience. My class and I learned a lot about the law and how hard work always pays off.
---
About the Hoover Elementary School Educational Program
One of the most rewarding ways Southwestern students have become involved in the community is through the law school's longstanding association with Hoover Elementary School. Southwestern officially adopted Hoover through the Los Angeles Unified School District's Adopt-A-School Program, which encourages companies and non-profit organizations to become involved in their community schools. Southwestern's outreach efforts at Hoover are designed to help local youth develop a better understanding of the legal system, as well as develop a sense of responsibility and a desire to continue their education.