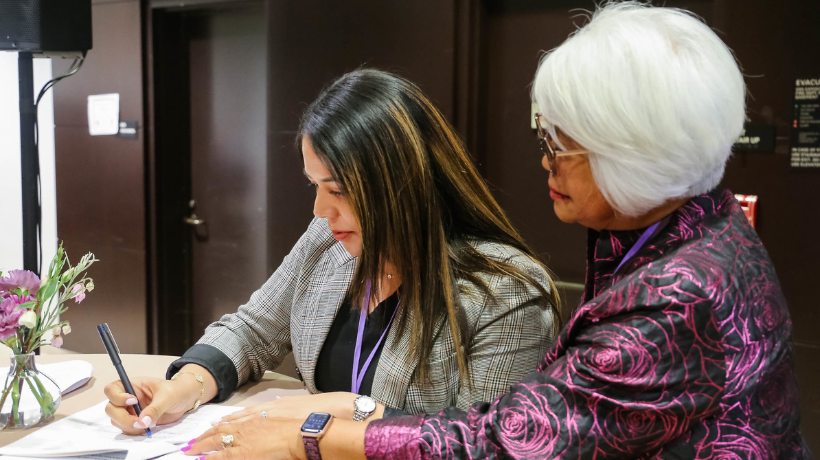 March 29, 2023
Southwestern Law School's Partnership with Cal LAW Pathways Aims to Create a More Inclusive Legal Profession
Southwestern Law School continues its trailblazing legacy of promoting access and equity within the legal profession by partnering with California Leadership Access Workforce (Cal LAW) Pathways, a program developed by the State Bar of California's Council on Access and Fairness with support from the Law School Admission Council. The partnership was announced during the California Law 8th Annual Pathways Summit on February 10, 2023.  
Dean Johnson and Assistant Director of Diversity Affairs Aridai Martinez at the California Law 8th Annual Pathways Summit on February 10, 2023

"Southwestern Law School is proud to join the California LAW Pathways program and support the next generation of lawyers from underrepresented communities. We are committed to providing access to legal education and look forward to working with our partners in the program to make that a reality."  

— Nydia Johnson, Associate Dean for Academic Success and DEI Initiatives at Southwestern.
The Cal LAW Community College Pathway to Law School aims to address the underrepresentation of people of color, low-income individuals, and those from underrepresented communities in the legal profession by creating a pipeline of diverse law students and attorneys. It provides various resources and support to help students navigate the law school application process and ultimately succeed in law school.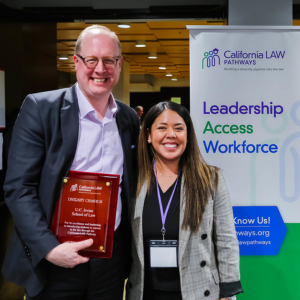 The partnership with Cal LAW Pathways is the latest in a series of initiatives undertaken by Southwestern Law School to promote diversity, equity, and inclusion in the legal profession, including programming designed to address the unique needs of first-gen students, mentorship programs, and scholarships for students who are undocumented. The law school has received several accolades that reflect its commitment to diversity, including the 2022 Higher Education Excellence in Diversity (HEED) Award from INSIGHT Into Diversity. Southwestern Law School has also been recognized by preLaw Magazine as one of the Top Ten Most Diverse Law Schools in 2021 and 2020, receiving an A+ grade.   
Southwestern Law School's partnership with Cal LAW Pathways is a significant step towards creating a more diverse and inclusive legal profession in California. The law school looks forward to working with the program's participants and helping to shape the next generation of lawyers.