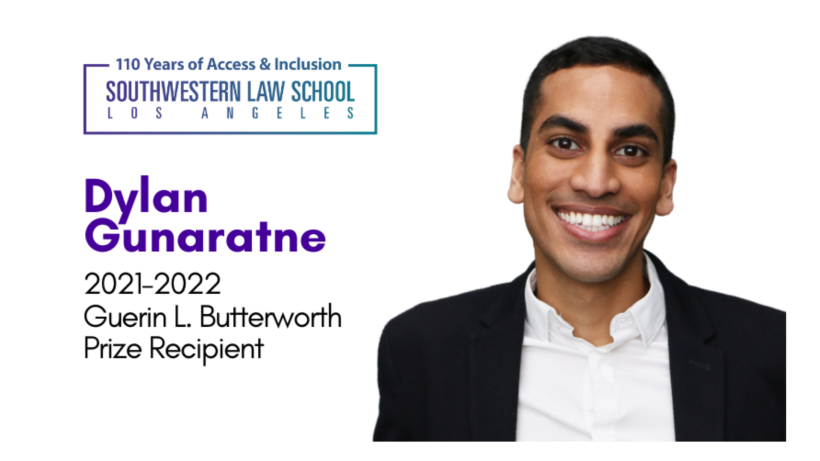 October 31, 2022
Dylan Gunaratne Awarded 2022 Guerin L. Butterworth Prize
Please join us in congratulating SCALE II student Dylan Gunaratne on receiving the 2022 Guerin L. Butterworth Prize! The Butterworth Prize is awarded to the SCALE student with the highest grade point average at the end of the first year of SCALE.
Dylan graduated from California State University, Los Angeles, with a B.A. in Television, Film & Media Studies. After graduation, Dylan trained at Sony Pictures Entertainment in the franchise marketing and branded integration departments. Before coming to law school, Dylan worked as a licensing coordinator at Corus Entertainment, where he was also the National Co-Chair of Corus' LGBTQ+ employee resource group.
At Southwestern, Dylan is a Teaching Assistant to Dean Rolnick, Professor Sloan, Professor Gunning, Professor Carpenter, and Professor Aronovsky. He is also the ABA Representative for the SBA, a member of the Dean's Leadership Academy, the President of Southwestern's chapter of the National Alliance on Mental Illness, a Student Leader for the Public Service Program's Small Claims Clinic, a Dean's Fellow, a Peer Mentor, Staffer on the Southwestern Law Review, and a Clinician for the Entertainment & the Arts Legal Clinic. Dylan has previously served as Chair of the 2021-2022 Student Subcommittee on Admissions and is now a current member of the Strategic Planning Committee.
In the summer of 2022, Dylan was a Judicial Extern in the Los Angeles Superior Court to The Honorable Joseph A. Brandolino. Next summer, Dylan will be a Summer Associate at Gibson, Dunn & Crutcher LLP.
"I am so incredibly grateful for this honor. Being part of Southwestern's SCALE program has been one of the most rewarding experiences of my life. My success is, in part, due to our vibrant SCALE community—a group of determined, ambitious, and dedicated students who pushed me to become a better student, legal professional, and human being. My goal is to inspire students who look like me and students on the LGBTQ+ spectrum. I want them to know that if I can reach these heights, they can too. "

— Dylan Gunaratne, 2022 Butterworth Prize Recipient
About the Guerin L. Butterworth Endowed Prize Fund:
In 2017, Southwestern announced the establishment of the Guerin L. Butterworth Endowed Prize Fund for the first-year law student in its Two-Year Accelerated J.D. Program (SCALE) with the highest grade point average. The Fund was established by Mr. Sterling Franklin, a trustee of the Morris S. Smith Foundation and longtime friend of Ms. Guerin L. Butterworth. After finding out that Ms. Butterworth had been first in her class in her first year in the SCALE Two-Year J.D. Program at Southwestern, Mr. Franklin decided to establish the Fund with a $15,000 gift in her honor.
Learn more about the Guerin L. Butterworth Endowed Prize Fund here.