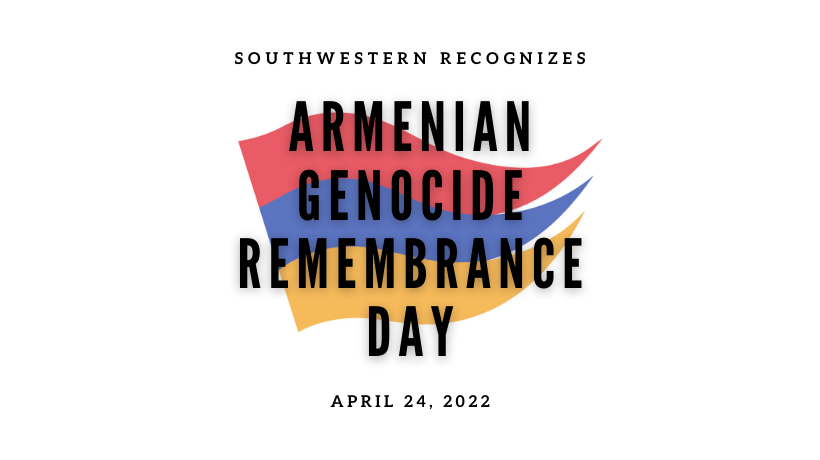 April 22, 2022
Southwestern Recognizes Armenian Genocide Remembrance Day 2022
The Dean's Task Force for Equity, Inclusion, and Belonging—united across cultural, ideological, and religious affiliations—stands in solidarity with our Armenian community to commemorate the Armenian Genocide. 
At the start of the 20th Century, one and a half million Armenian adults and children were systematically murdered and ethnically cleansed by the Ottoman Turks. Beyond the unfathomable loss of life, survivors experienced a physical, psychological, and spiritual trauma that has resonated throughout generations.

Despite definitive evidence, the genocide remains unacknowledged, or denied outright, by many nations. For many Armenians, the generational trauma is exacerbated by a lack of recognition. 

On April 24th, we recognize. 

On this Armenian Genocide Remembrance Day, which commemorates the 107th anniversary of the Armenian Genocide, the Southwestern community stands with the millions of Armenians worldwide by reflecting upon this atrocity. Let us reaffirm our commitment to understanding history, intolerance of injustice, and devotion to upholding the best principles of our diverse, inclusive, and caring community.  
Ways to Commemorate Armenian Genocide Remembrance Day in Los Angeles

Visit the Armenian Genocide Martyrs Monument 
901 Via San Clemente, Montebello, CA 90640
The Armenian Genocide Martyrs Monument was unveiled in April, 1968 to honor the martyrs of the Armenian Genocide perpetrated by the Turkish government from 1915 through 1921, as well as to honor all victims of crimes against humanity.  Click here to learn more about the Monument. 
---

Check out the Shoah Foundation's Library of Testimonials
USC's Shoah Foundation has one of the largest collections of testimonies from survivors of the Armenian Genocide, recorded over decades by Dr. Richard Hovannisian, a leading scholar on the World War I-era genocide.  Click here to register.
---

Attend a Concert of Traditional Armenian Music and Dance 
Saturday, April 30, 4 p.m. | S. Artsakh Avenue, Glendale 91205
Watch UCLA's student-led Lernazang Ensemble, joined by master musicians from Armenia, perform traditional songs and dances from western Armenia.  Click here to RSVP.
Latest from the SW LAW BLOG