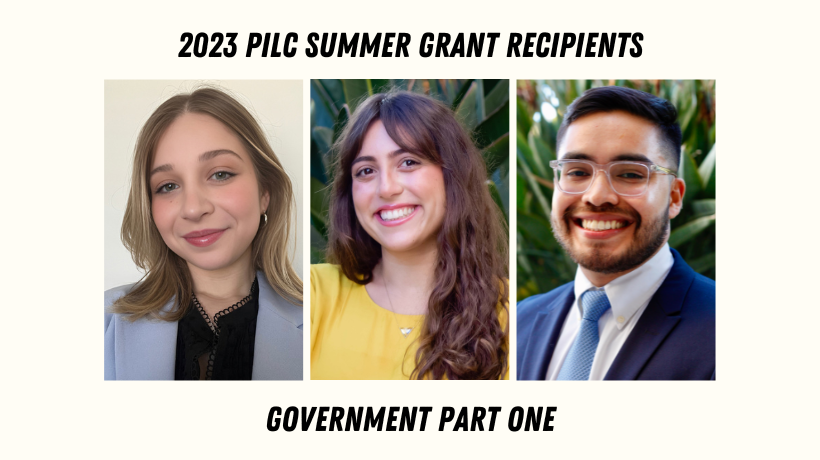 September 22, 2023
Meet our 2023 PILC Grant Recipients Working in Government – Part One
Southwestern's Public Interest Law Committee (PILC) is a student-run organization that sponsors several events each year to raise student awareness and involvement in providing legal services for underrepresented communities and is dedicated to facilitating public interest law careers by supporting students in public interest work through fundraising efforts for the school's Public Interest Law Summer Grant Program.
We want to recognize these students and their incredible work with their Public Interest Law Committee Summer Grant. Meet our first group of 2023 PILC Grant recipients working in Government:
Shadi Azad
Summer Placement: Los Angeles City Attorney's Office
I am passionate about public interest and public service work because the unfortunate reality of the law is that litigation becomes more accessible to those in our community who have the wealth to afford litigation. What I noticed in the employment lawsuits that were dealt with at the LA city attorney's office, going back to the 90s, is that each employment case takes years to deal with. Many get dismissed on SJ or demurrer, but those that remain can take 5-15 years to litigate. I imagine that many plaintiffs feel as though they cannot afford litigation, and so they do not pursue action, even when it is highly likely that they would be entitled to damages. This is a negative aspect of the law, and I want to offset this by either working for a public organization to serve the citizens of LA or taking the time out of my own practice to do pro bono work.
---
Karin Bachar
Summer Placement: Los Angeles City Attorney's Office
My passion for public interest and public service work stems from a deeply rooted belief that the law is a tool for justice, and as legal professionals, we have an obligation to ensure that justice is accessible to all. Throughout my summer experience with the LA City attorney, I've seen firsthand the difference that dedicated public servants can make in the lives of individuals and the community at large. As I look forward to the next steps in my legal journey, my aspiration is to continue collaborating with the City Attorney's office. My summer experience has solidified my belief that working within this framework offers the ideal platform to make a tangible difference. My vision is not just to be a legal professional but to be a dedicated public servant, advocating for justice at every turn. In doing so, I not only hope to serve those who need representation the most but also to be an integral part of the efforts that keep our city just, safe, and thriving.
---
Edwin Giron-Montenegro
Summer Placement: Los Angeles City Attorney's Office
Over the summer, I had the privilege of serving as a Law Clerk at the Los Angeles City Attorney's Office, where I significantly enhanced my legal acumen. This opportunity allowed me to delve deeply into the process of drafting legal documents, including memorandums, briefs, and motions. Beyond these technical legal skills, I developed a deep understanding of conducting legal research, specifically analyzing case law and statutes relevant to each case. I also got a chance to participate in multiple settlement conferences, negotiations, mediations, and depositions, which honed my negotiation and conflict resolution abilities.
One anecdote that particularly stands out from this summer revolves around a case of a plaintiff who had suffered injuries due to a sidewalk uplift. This was an emotionally challenging case, as it involved a pedestrian, an elderly woman, who had sustained significant injuries, impairing her everyday life. The turning point came during the mediation process. Sitting across from the plaintiff, seeing the tangible effects of the accident on her life, underscored the reality of her situation. This personal interaction served as a stark reminder of the essential role we play in seeking justice and remedy for such unfortunate circumstances. As a result, the city agreed to provide appropriate monetary relief for the plaintiff. The incident demonstrated to me the profound impact that we, as legal professionals, can have on individual lives. In helping to bring relief to the plaintiff, it reinforced my commitment to the pursuit of justice. I was reminded of the immense responsibility we hold in our hands and the importance of utilizing our legal knowledge and skills to achieve fair outcomes for those affected by such incidents.
This summer's experience was a testament to the crucial role law plays in balancing public interest and individual rights. The resolution of the case served as a motivating factor in my continued dedication to using my legal skills to contribute positively to society.
---
About the PILC Summer Grant Program
Southwestern's PILC Summer Grant program was established in 1990 with the mission of providing financial support to selected recipients seeking full-time summer clerkships with legal services organizations providing no-cost assistance to underserved, marginalized communities. This program makes it possible for students to acquire the legal training and education necessary to address the lack of access to legal services for indigent communities while also alleviating Southwestern students' financial burden of acquiring more educational loans in order to do so.
PILC sincerely thanks our donors and supporters for your invaluable contributions to this program benefiting Southwestern students. PILC's mission is to help create a community where Southwestern students, staff, faculty, and alumni are educated and incentivized to participate in issues concerning and advancing the public interest, and it is your support of this mission that is vital in helping us reach our fundraising goals each year. 
The student deadline to apply to the 2024 PILC Summer Grant Program is March 4, 2024. Awards up to $5,000. Email publicservice@swlaw.edu for more information.