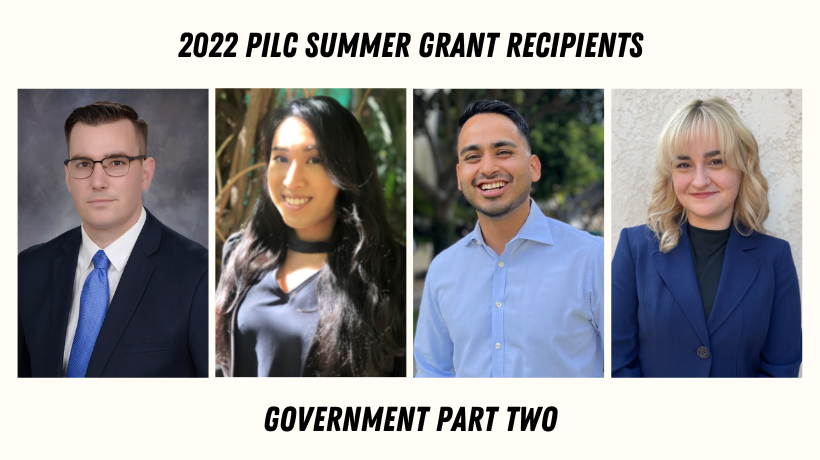 September 30, 2022
Meet our 2022 PILC Grant Recipients Working in Government — Part Two
Southwestern's Public Interest Law Committee (PILC) is a student-run organization that sponsors several events each year to raise student awareness and involvement in providing legal services for underrepresented communities and is dedicated to facilitating public interest law careers by supporting students in public interest work through fundraising efforts for the school's Public Interest Law Summer Grant Program.
We want to recognize these students and their incredible work with their Public Interest Law Committee Summer Grant. Meet our 2022 PILC Grant recipients working in Government Part Two: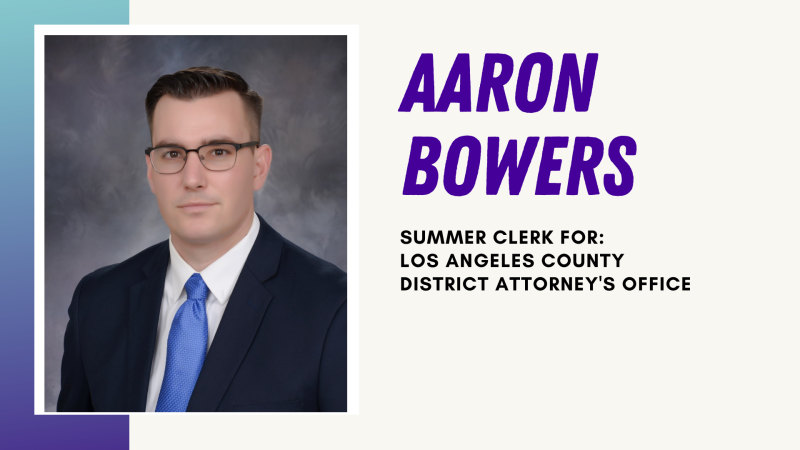 Aaron Bowers
Summer Placement: Los Angeles County District Attorney's Office
Interning at the Community Violence Reduction Division was a groundbreaking experience. The amount of knowledge I gained, as well as fundamental work experience, was truly invaluable. Going into the fall semester as a 3L, I feel a place in this world of law and newfound confidence from working full-time at the Los Angeles County District Attorney's Office. The experience was only optimized by the PILC Summer Grant, which alleviated some of the financial burdens of life. Without that assistance, it would have been more difficult to truly appreciate the experience.
---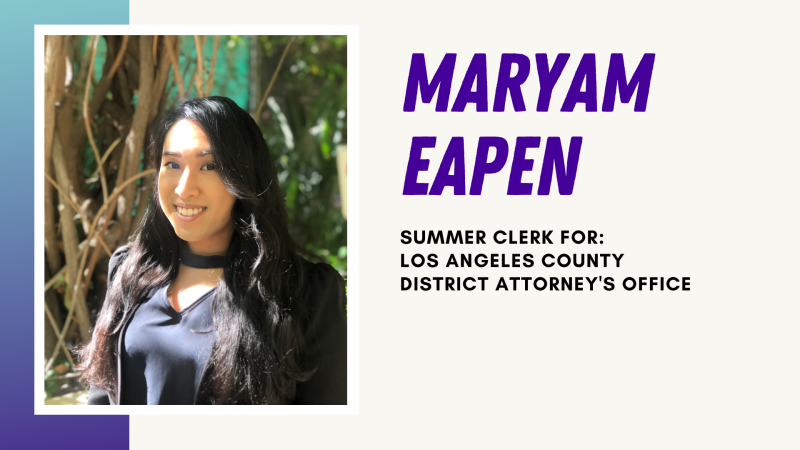 Maryam Eapen
Summer Placement: Los Angeles County District Attorney's Office
This summer, I had the opportunity to take a trip to Men's Central Jail in Downtown Los Angeles. This was an eye-opening experience for me because it showed me the reality of what it was like to serve jail time. Up until that point, I had only read about jail conditions. I think it's a big deal to serve jail time because you not only have your freedom taken away but are subjected to the harsh environment of a prison. I think this experience was particularly important because it made me think twice about crimes and deals that have jail time. Also, this experience had me thinking about the policy outcomes of crimes that have prison sentences attached to them and those that do not. Additionally, prosecutors hold so much power to subject a person to prison conditions and limited freedoms. The possibility of a jail sentence should not be taken lightly and adds weight to a prosecutor's obligation as a truth finder. Because no one who does not need to be there for a second should not serve jail time.
---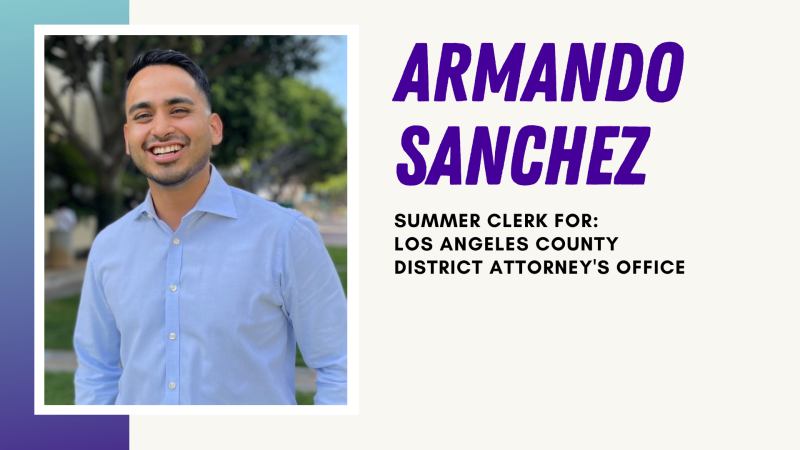 Armando Sanchez
Summer Placement: Los Angeles County District Attorney's Office
I believe that no one is well until the community is well. I believe that if someone is well off financially, mentally, or physically while the rest of the community is not, creates an unjust community. We as individuals are raised by the community. We are shaped by our peers, by our encounters on the street, and through our interactions with the institutions in our lives. As an attorney, we have a duty to help that community. A duty to make the community a better place to live. A place where people can always have access to help when they need it. As an attorney, I plan to better my community. Whether it be through my career serving the community as a deputy district attorney or through any legal clinics where I can donate my time. As a prosecutor, I can make the institution a better place. I can seek justice not just for the victim but for the community. I can show the community that their institutions are working for them to help make their lives better.
---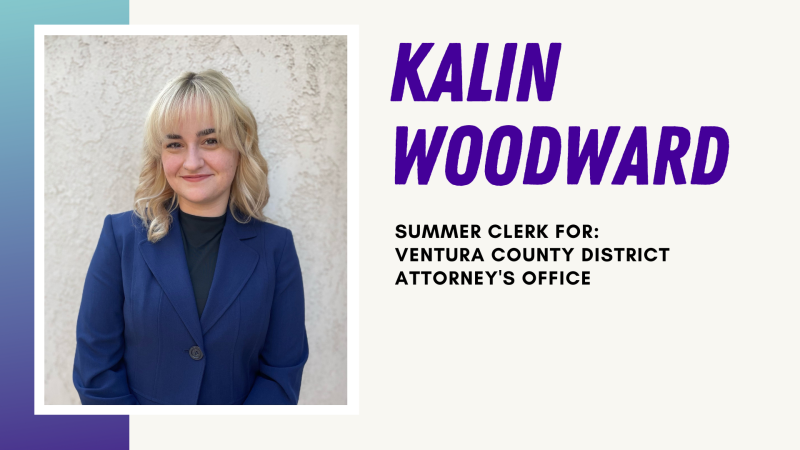 Kalin Woodward
Summer Placement: Ventura County District Attorney's Office
I'm passionate about public interest work because it is my duty as someone privileged enough to receive a legal education to use said education to support and advance my community. I chose to work at the District Attorney's office and hope to return there as an attorney because I value the opportunity to be a voice for my community, victims, and law enforcement. In my position at the DA's office, I observed how the department functioned as a mode of accountability for peace officers, stood up for the victims of crimes, and ethically enforced the law daily. I can think of no higher honor or privilege than doing these tasks daily.
---
About the PILC Summer Grant Program
Southwestern's PILC Summer Grant program was established in 1990 with the mission of providing financial support to selected recipients seeking full-time summer clerkships with legal services organizations providing no-cost assistance to underserved, marginalized communities. This program makes it possible for students to acquire the legal training and education necessary to address the lack of access to legal services for indigent communities while also alleviating Southwestern students' financial burden of acquiring more educational loans in order to do so.
PILC sincerely thanks our donors and supporters for your invaluable contributions to this program benefiting Southwestern students. PILC's mission is to help create a community where Southwestern students, staff, faculty, and alumni are educated and incentivized to participate in issues concerning and advancing the public interest, and it is your support of this mission that is vital in helping us reach our fundraising goals each year. 
The student deadline to apply to the 2023 PILC Summer Grant Program is March 6, 2023. Awards up to $5,000. Email publicservice@swlaw.edu for more information.