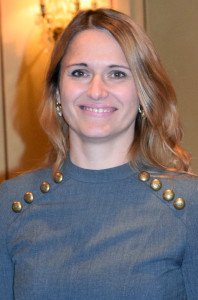 November 30, 2016
Moldovan Fulbright Scholar Enriches Legal and Cultural Education at Southwestern
In August, Professor Aliona Cara-Rusnac, her husband Vlad and her daughter Caroline arrived in Los Angeles from Moldova, a small country in Eastern Europe landlocked between Romania and the Ukraine. An Associate Professor of Law at Moldova State University, Professor Cara-Rusnac has 10 years of experience researching immigration law. As the Fall 2016 Fulbright Research Scholar, Los Angeles was an ideal destination for her studies.
During her semester at Southwestern, Professor Cara-Rusnac has given several presentations on campus. She has spoken about the impact of Moldova's 2014 banking crisis on migration, which has increased the number of people emigrating from Moldova. She noted: "Migration is not a new issue to Moldova but it's become painful because we're losing the specialists and those who are highly educated. The economy has declined, and many people have had to start over in middle age."
Professor Cara-Rusnac has spent the semester auditing Public International Law and International Law in Practice courses taught by Professor Robert Lutz as well as Professor Judy Sloan's Women in the Law seminar and Contracts law.  "This Fellowship has been great because it has enabled me to expand my research and made me think a bit differently about Moldova's migration and financial crisis from another point of view."
This is not her first stay in America. Professor Cara-Rusnac was a Fulbright Scholar (Faculty Development Program) in 2007- 2008 at Hamline University in Minnesota, where she started her research on immigration, auditing that school's immigration course and immigration legal clinic.
Both Los Angeles and Southwestern have provided Professor Cara-Rusnac with an ideal experience. "My first goal was to come here because the U.S. is a melting pot, and California is the perfect example of it," she said. "The professors at Southwestern are tremendously experienced, and they're so nice and so open. The people are very warm and very welcoming wherever I go here. I live at Wilshire and Union, so I also get to experience the heart of the immigrant population."
Professor Cara-Rusnac's  experience this semester has also included a trip to New York in October for International Law Weekend at Fordham University. In December, she will attend a Fulbright Enrichment Seminar in San Diego, which will include a trip to the Mexican border. Before returning to Moldova in January, she will attend the Association of American Law Schools' (AALS) annual conference in San Francisco.
Professor Cara-Rusnac discovered a lot about immigration law and international banking law issues from Professor Robert E. Lutz, and also enjoyed learning about related areas of law with Professor Mark Cammack, Beth Caldwell, Deborah Forman, Judy Sloan, Michael Epstein and Warren Grimes.
Upon her return to Moldova in January, Professor Cara-Rusnac will continue teaching at Moldova State University. She also hopes to work with banks and help implement new solutions for existing banking crises in order to halt rampant emigration from her country.
The entire Southwestern community has made this experience so memorable for her "Professor Lutz and Professor Warren Grimes and Senior Associate Dean Doreen Heyer are really nice and helpful," Professor Cara-Rusnac said. "No matter what my questions are, they always had an answer, a way to help. The students are really nice, too. They approach me and really care about my research. I've never experienced that before."
Professor Cara-Rusnac and her family are grateful to Dean Susan Prager, Professor Lutz and Dean Heyer, who provided the invitation acceptance letter and invitation necessary for them to obtain visas to travel to the United States. Professor Cara-Rusnac said: "I am so fortunate to have this most wonderful experience that enriched my professional and personal life in this most beautiful place my daughter, Caroline, called it 'Gloss Angeles.' I hope one day Caroline will be back in her beloved 'Gloss Angeles' at Southwestern Law School."