A Conversation About Deported Americans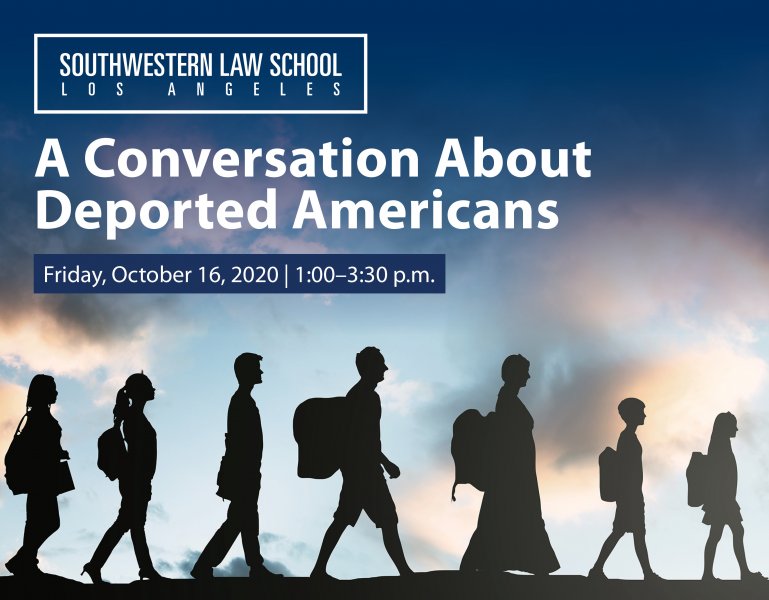 October 16, 2020

1:00 P.M. - 3:30 P.M.

2.5 Hours CLE
This webinar will highlight some of the topics and themes discussed in Beth Caldwell's Deported Americans: Life After Deportation to Mexico.
We will be discussing: the immigration deportation process and its deficiencies; the social and economic realities these deportees face in Mexico; the detrimental effect on marriages and separated families; and, lastly, the proposed reevaluation and reform of the immigration system in the United States.
Our webinar will feature many prominent immigration professors and scholars and their articles will be published in issue two of the 50th volume of the Southwestern Law Review. We hope you can join us.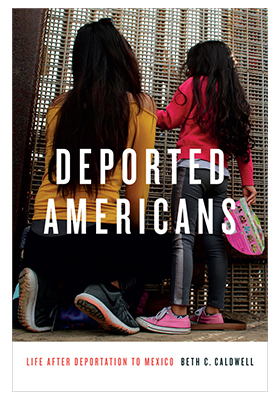 When Gina was deported to Tijuana, Mexico, in 2011, she left behind her parents, siblings, and children, all of whom are U.S. citizens. Despite having once had a green card, Gina was removed from the only country she had ever known.
In Deported Americans legal scholar and former public defender, Beth C. Caldwell, tells Gina's story alongside those of dozens of other Dreamers, who are among the hundreds of thousands who have been deported to Mexico in recent years. Many of them had lawful status, held green cards, or served in the U.S. military.
Now, they have been banished, many with no hope of lawfully returning. Having interviewed over one hundred deportees and their families, Caldwell traces deportation's long-term consequences—such as depression, drug use, and homelessness—on both sides of the border. Showing how U.S. deportation law systematically fails to protect the rights of immigrants and their families, Caldwell challenges traditional notions of what it means to be an American and recommends legislative and judicial reforms to mitigate the injustices suffered by the millions of U.S. citizens affected by deportation.
---
Praise for Deported Americans:
"A deeply informed appeal to create more humane practices for noncitizens facing criminal deportation. . . . Caldwell looks systematically at the effects of deportation to Mexico on the spouses and children especially (drug abuse, depression, suicide, attractions to gangs) and how this inhumane banishment should be amended. A compelling, rigorously researched legal argument against the demonization of deportees."   
— Kirkus Reviews
"By telling their stories, Caldwell humanizes the crises these individuals endure, including those of spouses and children who face the decision of having to leave everything they know behind to be with their exiled loved ones. A stark portrayal of the contradictory, misguided, and ineffectual immigration laws that determine the futures of so many."
— Kenneth Otani, Booklist
"Accessible and eye-opening. . . . Caldwell's extensive research, astute legal analysis, and readable prose make this a layperson-friendly introduction to a thorny problem."
— Publishers Weekly
Beth Caldwell teaches Criminal Law, Crimmigration Law, and Criminal Procedure at Southwestern Law School. She founded the school's Youth Offender Parole Clinic, which provides law students the opportunity to advocate for the release of people who were sentenced to spend the rest of their lives in prison for crimes they committed in their youth.
Her research focuses on juvenile justice, the Eighth Amendment, and the intersections between criminal and immigration law. In addition to publishing numerous law review articles, her work has been featured in media outlets including Time Magazine, La Opinión newspaper, Univisión, and The Nation. Duke University Press published her book Deported Americans: Life After Deportation to Mexico in 2019.
Professor Caldwell earned her J.D. and Master of Social Welfare at UCLA, where she was a part of the Epstein Program in Public Interest Law & Policy and was immersed in the field of Critical Race Studies. She worked for years with nonprofit community organizations in served as a trial attorney in the Los Angeles County Public Defender's Office for nearly five years.
She has lived in Mexico for significant periods in her life and was awarded a Rotary Ambassadorial Scholarship which funded one-year of study at the Universidad de Guadalajara in 1998-99; a Fulbright Garcia-Robles Fellowship to conduct juvenile justice research in Oaxcaca in 2008-09; and a Soros Justice Medial Fellowship to research the consequences of crime-based deportation in 2011-12.
Authors & Speakers  
Professor of Law,
Southwestern Law School

Professor of Law,
UCLA Law School

Edward L. Barrett Jr. Chair of Law,
Martin Luther King, Jr. Professor of Law,
Director of Clinical Legal Education
UC Davis School of Law

Professor of Law,
UCLA School of Law

Dean and Mabie-Apallas Professor of
Public Interest Law and Chicana/o Studies,
UC Davis School of Law

Clinical Professor of Law,
Director of the Immigration Law Clinic,
Southwestern Law School

Visiting Scholar and Lecturer in Legal Studies,
University of California, Berkeley

Adjunct Professor,
Golden Gate University School of Law

Martin Luther King, Jr. Professor of Law,
UC Davis School of Law

Professor Emeritus, Criminology, Law & Society
School of Social Ecology,
University of California, Irvine

Clinical Professor of Law,
Director of Community Lawyering Clinic,
Director of Public Interest Law Concentration
Southwestern Law School

Associate Professor of Law,
Sturm College of Law

 

 

 
Moderators
Special Projects Editor,
Southwestern Law Review

Editor-in-Chief,
Southwestern Law Review
 
The Southwestern Law Review is a student-edited quarterly journal that publishes scholarly articles and commentary on the law contributed by prominent jurists, practitioners, law professors, and student members of the Law Review staff.