LEED Sustainable Design Features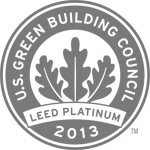 Southwestern's on-campus student housing complex is LEED® certified to the Platinum level. The LEED (Leadership in Energy and Environmental Design™) green building program is the nationally accepted benchmark for the design, construction and operation of green buildings.
The LEED rating system, developed by the U.S. Green Building Council (USGBC), is the foremost program for buildings, homes and communities that are designed, constructed, maintained and operated for improved environmental and human health performance. Certification recognizes the implementation of practical and measurable strategies and solutions aimed at achieving high performance in sustainable site development, water savings, energy efficiency, materials selection and indoor environmental quality.
The LEED® Certification trademark owned by the U.S. Green Building Council is used with permission.
Construction
Building site erosion control
Construction site waste management
Off-site fabrication for efficient material framing and resource use, including wood waste control
Use of local gravel for concrete mixes
Use of aluminum systems with recycled aluminum products
Building Systems and Operations
Roof and courtyard rain water directed to infiltration system
Permeable paving direction water to infiltration system
Irrigation demand reduced by 20%
Use of high efficiency irrigation controls and systems
Landscaping with non-invasive and drought resistant plants
Preferred parking for hybrid/electric cars with designated electric plug-in stations
Proximity to public transit systems including bus and rail with ridesharing program promoting use of mass transit, walking and biking
Secured bicycle storage room
Recycling facilities and program
No-smoking facility
Unit Finishes, Appliances and Systems
Efficient HVAC system and windows with 24% more efficiency over the minimum Title 24 requirements
Energy Star appliances
Energy rated windows
Operable windows allowing fresh air ventilation
Glazing sun control and shading
Water conservation appliances and fixtures
Resilient flooring throughout
Kitchen hood, bathrooms and dryer exhaust directly to outdoors
Tenant training in use of green living systems and appliances
More information: www.usgbc.org/leed