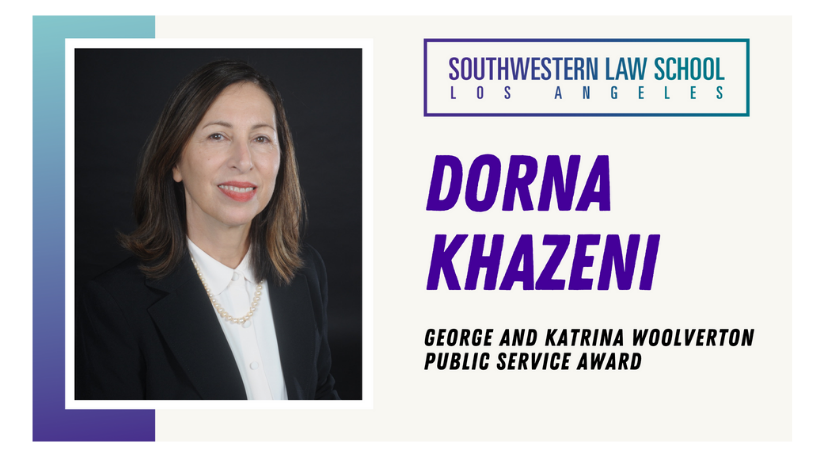 April 20, 2022
3L Dorna Khazeni Awarded the George and Katrina Woolverton Public Service Award
Please join us in congratulating Dorna Khazeni on receiving the George and Katrina Woolverton Public Service Award! 
She was selected for the Award in recognition of her demonstrated extraordinary dedication to public interest law activities while at Southwestern. Only one student is chosen for this prestigious honor annually. The Woolverton Award is in the amount of $10,000.
Dorna Khazeni was born in Iran. She worked as a Farsi-certified court interpreter and a French literary translator prior to attending law school. She decided to make a career change due to her increasing awareness of the unjust treatment of Muslims and individuals from the Middle East as a result of anti-terrorism policies following September 11. Three years of law school have allowed her to better understand the dynamic between power and justice. She hopes her advocacy will always be in the service of a fight to align what is legal with what is just.
---
Meet Dorna Khazeni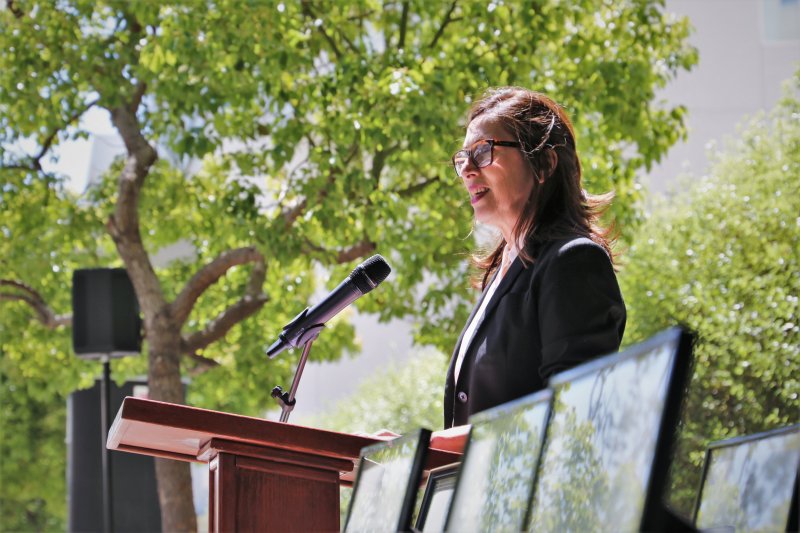 What is the most satisfying aspect of public service for you?
The most satisfying aspect of public service work for me is the knowledge that when I work in public service, I serve as an instrument to ensure my client's story is heard. For me, this is a way of holding the law accountable and attacking those structural injustices in our society that deprive so many of the chance to thrive.
Public service work gives me a chance to reassert the truth of our common humanity and its preciousness in a society that makes it acceptable to deny the humanity of some. It is a way of saying we are all liable to suffer, to commit transgressions, and to make mistakes. The opportunity to stand with someone else is an exercise in remembering we all need and deserve to be supported. But for the support I have received, I would not still be standing. I am grateful for the opportunity to give back that support.
---
What have been some of your favorite highlights of your service involvement during law school? 
My favorite aspect of my service work at law school has been connecting with other like-minded students and faculty. My world has expanded exponentially through these relationships. A special shout out to alumni Haley Pollock and Emily Hart, and Rose Harriot, all three social justice warriors, whose friendship got me through my lonely 1L year. In my 3L year, as a board member of PILC and NLG, I got to experience the incredible solidarity of my fellow board members. I am grateful for their friendship and their support. These relationships will endure.
---
What words of advice would you have for future Southwestern students?
Hang in there. Find a few people you admire and keep them close. Don't pursue work you have no interest in. It will deaden your soul. Don't be fooled by people who act like it's a breeze. It's not. But it's doable. It will all work out.
---
Congratulations on receiving the George and Katrina Woolverton Public Service Award! Feel free to share a personal note with those you'd like to thank for supporting you during your law school career.
I would like to thank the following people without whose support I would not have made it through law school. Professor Roman Hoyos, whose Property class cracked the law open for me where it had been obscure and impenetrable before; Professor Natalie Rodriguez for her kindness and support in my first and second years of law school; Professor William Wood, who chose me as his Research Assistant and in doing so conferred a halo of confidence and helped me overcome my insecurity; Professor Beth Caldwell for her inspiration and her support; and especially Mitzie Vitela, who when I dissolved in tears in her office in my 1L year and wanted to quit law school, gave me heart and courage, and encouraged me to stay the course. She said you can do this.
Two other women who are so central to my law school life are Christine Tarr, my career advisor who helped me in too many ways to count, in 1L and beyond. I could always reach out to her. She always answered. And, Michelle Takagishi, who has served as so many things: career advisor, provider of general support, and generally the kindest human, there to listen and offer guidance. Her dedication to public interest law has created a home for me and other like-minded students in the PSP Office. Without it, it would have been hard to get through law school.
I also want to thank the amazing Colleen Flynn, a Southwestern alum and a tireless civil rights lawyer who when I reached out to her as a 1L took me under her wing, included me in the police misconduct roundtable meetings, and showed me the world of lawyering I was looking for.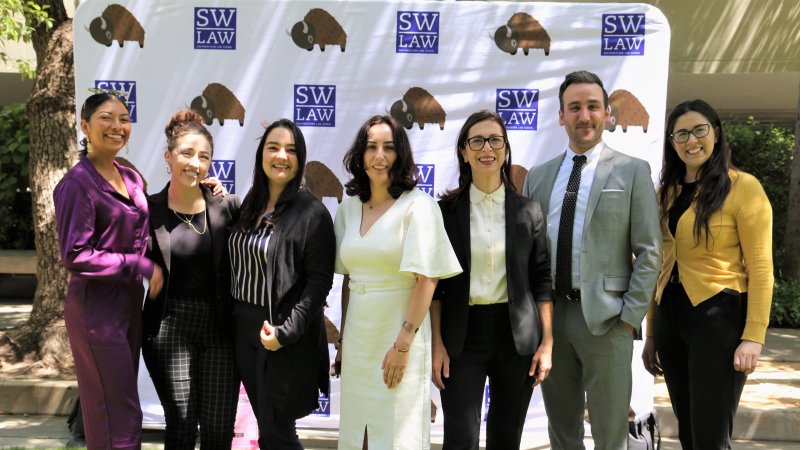 Congratulations on your well-deserved award, Dorna!