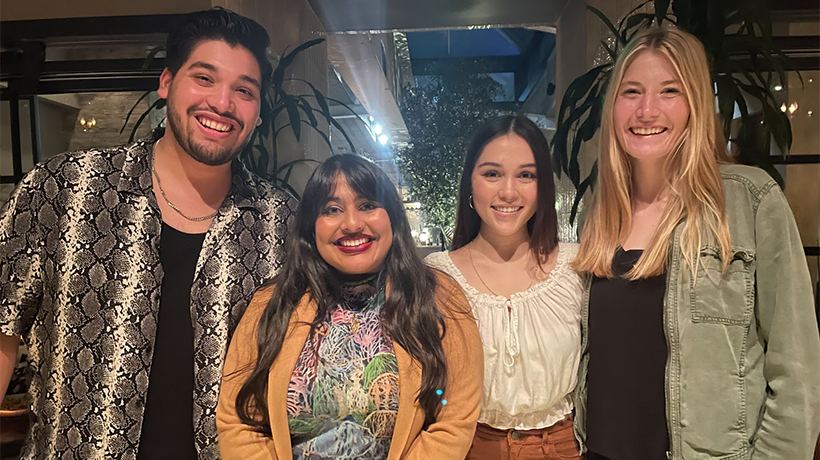 November 11, 2021
Southwestern TAHP-ers Win All Star National Championship from Field of 64
A huge congratulations to TAHP-ers Nupur Apte, Alexa Chavez, Alex Welfringer, and Francisco Yeverino on competing in the 2021 All Star National Competition and Bracket Challenge on November 4-7, 2021. What an EPIC win for Southwestern as our TAHP All Star team swept the competition, emerging victorious as the National Champions! To top it off, Alex Welfringer won Best Advocate in the Final Round and Honorable Mention Outstanding Advocate in the Preliminary Rounds, and Alexa Chavez won Outstanding Advocate in the Preliminary Rounds.
Alexa Chavez credited their success to their teamwork and coaches.  She says, "We truly owe this win to our ability to work well as a team. We've been there for each other during the hardest moments of the last three months, when we were practicing three to four times a week, sometimes for five hours at a time, and we've celebrated each other's small wins along the way as well. Our coaches pushed us to be better advocates every day, and they constantly encouraged us to trust ourselves. Because of their unwavering support, we're now armed with indispensable trial tools that will make us better lawyers in the future."
"The best part about this entire experience has been working with this team and these coaches. Winning was just the cherry on top!"

- Alexa Chavez
The All Star National Competition and Bracket Challenge, hosted by Faulkner University Thomas Goode Jones School of Law and St. Mary's University School of Law, combined is the largest invitational trial competition in the country. It was first held last year in response to the pandemic preventing live trial advocacy competitions. This competition featured sixty-four teams from across the nation facing off virtually in an NCAA-style regional bracket. The top four teams from each region moved onto the National Champions.
Our TAHP All Star team competed in four preliminary rounds in just two days, presenting each side of the case each day. They faced St. Mary's, Kansas, Cal Western, and Utah during the preliminary rounds, advancing to the Semi-Final Round as the number four seed. After a hard-fought victory by our Defense team against Cal Western, our Prosecution team presented the case and beat Ohio State in the finals to become National Champions.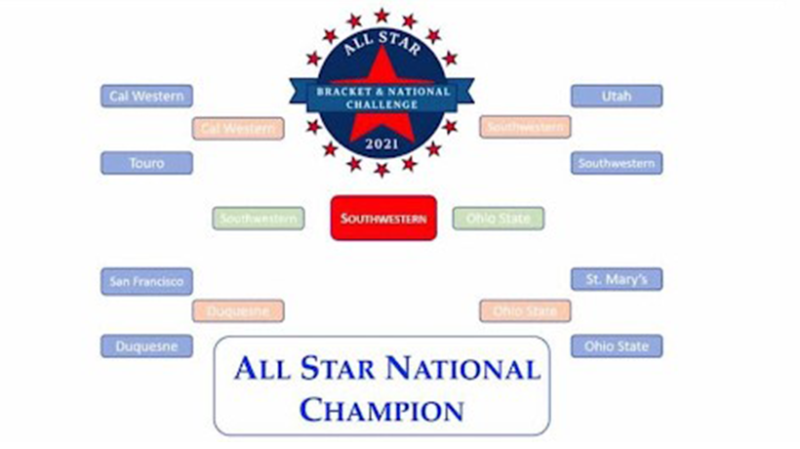 Head Coach Jeremy Davis '11, a former TAHP Board member and currently a Los Angeles District Attorney who has been coaching competition teams for the last ten years, says this is his first team to win a championship, and he couldn't be prouder.
He shared, "I am so proud that the team came together as a whole and beat some of the best trial teams in the nation. Zoom trials might be the future of trials. Because this technology is so new, there is no established way to present these trials. Our advocates embraced the unknown and were able to authentically connect with the scoring judges, without even being in the same room, let alone, state as them."
This year's problem was a criminal case based on circumstances surrounding the challenging and important issue of domestic abuse and murder. For the competition, our advocates were divided into teams of two. Francisco Yeverino and Alex Welfringer were assigned as the Prosecution and Nupur Apte and Alexa Chavez as the Defense team. While only two members acted as attorneys in each round, the other two advocates on the team played witnesses. This was truly a team effort.
"The first competition you do is nerve-wracking and difficult, but going through this journey with this team, these coaches, and these team managers gave me all the support and confidence I needed to do well. This experience was as good and rewarding as it was because of them, and I would not have had it any other way."

- Nupur Apte
Likewise, her teammate Alex Welfringer was brimming with praise for their team, their coaches, and the whole experience. 
She says, "This experience was the best part of law school. It pushed each of us to our limits, but it was all worth it in the end. The best part to me was just how close we became as a team. We learned from each other, cried with each other, pushed each other to be better, and were there for each other every step of the way. I wouldn't have wanted to go through this with anyone else. I also want to thank our three incredible coaches. They believed in us from the beginning, and the bond that we all formed is something I will treasure forever."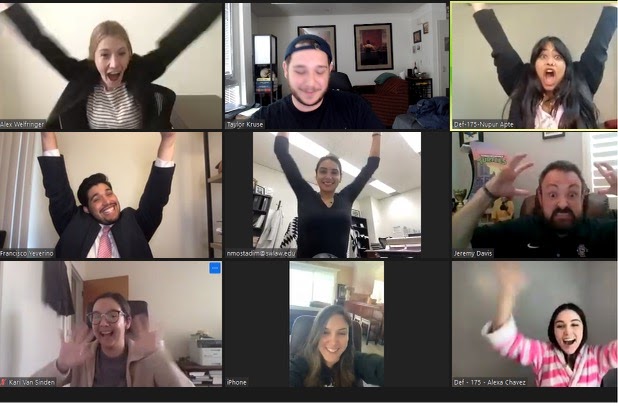 TAHP-er Francisco Yeverino also reflected on their journey to the Championship and the significance of this win for the team. 
"I am beyond grateful for this experience and grateful to be a part of TAHP. The process of getting ready for the competition was definitely not easy by any means, but my teammates and the coaches have made it all worth it. I look back to when I first tried out for TAHP, and WOW...I am a completely different advocate. And that is all thanks to the wonderful mentors and lifelong friends I have made. Thank you to Jeremy, Negin, and Anet for pushing me to my limits, for not giving up on me, and for helping me gain this new confidence in my advocacy skills. And a big thank you to my teammates for holding me up when I fall and for being the light at the end of the tunnel. We're National Champions! We did it!" 
We are so proud of our Trial Advocacy Honors Program team and their accomplishments!
Please join us in congratulating all the advocates and the coaches for their incredible work! Thank you to the entire Trial Advocacy Honors Program, their coaches Jeremy Davis, Negin Mostadim, and Anet Badali, and their faculty directors for helping this team prepare. 
Latest from the SW LAW BLOG