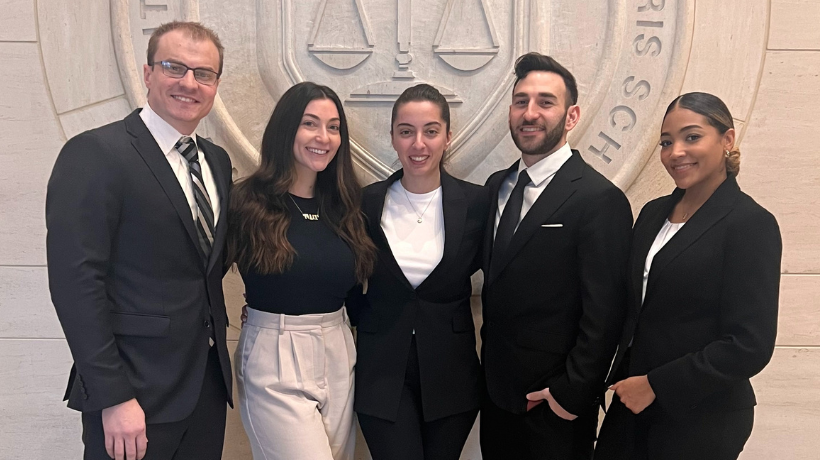 March 31, 2023
Southwestern Law School Negotiation Honors Program Triumphs at Fordham National NBA Basketball Negotiation Tournament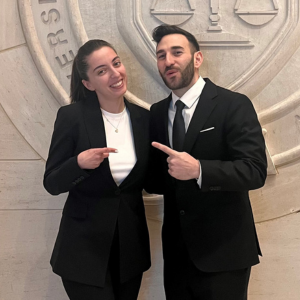 On March 10-11, 2023, Southwestern Law School Negotiation Honors Program (NHP) students Tia Ownes, Andrew Hutchings, Dave Fisher, and Ani Manvelyan competed in the Fordham National NBA Basketball Negotiation Tournament in New York. The students worked tirelessly, mastering both an NBA trade deal and an endorsement deal between Kyrie Irving and New Balance, and their hard work paid off in a big way.
Both teams performed exceptionally well, advancing to the Quarter-Finals. Dave Fisher and Ani Manvelyan continued their winning streak, advancing to the semi-finals and ultimately making their way to the final round of the competition. During the final round, Fisher and Manvelyan impressed the judges with their skills and took home the 1st Place trophy, mastering five different negotiation problems on their way to the championship.
"We are incredibly proud of all four of these students," said NHP Director Cristina Knolton. "Out of 34 teams, Andrew and Tia tied for 5th Place, and Dave and Ani took home 1st! Fordham is one of the toughest competitions to prepare for. All four students exhibited true talent at the table and were exceptional advocates for their clients. They represented Southwestern and their clients so well!"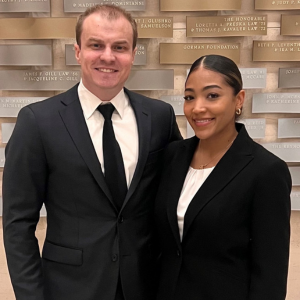 The coaches Tamar Chobanian and Alexis Stoker played an instrumental role in the students' success. Chobanian, a former member of the NHP team that won the ABA National Negotiation Championship in 2020, shared her skills with the current NHP members. Stoker, the NHP's current Chair of the Board, is an expert in all things NBA and was described by Tamar and competitors as the "MVP" of the competition.
"We couldn't have achieved this victory without the support of our amazing coaches, Tamar and Alexis. Thank you for coaching these four incredible students and helping them achieve their full potential," said Knolton.
Southwestern Law School's Negotiation Honors Program continues to develop outstanding negotiation skills and produce talented negotiators. The NHP's success at the Fordham National NBA Basketball Negotiation Tournament is a testament to the program's excellence.