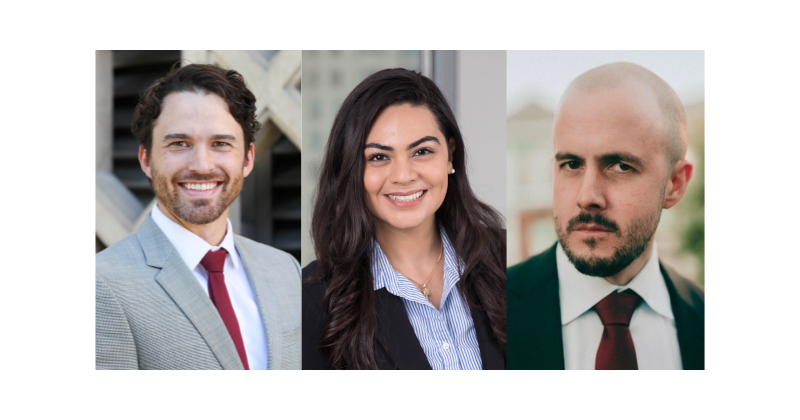 March 13, 2023
Moot Court Team ABA Wins Regional Best Brief Award, Finishes in Top Four
Please join us in congratulating Moot-ers Ry Amidon, Vanessa Martinez de la Torre, Samuel Johnson, and their coach Professor Catherine Carpenter, on winning the Best Brief Award and placing as semifinalists at the 2023 ABA National Appellate Advocacy Competition Regionals on February 16th-18th, 2023, in Brooklyn, NY!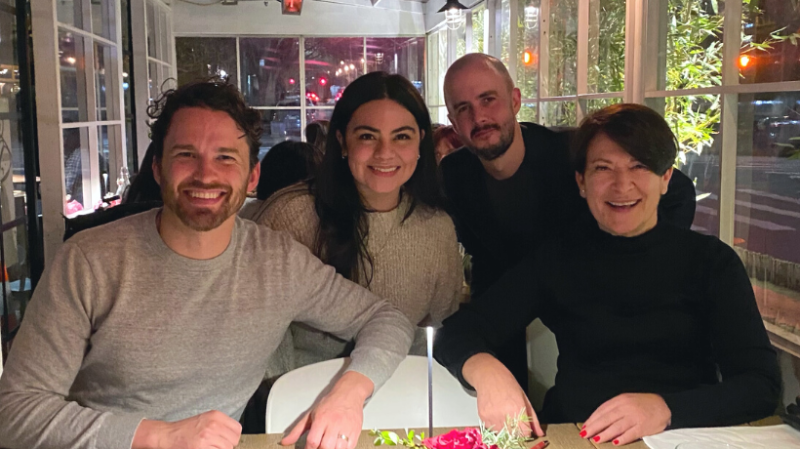 The ABA Law Student Division hosts the National Appellate Advocacy Competition for law students attending ABA-accredited schools nationwide. Each year's competition centers on a hypothetical appeal to the United States Supreme Court. Teams representing the respondent or petitioner must submit a brief and participate in oral advocacy rounds in one of six Regional competitions across the U.S. This year's competition dealt with conflicting First Amendment jurisprudence in the academic setting. Specifically, the problem asked teams to argue whether public college and university administrations may restrict or compel a professor's in-class teaching. The case explores the constitutional contours at the intersection of Academic Freedom and the limited Free Speech rights for public employees.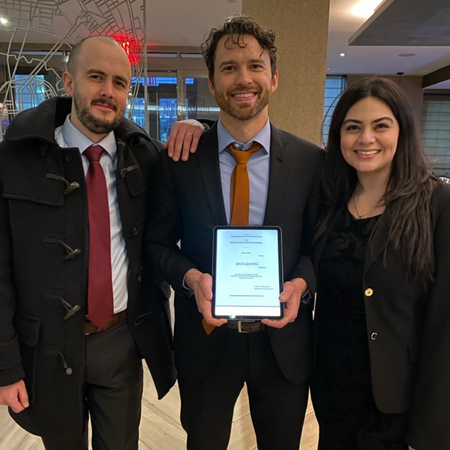 Team ABA, featuring writer Samuel Johnson and oralists Vanessa Martinez de la Torre and Ry Amidon, ROCKED the competition and finished in the top four! But they didn't stop there! The team also took home the coveted Best Brief Award, an outstanding achievement in this particularly challenging competition.
The team's brilliant brief, crafted by Samuel Johnson, showed true mastery of First Amendment jurisprudence and compelling written advocacy, placing them as the top seed in the competition. The dynamic oralists Vanessa Martinez de la Torre and Ry Amidon delivered fierce, passionate, and well-reasoned oral arguments, earning them high praise from the judges throughout the rounds.
"The ABA competition was a challenging but incredible experience. I came away with invaluable skills I'll use throughout my career."

— Sam Johnson, Best Brief Writer
Oralist Vanessa shared of her experience, "Competing with the ABA team was a wonderful and thrilling experience! It has been one of my proudest moments in law school—traveling to Brooklyn, representing Southwestern, and celebrating our team's incredible accomplishments. My teammates are brilliant, inspiring, resilient, and incredibly kind. As the competition drew near, we came together to support one another and overcame obstacles as a team. Our showing is also a reflection of the endless support we received from other program members, alumni, faculty, and, of course, our coach. This journey would not have been possible without our coach, Professor Carpenter, who provided thoughtful and brilliant guidance at every step."
"In Moot, we are always encouraged to have fun and do our best. Our team adopted a motto to match that energy—'Bring it on!' Before each round of competition, there was a small and special moment when that motto would come to mind. The nerves would quiet, and I'd remember everything that brought me there. In that brief moment, I'd remind myself to have fun, do my best, and say bring it on!"

— Vanessa de la Torre, Oralist
Vanessa continued on to share, "I am so thrilled that we could participate in the ABA competition this year, sharing many hugs and happy tears. And it's been a special treat to come home and share this beautiful moment with my family. I can't wait to continue my journey with Moot next year!" 
Her teammate Ry added, "Competing with Team ABA in Brooklyn was a dream. I felt that we were very well prepared for the tough competition and challenging questions we faced. Working with the team was wonderful throughout our months-long journey. As we worked on the issue together, we also supported each other and pushed each other to do our best. I also enjoyed strategizing with Professor Carpenter before and after each round. Her experience and guidance as a coach were critical to our success. I'm incredibly proud of Team ABA and grateful we were able to represent Southwestern this year."
Congratulations again to Moot Court Team ABA on placing as semifinalists and winning the Best Brief Award! Thank you to the entire Moot Court Honors Program, their coaches, and their faculty directors for helping this team prepare.