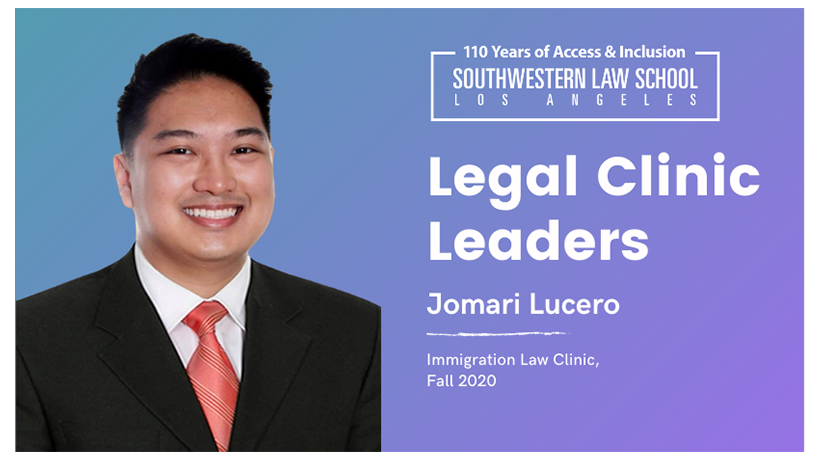 October 15, 2021
Legal Clinic Leaders Series - 2L Jomari Lucero
Our Legal Clinic Leaders blog series is BACK! We're excited to feature and highlight these students who have done terrific work providing quality legal representation to underserved individuals and communities. These all-star advocates showcase the many different fields of law you can explore through our legal clinics and the wide range of opportunities available at Southwestern to gain practical lawyering skills. We hope their experiences will inspire YOU to join a legal clinic.  
---
Meet 2L Jomari Lucero
Immigration Law Clinic, Fall 2020
Why did you decide to participate in a clinic?
I am always passionate about giving back to our community. I wanted to help undocumented people get the necessary papers for their lawful permanent residency.
What stands out about your clinic experience?
My best clinic experience was doing the intake interviews with our clients. I learned about how they are constantly bettering themselves despite their status and the unfortunate events they've suffered in their past.
What skills and knowledge did you learn from your clinic experience?
I learned how to better manage my client work and my lecture assignments. I also improved my communication skills with clients.
What do you think helped take you from student to advocate?
Patience and attention to detail made me a better advocate. I also want to thank Professor Ramos for her unending guidance.
What words of advice would you have for future clinic students?
The best way to learn is to let go of your comfort zone.
Please provide an inspiring anecdote from your clinical work experience.
When we were about to finish our initial intake interview with a client, she thanked us and said, "To you, this is just your job. To us, it is our life." It made me realize how impactful our clinic work is. Her statement motivated me to be a better advocate for her and her family.
---
Interested in learning more about the legal clinics? Visit our Clinics page here.