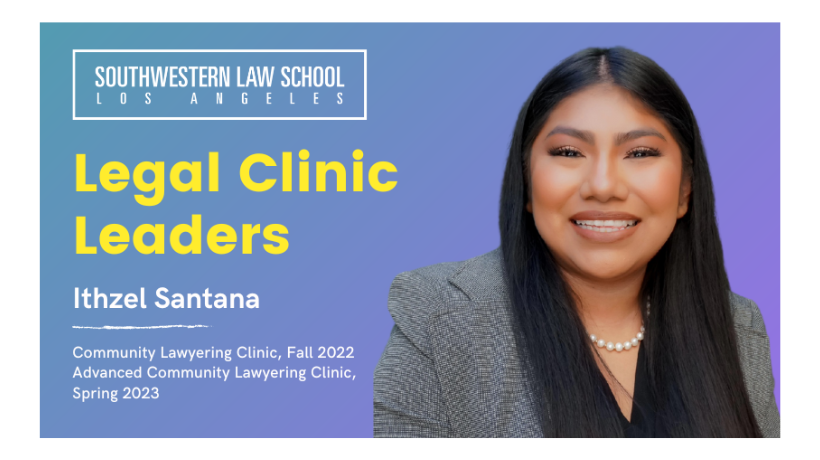 February 13, 2023
Legal Clinic Leaders Series — Ithzel Santana
Meet the students who work directly with and in the community to provide quality legal representation to underserved individuals through our Legal Clinic Leaders blog series. We're excited to spotlight these all-star advocates and showcase the many different fields of law you can explore through our legal clinics and the wide range of opportunities available at Southwestern to gain practical lawyering skills. We hope their experiences will inspire YOU to join a legal clinic.
---
Meet 3L Ithzel Santana
Community Lawyering Clinic, Fall 2022
Advanced Community Lawyering Clinic, Spring 2023
Why did you decide to participate in a clinic?
I became interested in participating in the Community Lawyering Clinic (CLC) because I believed the clinic would help me develop and implement my intersectional praxis as an aspiring community lawyer.
What stands out about your clinic experience?
The Community Lawyering Clinic is unique because our clients represent authentic community members. It recognizes that community members rarely face one legal issue at a time and teaches us how to respond competently to all our clients' diverse and complex needs.
What skills and knowledge did you learn from your clinic experience?
At CLC, I became more confident in my issue-spotting and legal research skills. I learned how to conduct research in a field of law that I had little experience in and to master the basics of that field so that I could navigate my clients through the legal maze.
What do you think helped take you from student to advocate?
I decided to continue my work with the Community Lawyering Clinic because I love to teach and empower others. The clinic's impact on the client never ends at our last meeting; the Legal Empowerment Plans that we prepare give clients the tools they need to advocate for themselves beyond the present legal issue.
What words of advice would you have for future clinic students?
I would encourage students to trust themselves and their clients. The students we serve are brilliant self-advocates who just need our guidance as a little extra push. The skills we learned at Southwestern and the clinic are exactly what we need to help bridge the gap between the community and the law.
Please provide an inspiring anecdote from your clinical work experience.
During one of my intakes, I met a young CSUN student struggling to meet all his roles as a son, student, employee, and advocate for his mother, who had been injured in a personal injury accident. I was immediately reminded of playing all those roles in my family and how exhausting it could all be. Therefore, my priority became not only to make sure we take care of Mom's personal injury case but also the student's mental health. When speaking directly to Mom, I also discovered other immigration issues. With Professor Vazquez, I developed a plan to ensure that Mom could receive the public benefits she was eligible for when the time came.
---
Interested in learning more about the legal clinics? Visit our Clinics page here.