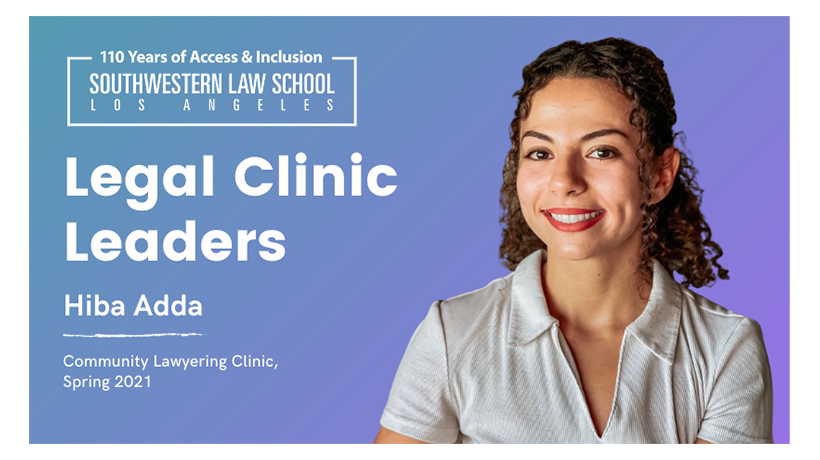 November 12, 2021
Legal Clinic Leaders Series - 3L Hiba Adda
Meet the students who work directly with and in the community to provide quality legal representation to underserved individuals through our Legal Clinic Leaders blog series. We're excited to spotlight these all-star advocates and showcase the many different fields of law you can explore through our legal clinics and the wide range of opportunities available at Southwestern to gain practical lawyering skills. We hope their experiences will inspire YOU to join a legal clinic.
---
Meet 3L Hiba Adda
Community Lawyering Clinic, Spring 2021
Why did you decide to participate in a clinic?
I joined the CLC clinic because I wanted to express my gratitude to the CSUN community for all the support I received as a foreign student in undergrad. The clinic was a really great opportunity for me to be involved in the community and make a change. It felt so empowering to help other students.
What stands out about your clinic experience?
As a CSUN alumna, I relate so much to students' challenges and obstacles because I was in their shoes once. I still keep in contact with every student I work with because I want them to continuously feel supported and empowered because that's what a student needs.
What skills and knowledge did you learn from your clinic experience?
The clinic experience improved my communication and rapport-building skills. I also learned the importance of empathy, especially when working with individuals with traumas. Further, I have also developed an eye for details and learned interview strategies, including open-ended questions. Last but not least, the clinic experience taught me that it's important to take care of myself while helping others because it can be very exhausting. I understood that asking for help is not weak but empowering. This is a life-changing experience that I would recommend to every law student.
What do you think helped take you from student to advocate?
Professor Vazquez was such a great role model. Her passion and dedication to her clients inspired me so much to become a zealous advocate like her. Research and asking questions in class helped me put in practice what I have learned about being an advocate.
What words of advice would you have for future clinic students?
I think the biggest advice would be to really commit to the clinic. It's not just about the units and credits, it's about making an impact in people's lives and that comes with great responsibility. Also, set personal goals and objectives and aim to achieve them throughout the semester. The clinic is a great hybrid experience where one can both take and give.
Please provide an inspiring anecdote from your clinical work experience.
After I explained Advanced Parole ( temporary travel authorization) to a DACA client, he told me that although it's a scary risk to take, he would still consider it because his trust in me was stronger than the fear of not being admitted back to the US. That's when I truly felt how heavy of a responsibility it was.
---
Interested in learning more about the legal clinics? Visit our Clinics page here.
Latest from the SW LAW BLOG