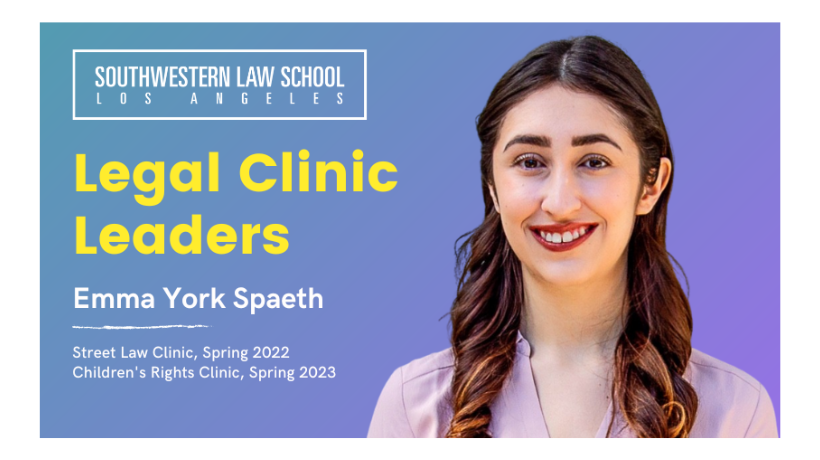 January 26, 2023
Legal Clinic Leaders Series — Emma York Spaeth
Meet the students who work directly with and in the community to provide quality legal representation to underserved individuals through our Legal Clinic Leaders blog series. We're excited to spotlight these all-star advocates and showcase the many different fields of law you can explore through our legal clinics and the wide range of opportunities available at Southwestern to gain practical lawyering skills. We hope their experiences will inspire YOU to join a legal clinic.
---
Meet 3L Emma York Spaeth
Street Law Clinic, Spring 2022
Children's Rights Clinic, Spring 2023
Why did you decide to participate in a clinic?
At first, I was just looking to get more clinical experience. I chose Street Law because it seemed like a great way to educate young people on practical law, things I would have loved to have known when I was in high school. I really loved learning more about the education system after my time in Street Law, so the Children's Rights Clinic was just the next logical step for the spring semester. I am looking forward to being able to help clients much like the students I was lucky enough to have the opportunity to teach. I am really very interested in education policy reform, so I think the Children's Rights Clinic will let me see things through the perspective of the individual, which I think is so important when trying to enact policy change that benefits the most people possible.
What stands out about your clinic experience?
My favorite thing about my clinic experience was the connections we made with students. We all come from different backgrounds and have different stories that contribute to who we are as people. Finding common ground can sometimes be difficult, but in the end, it enriches all of our experiences and opens us up to perspectives that we not even had considered. When my clinic experience came to an end, I learned just as much from our students as (I hope) they learned from us.
What skills and knowledge did you learn from your clinic experience?
Patience. It can be difficult to teach the law to young people and even more difficult to show them that the law isn't always right or just. Sometimes, in the Street Law Clinic, our students would get understandably frustrated when we taught them aspects of the law that perpetuated marginalization or discrimination, and even harder when they shared ways the law had affected them adversely. However, by the end, our students had become impassioned advocates for the things they believe in. More than that, I think they understood that, even though it takes time, they had the power to change and help their communities.
What do you think helped take you from student to advocate?
I was lucky to have a partner who worked very hard, and we both tried as hard as we could to be confident and calm in the classroom. I think what worked for us best was trying to make the things we were teaching as accessible and easy to understand as possible. Lawyers, and law students, can get so caught up in the jargon and "intellectual" sounding language that it can make it so hard for other people who haven't gone to law school to understand these complex topics. Finding a way to connect the law with people's lives, whether it be examples from the media or even our own lives, went a long way to help students understand. It also helped us, as students, to better understand what we were teaching.
What words of advice would you have for future clinic students?
Don't have expectations beyond doing whatever is best for your students. High school students will always find a way to surprise you, and the "lesson plan" often does not go to plan. Always have a backup, and always be prepared for something to go differently. Most importantly, reward your students for speaking up. It takes a lot of bravery to speak your mind and talk about the law when you don't know as much about it, and in rewarding them, you'll teach them to always be confident enough to stand up for what they believe in.
Please provide an inspiring anecdote from your clinical work experience.
During our lecture on Criminal Law, our students became very interested in judicial discretion and the power that district attorneys and other related attorneys have in the courtroom. Even though it was not in our lesson plan, we spent probably twenty minutes discussing this topic. It was a hard thing to speak about, considering the history of judges and attorneys making decisions that hurt people because of their gender, race, religion, etc. However, despite the fact that this wasn't in our plan, our students were never more participatory than in this instance. It really proved to us that our students were more than capable of discussing "tough" topics, and the opinions they shared were incredibly insightful.
---
Interested in learning more about the legal clinics? Visit our Clinics page here.