Body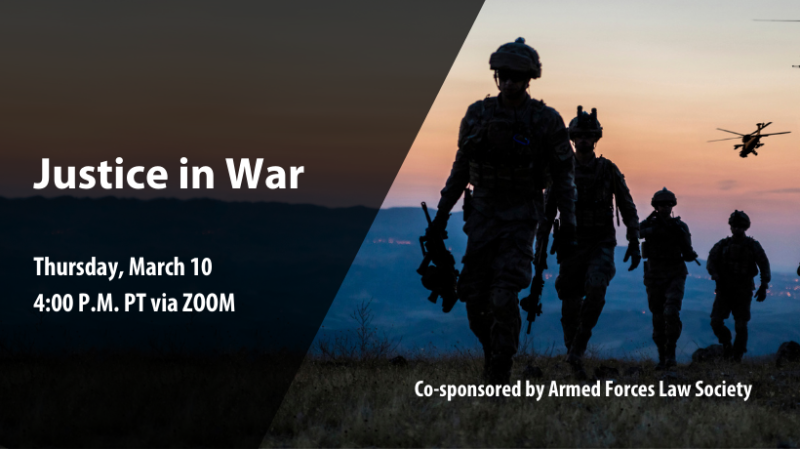 Thursday, March 10, 2022,
4:00 - 6:00 P.M. via Zoom
1 hour of CLE credit
*.5 hours qualify for Ethics CLE
REGISTER HERE
Join the National Institute of Military Justice and Southwestern Law School's Armed Forces Law Society for a special webinar on Thursday, March 10 at 4:00 p.m. PT to explore the court-martial of former Navy SEAL Chief Petty Officer Eddie Gallagher. 

We will be joined by panelists Chris Czaplack, the original lead prosecutor in the case, and Josh Vriens, one of the decorated military witnesses, as they have a conversation about the importance of the laws and customs of war, and the pursuit of justice in the hardest of circumstances.  

A highly-decorated, combat-tested Navy SEAL accused by fellow warriors of the war crime of murdering a teenager ISIS detainee in Iraq named Moataz Mohamed Abdullah – and of indiscriminately shooting civilians.
Gallagher's court-martial proceedings also involved:
Allegations of witness intimidation
Intervention by a sitting president
A  "bungled "military prosecution
Gallagher was acquitted of all but one charge — posing with a dead body. The Gallagher case remains controversial and was highly politicized.
This webinar, an opening act for the National Institute of Military Justice's April 8th legal conference on accountability for battlefield misconduct, will feature two participants in the above-mentioned 2019 court-martial.
Our panelists will explore:
Whether this case frustrates battlefield accountability by deterring service members from reporting war crimes.
 
Whether the military justice system is so irreparably flawed that it should be replaced by the federal civilian criminal justice system.
 
If the rule of law can be shielded from presidential interference even though they sit as the commander-in-chief?