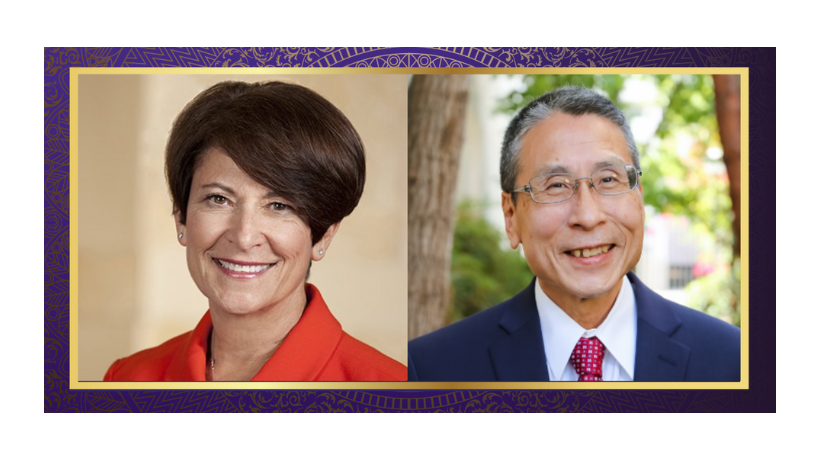 May 17, 2023
Professors Catherine Carpenter and Dennis Yokoyama Named Grand Marshals for Southwestern Law School's 108th Commencement Ceremony
Southwestern Law School is proud to announce the selection of Professors Catherine Carpenter and Dennis Yokoyama as the distinguished Grand Marshals for the institution's 108th Commencement Ceremony on May 19, 2023. Their significant contributions to legal education, expertise in their respective fields, and commitment to student success have made a lasting impact on the Southwestern community.
Professor Catherine Carpenter, The Honorable Arleigh M. Woods and William T. Woods Chair | Professor of Law, has garnered national recognition for her outstanding scholarship in the area of sex crimes and sex offender registration laws. As a renowned criminal law scholar, her work has been cited by numerous courts and utilized as a guide by attorneys. Professor Carpenter serves as the executive director of the Access to Restorative Justice Fund and holds the position of Vice President of Alliance for Constitutional Sex Offenses, both dedicated to fostering the reintegration of marginalized individuals through education, legislation, and advocacy.
With her extensive involvement in legal education, Professor Carpenter has played a pivotal role in shaping law school curricula and accreditation standards. She has held leadership positions within the Section of Legal Education and Admissions to the Bar of the American Bar Association (ABA) and earned national recognition as one of the "Top 25 Most Influential People in Legal Education" by the National Jurist.
Professor Dennis Yokoyama's passion for understanding human behavior led him to pursue degrees in psychology before embarking on a legal career. With a rich background as a counselor and therapist, he brings a unique perspective to the field of law. Professor Yokoyama joined Southwestern Law School in 1992 and has since made significant contributions as the director of the Legal Research and Writing Program.
His dedication to teaching critical thinking and writing skills has empowered countless students to excel in their legal studies and professional endeavors. Professor Yokoyama's commitment extends beyond the classroom, as he serves as a faculty advisor to the law school's chapter of the Asian Pacific American Law Students Association. He has received numerous accolades, including Southwestern's Excellence in Teaching Award and the esteemed title of Paul E. Treusch Professor of Law.
Congratulations to our 2023 Grand Marshals!