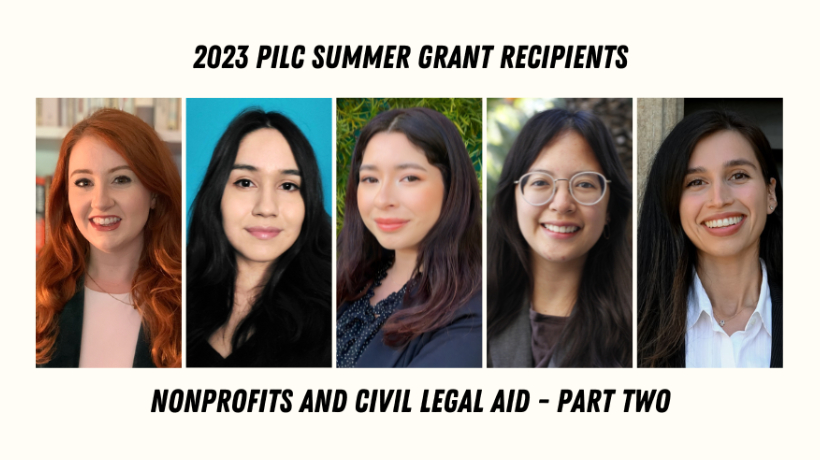 September 13, 2023
Meet our 2023 PILC Grant Recipients Working in Nonprofits and Civil Legal Aid – Part Two
Southwestern's Public Interest Law Committee (PILC) is a student-run organization that sponsors several events each year to raise student awareness and involvement in providing legal services for underrepresented communities and is dedicated to facilitating public interest law careers by supporting students in public interest work through fundraising efforts for the school's Public Interest Law Summer Grant Program.
We want to recognize these students and their incredible work with their Public Interest Law Committee Summer Grant. Meet our second group of 2023 PILC Grant recipients working in Nonprofits and Civil Legal Aid:
Sarah Kreager
Summer Placement: Inner City Law Center
I think one of the biggest things I learned is how much more there is to public interest housing law than just eviction defense and representing tenants against landlords– preventing homelessness itself plays a crucial role in housing law. For example, expunging a parking ticket can be huge for a client who would have had to choose between paying rent or paying for that ticket.
---
Adilene Ramirez
Summer Placement: Unite Here! Local 11
With this year being a "Strike Summer" in Los Angeles, it was amazing to both witness and participate in one of Los Angeles' largest-scale strikes in history. While serving as an advocate in the union's Legal Department through legal research, interviewing clients, and working with the team on unfair labor practice charges was a great experience, being on the picket lines with hotel workers and other strikers in solidarity (such as SAG-AFTRA and the Writers Guild of America) was unforgettable. I learned a lot through many of the hotel workers I spoke to: I learned about their dreams, their aspirations, their passions, and their backgrounds. But most importantly, I learned why they were striking. All of them wanted better working conditions for themselves and their families.
This sentiment is not unique to Local 11's hotel membership. It's a sentiment that has been shared with the writers from WGA and the actors from SAG-AFTRA. It's a sentiment that has been shared by the Amazon warehouse workers, the UPS drivers, the Starbucks baristas, and all the other workers that are unionizing in this country. It's a sentiment that every single worker in this country wants. With that being said, the solidarity and collective action has been very powerful and inspirational for me.
---
Samara Renteria
Summer Placement: Los Angeles Dependency Lawyers, Inc. 
I prepped cases that were on the calendar for the next day so I could interview or call clients if they were present for the court hearing. I drafted motions and did client intakes for initial hearings. I was present in court every day and observed courtroom hearings.
I really enjoyed my placement, and I learned so much about the Dependency system. Having client interactions was extremely motivating. The clients are facing extremely stressful situations, so it was great talking to them about the role we played in their case. 
---
Maria Lianne Urriza
Summer Placement: Elder Law and Disability Rights Center
My favorite projects I took on during my time with the Elder Law and Disability Rights Center were always with the attorney who specialized in special education advocacy. Throughout the Summer, I was granted the opportunity to meet a variety of clients who all had children who needed assistance to receive more and/or better accommodations from their child's school district. I grew to have a real connection with these clients, and I felt myself really caring for and wanting to stand up for these families as they only want the best for their children. It felt very fulfilling to serve people from the disabled community as it is a community I identify with myself.
---
Yasmin Wilber
Summer Placement: Bet Tzedek Legal Services
My passion for public interest and assisting individuals through barriers of social and institutional systems is what motivated me to pursue a legal career after working at an immigration law firm.  After coming to law school, I soon found that there were so many other ways to support individuals combatting similar barriers. I very quickly realized that those who need the legal system the most often do not have the resources or finances to access it.  I also had the opportunity to participate in Southwestern's Eviction Defense Clinic, where I was able to assist a non-profit with unlawful detainer work for tenants who were unable to pay for legal services. I really enjoyed this experience and learning how to best address tenants' needs, especially in the wake of COVID-19 and city protections for this time period being lifted.  This experience encouraged me to continue learning more about housing law and unlawful detainer work, and I was so grateful for the opportunity to do that this summer with Bet Tzedek.  I plan to always devote my time and consider public service throughout my legal practice in some capacity, whether that be in a career or by incorporation of pro bono practice.
---
About the PILC Summer Grant Program
Southwestern's PILC Summer Grant program was established in 1990 with the mission of providing financial support to selected recipients seeking full-time summer clerkships with legal services organizations providing no-cost assistance to underserved, marginalized communities. This program makes it possible for students to acquire the legal training and education necessary to address the lack of access to legal services for indigent communities while also alleviating Southwestern students' financial burden of acquiring more educational loans in order to do so.
PILC sincerely thanks our donors and supporters for your invaluable contributions to this program benefiting Southwestern students. PILC's mission is to help create a community where Southwestern students, staff, faculty, and alumni are educated and incentivized to participate in issues concerning and advancing the public interest, and it is your support of this mission that is vital in helping us reach our fundraising goals each year. 
The student deadline to apply to the 2024 PILC Summer Grant Program is March 4, 2024. Awards up to $5,000. Email publicservice@swlaw.edu for more information.