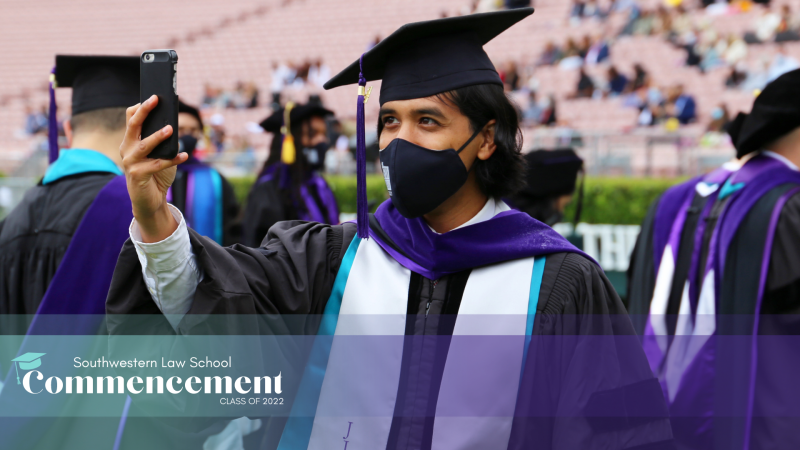 Place, Date, and Time
Commencement will be held at 10:00 am on Sunday, May 29, 2022, at the Rose Bowl. The Rose Bowl is located at 1001 Rose Bowl Dr. in Pasadena. The ceremony will begin promptly at 10:00 am and conclude by 12:00pm.
Arrival Time and Assembly Area
The graduate entrance is located at Gate A. Graduates must be at the check-in area by 8:30 am. Graduates should arrive robed, and if applicable, wear your stole(s) and/or chords. Graduates will be walking through and seated on the field, so please consider wearing appropriate shoes. Graduates should hold on to their name pronunciation card that will be given to them at check-in. The card will be given to the Grand Marshals during diploma distribution. Staff will be available to assist with robing.
All belongings will need to remain with the graduate at all times. Graduates will not return to the check-in area after the event. It is suggested that personal belongings are left with your family members. Any items left behind will be turned into the Rose Bowl lost and found.
Processional Line
Beginning at 9:30 am, the student processional line formation will be organized by staff members. The graduate line is organized alphabetically by degree program to help your family and friends know when you will be receiving your diploma for photographic and videotaping opportunities. At 10:00 am, the faculty processional line will walk into the stadium field first, followed by the grand marshals and the graduates. Staff members will be located on the field to direct grads where to sit.
Parking
Parking is available in Lot F. The parking lot will open at 8:00 am. There is no fee for parking. Make sure to allow time for parking and getting to the gate entrance. A shuttle cart will be available for disabled guests requiring assistance from the parking lot to the gate entrance. Tailgating and congregating in the parking lot is not permitted.
Guest Entrance and Seating
The guest entrance is located at Gate F. The entrance will open at 9:00 am. A guest ticket is required for children 2 and older. Guest seating is first come first serve, and is located between tunnels 17 – 20. Guests should be seated by 9:50 am as the ceremony will promptly begin at 10:00 am.
Seating for Disabled Guests
Reserved seating will be available for disabled guests. Disabled guests' seating is fully ramped and located close to the tunnel entrance/exit.  Ushers will be available to assist with disabled seating.
Prohibited Items
Flowers for the graduates are permitted but all other gifts are not allowed in the venue.
Balloons and air-horns, noisemakers, including vuvuzelas, whistles, speakers, boom boxes, thunder sticks, and musical instruments are not permitted.
Outside food/beverages with the exception of two (2) 16.9 oz. sealed bottles of water per attendee will not be allowed.
Water will be available for purchase near the entrance.
You may bring a stroller, however, stroller storage is not permitted in aisles or under seats and guests must check strollers at guest services.
No bags/clutches larger than 4.5" x 6.5". Only clutch size will be allowed to enter (must be 4.5" x 6.5" or smaller). This includes purses, camera bags, backpacks, fanny packs, etc.
Diaper bags accompanied by an infant are permitted.
No umbrellas
No weapons or projectiles
No animals
No banners, signs, flags, poles, or sticks
No drones
No coolers
No cans, bottles, or alcoholic beverages
No boxes or wrapped packages
No unauthorized cameras with lenses longer than 3.5", interchangeable or telephoto lenses
No laser pointers
No fireworks, firecrackers, or confetti poppers.
Photography
The law school has made arrangements with a professional company to photograph the graduates. During the ceremony, a photographer will take pictures from the stage of each graduate receiving his/her diploma. The photographer will email ordering information directly to graduates approximately five days after the commencement ceremony. All grads who have completed the Commencement 2022 Form were asked to complete the required photography section. Contact commencement@swlaw.edu for any questions.
---
Questions?
The Administrative Services Office is open Mondays through Thursdays between 9:00 am – 6:00 pm, and virtually on Fridays between 9:00 am – 4:00 pm to assist you with your Commencement questions or arrangements. Administrative Services may also be contacted at (213) 738-6800 or via email at commencement@swlaw.edu.