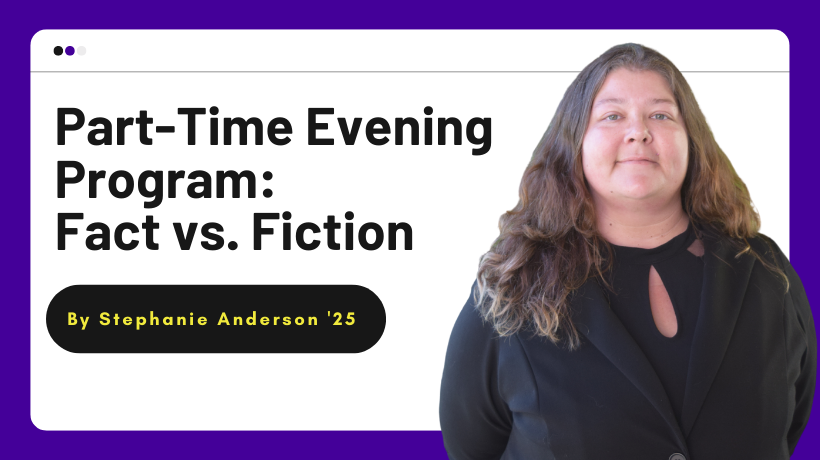 December 6, 2022
Part-Time Evening Program: Fact vs. Fiction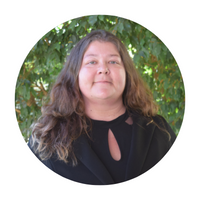 By Stephanie Anderson '25
Stephanie Anderson is a 2L in the part-time evening program. Stephanie is interested in Entertainment & Media Law and is a Writing Fellow for the Writing Center. 
---
I'll admit it: Southwestern was not my first choice. I originally applied to only one law school and attended a prospective student event on their campus one evening. We met in a classroom, with a portion of the event conducted as a mock class — complete with the feared Socratic method. The lights were bright, the suits were crisp, and the pressure was high. I left, asking myself what I had done. Could I manage as a part-time evening student with a full-time job, a 10-year-old kid, and a house full of pets? Remember: take a breath! 
In what turned out to be an unexpected relief, I did not get into my first choice law school.
Fast forward one year, and amid a global pandemic, I tried again. I applied to Southwestern and attended a Virtual Open House in March 2020. Sure, Zoom may automatically add a layer of chill (especially if you're an introvert like me), but the vibe was so different from what I had previously experienced. The energy was welcoming, and the attendees were friendly. We didn't answer any questions about the law. We spent the hour meeting faculty and upper-division students and hearing about all the opportunities available. Even in a short Zoom, it was apparent Southwestern was different. I left feeling excited and intrigued by what would surely be an ambitious adventure. 
This time, when I received my decision notice, I shed tears of joy at my acceptance.
One L panic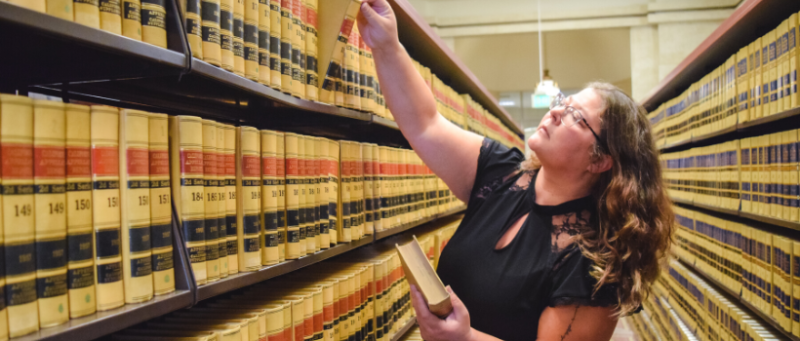 Summer Intro to Legal Writing started in June, and our first-day reading assignment was One L by Scott Turow, an account of Turow's first-year experience at Harvard Law.
He described the professors, the students, the work, and the repercussions of attending law school. We followed the drama of their study groups, where students became increasingly snippy with one another, grew suspicious of their classmates, and sometimes left students in tears. We learned of Perini, a professor who delighted in cold-calling. 
The book told us law school would strain our relationships, test our confidence, and push the limits of our sanity during that first year. Cue that dread again.
Shortly into the first virtual class, it was clear the book's purpose was to prepare us for anything. Our Professor acted out the professors' personalities described in One L. One day, she might choose Perini and cold call us through our computer screens. On other days, she'd morph into the never-ending lecturer (perhaps to see if we'd still pay attention).
At all times, though, I felt comfortable in the class and enjoyed my first law school experience. In a peer review session, a classmate and I were open, honest, and constructive in providing feedback on our work. I didn't feel that our performances were being compared or that I had to hold back. 
When the course ended, I felt fully prepared for my future law school experience. The professors proved to be nothing like those in One L. While each had their unique teaching style, all were available, approachable, and patient in the face of our 1L anxieties. They provided every tool at their disposal so we could familiarize ourselves with the materials and demands. We received feedback on our work and "grades" that may give us a clue whether we were mastering these new concepts. We were constantly reminded that we were here for a reason and that we could be successful. 
Finding support in community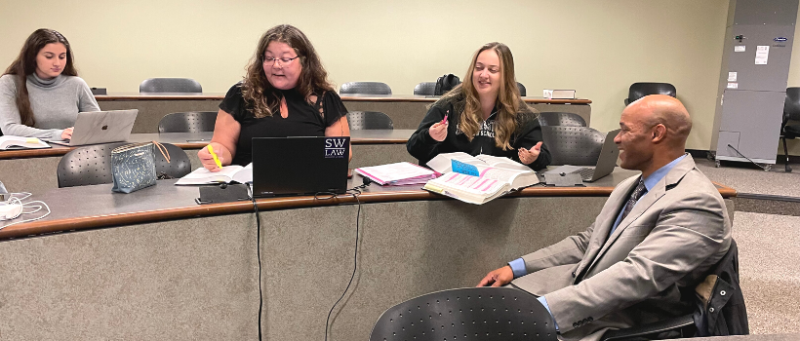 From the start of my time as a Bison, I felt comfortable, supported, and free to wade my way through these muddy waters without feeling like I was asking "stupid" questions.
Incoming students were assigned both a Dean's Fellow and a Peer Mentor. These upperclassmen set up a meeting time, shared their experiences as 1Ls, and provided support during the year. Mine, an evening student serving as both my Fellow and Mentor, was the cream of the crop. She arranged for weekend study sessions, and I would find supportive email messages of "You got this!" when LAWS drafts were due, or exams were nearing. 
In the evening section, we were even grouped into Warrior Families – students with similar backgrounds and interests that were apportioned into micro support groups. We received each other's contact information so we could always reach out to our family. (Hi, Yellow Family!)
I stepped foot on the Southwestern campus for the first time in the Fall of 2022. Even though I had been Zooming with these students for almost an entire year, I still felt like the new kid. As I entered the first classroom, I heard more than one "Stephanie!" from familiar voices. These students knew I hadn't been on campus, remembered I was a part of their class, and were excited to see me in the flesh!
So far, I've never once felt the sting of competition from my classmates. I remember learning so much from my 1L exam study partner as we talked things out up to the day of our exams. We didn't force our ideas on each other because we thought we were right. Instead, we were open to being wrong – and admitting it. The other day, a classmate wanted to swap practice exams before we turned them in. We felt comfortable offering constructive criticism and praised each other for those bits we felt were well-written.
My Law School Home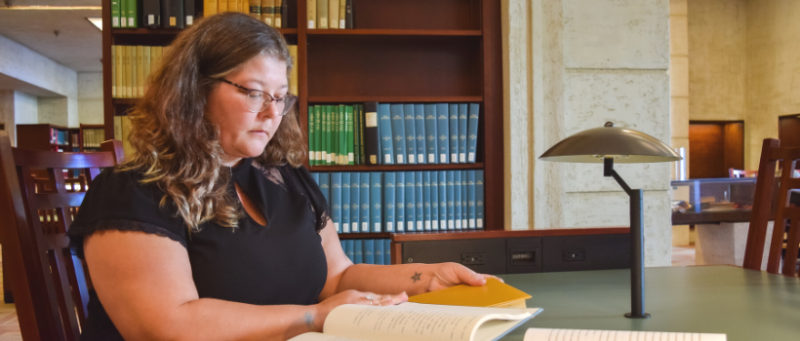 From the moment I entered the Southwestern universe, I knew fate led me here for a reason. Transitioning back into academia after seventeen years in the "real" world was uncertain, intimidating, and jarring. And while One L may have been right about spending less time with your real family, the Southwestern students, faculty, and staff have proven to be the best substitute family you could ask for.