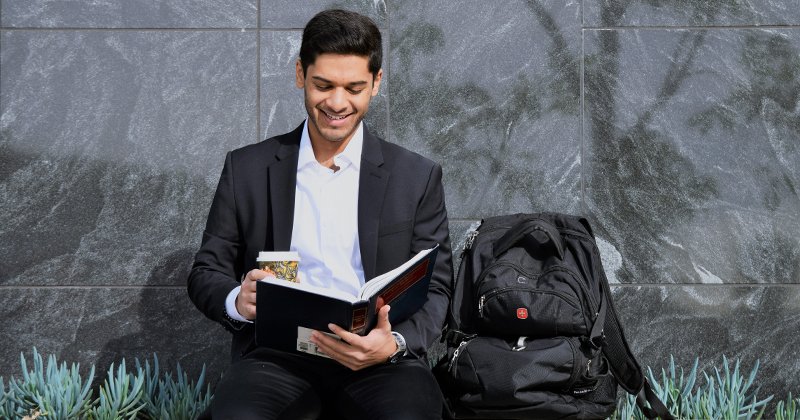 December 17, 2018
Want to be a part-time law student? Here's what you need to know!
Meet Julie Spencer, our Part-Time Program Liaison and Admissions Counselor. You might have seen her friendly face before at prospective student admissions events.  She's here to answer any questions you may have about the law school application process and offer guidance on which program will best suit you.
Here are the TOP 5 most frequently asked questions she receives about our Part-Time programs. 
1) How long do the part-time programs take to earn a J.D. and what time do classes start? 
The part-time programs typically take 4 years to complete. Students take between 8 to 11 units each semester, and two summer sessions are required to complete the 87 units to earn the J.D. degree in 4 years.
For part-time evening, our most flexible program offered, students only have to come to campus for class two nights per week, beginning at 6 p.m. The remainder of your courses each semester can be done online from anywhere with an internet connection, with online classes commencing remotely through "live" class sessions with your professors and classmates or through independent self-directed activities and assignments.
For part-time day, students attend classes with traditional full-time students, however, the course load is lighter, with classes beginning between 8:30 a.m.-9:00 a.m. for the first 2 years. Many opportunities are offered for elective courses and externships during the final 2 years, with some taking place in the afternoons.
2) When can I start taking electives? 
Part-time students take the designated curriculum during the first 2 years (which includes 2-5 elective units in the second year), and a mix of required courses and electives during the 3rd and 4th years, when they are also able to take advantage of externships, clinics, practicums, and honors programs. 
3) Are part-time classes taught by the same professors as the full-time classes? 
Yes! Students enrolled in the part-time programs, both on campus and online ( for part-time evening), receive the same comprehensive legal education as that presented in the day, or full-time program, and are taught by full-time faculty. We take pride in and cultivate the strength of meaningful interactions between faculty and students both in and out of the classroom.
4) What if I know I have to miss classes because of my work commitments? Does the schedule provide flexibility with that? 
Our part-time evening program offers the most flexibility in circumstances such as this, requiring only two on-campus evenings per week, with the remainder of class hours taking place where ever you are (with an internet connection)! Even so, it is beneficial to keep in mind that class attendance is really important to the learning process.  Understandable though that sometimes an unexpected situation might come up.  However, students cannot miss more than 14% of the classes in a given course. Even with our busiest of students, with work and/or family responsibilities, this is manageable.
5) If I am already working full-time, how will I take advantage of other opportunities for legal related employment and experiential learning?
Our Career Services Office (CSO) is a great resource to help students find legal employment while in law school.  The student can work with CSO counselors on a plan to transition from a non-legal job to a legal position while in law school.
In terms of experiential coursework, there are simulation courses; externships; and clinics.  All three are available to PT students.
Simulation courses are part of our electives, with many of them offered in the evenings and some on weekends (fall, spring, and summer).
Externships: we have limited hours externships as well as remote externships available for students who work full-time or almost full time.
Clinics do meet during the day; however, typically the class component is one time per week.  So, if the student has a bit of flexibility, they could possibly make a clinic work with their work schedule (though keeping in mind that outside of the Clinic classroom, some of the other work, like meeting clients and/or hearings, are during regular business hours).
---
If you have any other questions or would like help in figuring out which program is best for you, please do not hesitate to reach out to Julie Spencer and our Admissions office. 
We are cheering you on in your journey to becoming a law student! 
Considering Southwestern? Send an email to Southwestern's admissions team - put FEE WAIVER in the subject line and your application fee is on us!
Already applied to Southwestern? Check your application status here.