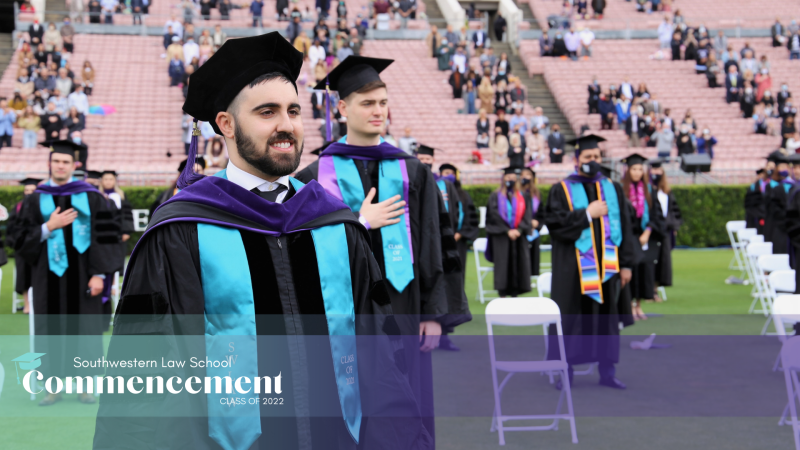 Family and Friends, keep an eye on the JumboTrons for your graduate! 
Be sure to post to social media using #SWLAWGrad2022 or #BisonGrad22
Announcing the 2022 Grand Marshals . . . 
The graduate votes have been tallied. The 2022 Commencement Grand Marshals are Professor Hart and Professor Heilman. Congratulations! 
Grand Marshals are elected by the graduating class and have the honor of leading the processional. They are always highly spirited as they read the names of graduating students.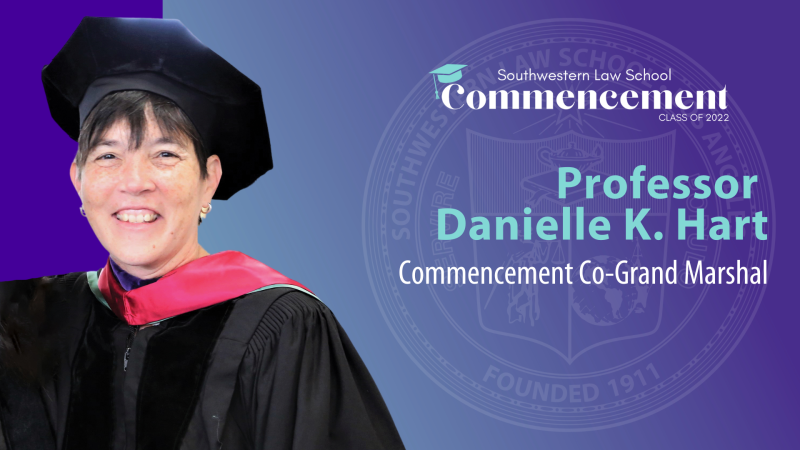 "I am honored to have been selected by this year's graduating class to be one of the commencement Grand Marshalls. I am looking forward to seeing everyone at graduation."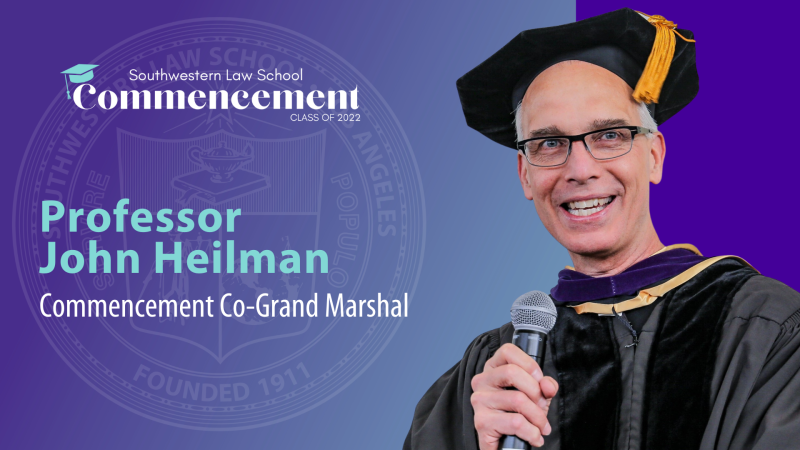 "I'm so proud of the graduating class of 2022. You have persevered through law school during a global pandemic. Despite the incredible challenges you faced, you contributed so much to both the law school and to the broader community. You leave an amazing legacy at Southwestern. I'm so honored to be sharing this moment with you."
Announcing the 2022 Keynote Speaker...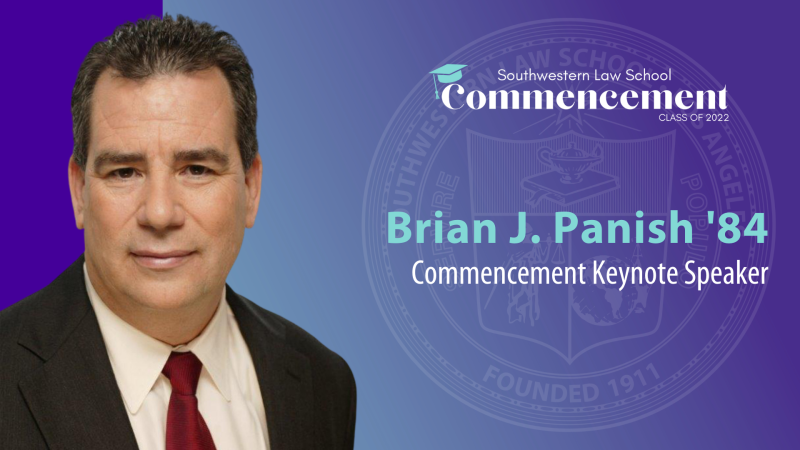 Brian J. Panish
Recognized among the country's leading trial attorneys, Brian J. Panish has obtained some of the most significant jury verdicts in United States history on behalf of plaintiffs. His courtroom victories include a $4.9 billion verdict in the landmark products liability case Anderson v. General Motors, over 100 verdicts and settlements in excess of $10 million, and six verdicts in excess of $50 million in personal injury and wrongful death cases. Mr. Panish consistently serves in a leadership role in some of the largest personal injury cases in California and the country including as Plaintiffs' Lead Trial Counsel in the Porter Ranch/Aliso Canyon Gas Blowout Litigation recently resolved for $1,800,000,000 as well as Plaintiffs' Co-Lead Counsel in both the Thomas Fire and Woolsey Fire litigations in Southern California. Most recently, Mr. Panish represents the husband and son of Halyna Hutchins, a cinematographer who was fatally shot on the movie set of 'Rust' in October 2021.
Since 2011 alone, Mr. Panish has obtained more than $500 million in verdicts including $23,720,996 awarded to a Southern California man and his wife after the man suffered a lower leg amputation as a result of being struck by a 28-foot utility truck while riding his motorcycle, a $21,503,420.48 verdict for a man who suffered catastrophic injuries after a vehicle illegally exiting the 405 Freeway HOV lane struck his motorcycle, a $41,864,102 verdict for a U.S. Air Force Captain who suffered catastrophic injuries after being struck from behind by a Southern California Gas Company truck, a $53 million verdict for two adult brothers severely injured in a near head-on collision with a CRST semi-truck, a $36.5 million verdict against Schneider National for a big-rig crash that left a woman with severe spinal cord injuries, a $20 million verdict for a woman who suffered a brain injury in a hit-and-run accident involving a J.B. Hunt tractor trailer, a $17.845 million award in a wrongful death case involving four family members killed when a Marine jet crashed into their home, a $17 million verdict against Los Angeles MTA in the wrongful death of a visually impaired passenger, a $8.3 million verdict in the first DePuy ASR Hip Implant case to go to trial, and many more.
Mr. Panish is a three-time recipient of the prestigious California Lawyer Attorney of the Year Award (2022, 2019, 2013) and was named among the 2022 Titans of the Plaintiffs Bar by Law360. Additional accolades and honors include, but are not limited to, being named among the 2021 LA 500 as well as named among the Leaders of Influence: Litigators & Trial Attorneys by the Los Angeles Business Journal, recognizing the most influential leaders and impactful executives in Los Angeles; 2021 Best Lawyers® Lawyer of the Year – Mass Tort Litigation/Class Actions, 2020 Plaintiffs Lawyer Trailblazer by National Law Journal, 2019 Titans of the Plaintiffs Bar by Law360, recipient of the 2019 Harvey L. Silbert Torch of Learning Award from the American Friends of the Hebrew University (AFHU), 2019 Best Lawyers® Lawyer of the Year – Plaintiffs Personal Injury, 2018 Best Lawyers® Lawyer of the Year - Aviation Law, 2017 Civil Advocate Award by the Association of Southern California Defense Council, 2016 Outstanding Litigator by Southwestern Law School, 2015 Robert E. Cartwright award from the Consumer Attorneys of California, 2014 Consumer Attorney of the Year Award from the Consumer Attorneys of California, Champions of Justice award from Loyola Law School in 2010, and Trial Lawyer of the Year in 2010 from the California Chapter of the American Board of Trial Advocates and by the Consumer Attorneys Association of Los Angeles (CAALA) in 1999. He has been named by the National Law Journal as one of the 100 Most Influential Lawyers in America, repeatedly recognized by Daily Journal as a Top 100 Lawyer in California and Top Plaintiff Lawyer in California, named by Lawdragon as one of the Top 500 Attorneys and Litigators in the United States, and by the Recorder as one of the Top 20 Lawyers in California.
He is currently serving as President of the prestigious Inner Circle of Advocates, an invitation-only group comprised of 100 of the best plaintiff lawyers in the nation.  He is also a Fellow in the American College of Trial Lawyers, the American Board of Trial Advocates (ABOTA), and served as the 2011 President of the Los Angeles Chapter of ABOTA.
Mr. Panish received his law degree, with honors, from Southwestern Law School, as well as an Honorary Doctor of Law degree in 2011 where he also delivered the commencement speech at graduation. In 2017, his alma mater established the Panish Civil Justice Program with the goal of providing top litigation training to students, creating a crossroads for the judicial bench and bar, and strengthening the foundations of the American civil justice system. He received his B.S. from California State University Fresno, where he was named The Fresno State Scholar Athlete in 1980.  [In 2010 he was an alumnus at the school's Centennial Celebration in 2010.]  In 2019, Mr. Panish was honored with the 2019 Distinguished Alumnus Award in recognition of his extensive legal accomplishments as well as his generous support of community and University causes.  
Announcing the 2022 Student Speaker . . .
Congratulations to Laura Lascoe on being selected as the Commencement 2022 Student Speaker!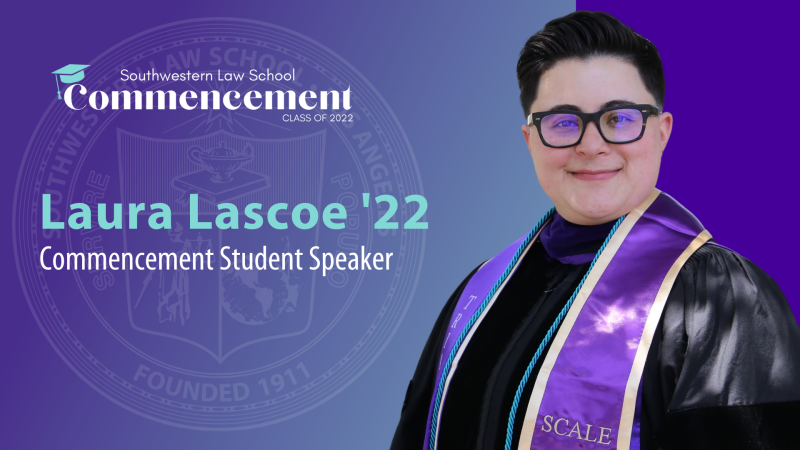 Laura Lascoe '22
Laura holds degrees in multiple fields such as Bachelor of Musical Performance - Clarinet, with a Minor in Holocaust History from Chapman University, a degree from the University of Hawaii - KCC in the Culinary Arts, and she is a Certified Iyengar Yoga Teacher.  She used her multi-faceted experiences to start a boutique digital marketing business, Banyan Media.  Her business savvy and wide-ranging interests led her to law school.
She is graduating from Southwestern Law School as a SCALE student with a Concentration in Criminal Law and Advocacy. Laura has been active in the Southwestern community--she was the SCALE SBA Vice President, the SBA Election Committee Chair, a SCALE Peer Mentor, on the SCALE Peer Mentor Advisory Board, and the Competitions Chair for the Trial Advocacy Honors Program. In addition to her commitments at Southwestern, Laura will receive a Public Service Program distinction for her volunteer work at Mental Health Advocacy Services, at the LAFLA Domestic Violence Clinic, at the Los Angeles County Small Claims Court Clinic, and as a scoring judge for middle and high school mock trials. Laura has immersed herself in the legal community and is excited to start her legal career in Washington D.C. 
Laura says...
"Congratulations to all who are graduating this year! Our time in law school has been very unique. We have endured and moved through law school in unprecedented times. We have shown our grit and determination to not let a pandemic get in our way of receiving a J.D. I am honored to be this year's 2022 Commencement Student Speaker. I hope that my speech is relatable and memorable for all."
Announcing the 2022 Commencement Singer...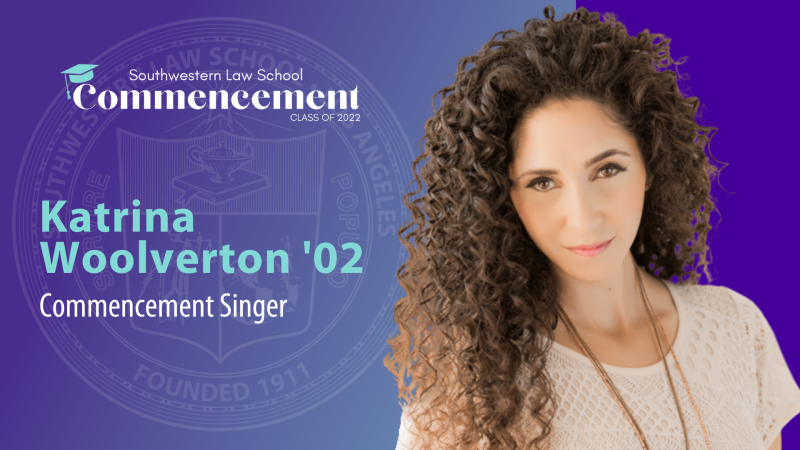 Katrina Woolverton '02
Not many Top 40, successful recording and touring artists also earned a Master's Degree in Entertainment & Media Law and JD, but powerhouse vocalist and Southwestern Law School 2017 Alumni Of The Year Katrina Woolverton fits the dual bill and then some. The charismatic Los Angeles native made her music debut on the popular TV show Star Search and has never looked back, brandishing a 5-octave range, and drawing critical acclaim since releasing her noted debut album In The Blink Of An Eye in 2012.
Katrina has delivered multiple Billboard chart-topping singles throughout her career, including Top 40 hits "Shame On Me," "OPM," "Ready To Love," and "So Eden" to name a few. Her acclaimed 2017 EP, Better Now made a splash with the Hot AC & Top 40 staple, "Hold Me Down." The 6-track EP was recorded in London and features A-list collaborations with renowned singer/songwriters including Amy Wadge, who co-penned Ed Sheeran's Grammy-winning "Thinking Out Loud." Produced by Katrina and Mikal Blue (One Republic, Jason Mraz) songs also include "Known Better," "Lonely Heart," and "HeartBeats," among others, further expanded Katrina's signature repertoire.
Recognized as an engaging live artist, she drew raves on two national tours with Blues Traveler's John Popper (2017 & 2018) and has appeared live with John Reznik of the Goo Goo Dolls and with The Revivalists. One of her most treasured national touring experiences was sharing the stage with rock icon Meat Loaf who passed away earlier this year. She also spent time in the studio co-writing and singing with Rita Wilson on Rita's 2018 album Bigger Picture, and in 2019 Katrina co-produced & recorded a version of George Michaels' "Freedom! '90" that turned heads as a riveting anthem she made her own.
In 2020 Katrina released and co-produced three additional singles "Brighter Shade of Blue," "Paralyzed," and "Matters," for a way to keep in touch with fans during the pandemic. She also released a very special single in the latter half of 2021, the touching "Closer," a post-pandemic postcard commemorating all the long-awaited couplings and gatherings that were put on hold because of Covid restrictions and quarantine protocols. "I just thought it was time to give a great big sonic hug to everyone that's been longing to be 'closer,'" says Katrina. The song's communal theme celebrated the idea of reuniting and being able to reestablish bonds with loved ones, relatives, and friends kept apart by Covid protections. "As soon as we all were vaccinated, I wanted to share this song with everyone and lean into the feeling of being close again."
Katrina is more than ready in 2022 to recharge with new studio and live event plans, keeping connected with her nearly 1 million followers and fans through her multiple social media platforms and ventures, including projects like her weekly voice lesson she shares with followers on her Instagram LIVE! She also serves as General Counsel for radio syndication company Benztown as well as entertainment law counsel for a handful of elite celebrity clients. www.katrinawoolverton.com
Announcing the 2022 Honorary Degree Recipient...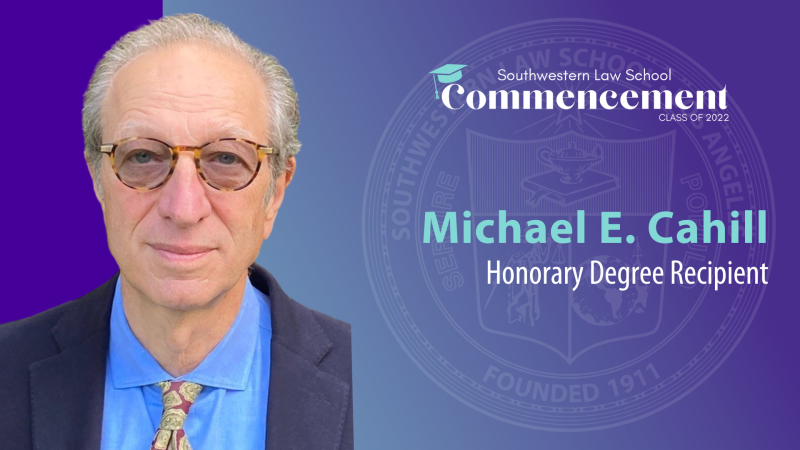 Michael E. Cahill
Michael Cahill has served on the Southwestern Law School Board of Trustees since 2004. During his 18-year tenure on the Board, he participated in a number of committees, including the Audit and Compliance Committee, the Executive Committee, as well as Chairman of the Finance Committee.
Mr. Cahill is a private investor and consultant. For 22 years, he served as Executive Vice President, Managing Director and General Counsel for The TCW Group, Inc. TCW is a leading global asset management firm based in Los Angeles that serves institutional and individual investors nationally and abroad with a broad range of publicly-offered and private products across fixed income, equities, emerging markets, and alternative investments.
Before that, Mr. Cahill was Senior Vice President and General Counsel of Act III Communications, a diversified media and entertainment company owned by TV producer Norman Lear. Act III 's businesses included film and television production, television broadcasting, movie theaters, and trade publishing.
Prior to Act III, Mr. Cahill was an attorney in private law practice with O'Melveny & Myers focusing on corporate, securities, finance, and M&A, representing public companies in insurance, aerospace, consumer products, entertainment, banking, and finance, as well as private and start-up businesses. Mr. Cahill started his law career as a litigation attorney in San Diego with Shenas, Robbins, Shenas & Shaw, representing clients in California and Federal courts as well as the US Supreme Court.
Mr. Cahill sits on the Board of two registered public investment funds offered by KKR in the fixed income area. He is on the Advisory Board of the Homeboy Ventures and Jobs Fund. Mr. Cahill holds has held Board positions on various civic, community, investment, and professional organizations. He has been a speaker on topics including venture capital, international joint ventures, mergers and acquisitions, and investment management.
Michael Cahill holds an LL.M. from Harvard University, a J.D. from Osgoode Hall Law School, York University, Toronto, and a BA from Bishops University, Quebec.